If you have never used an air fryer, it can look complicated. You may think that this is not for you and that you would rather stick to your conventional oven where you know exactly what is going on.
I felt the same way before getting to know how the Ninja AF101 Air Fryer works – and it is super easy. Better still, it is ideal for first-time air fryer users.
Because it is a smaller model than others I have reviewed like the Ninja DZ201 Foodi 8 Quart and the Ninja Foodi FD302 11-in-1 Air Fryer, it is ideal for single people and couples. This model also makes a great gift for new homeowners.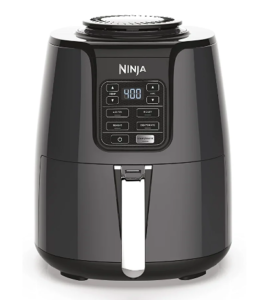 Ninja is fast becoming THE choice for home appliances, and more especially, Air Fryers. They offer a comprehensive range for beginners to professionals. Their support is great and the products come with high ratings from buyers.
Air frying is healthy! And, that doesn't mean bland, boring food that you don't want to eat. Air Fryers can make roasts, cakes, chips, meat, and fish that looks and tastes as if they came out of your oven. But, the cooking process uses up to 75% less fat, making this a great choice for a healthy lifestyle. Once you get hooked on air frying, you won't want to turn on your oven again. Air frying is quick and saves on your energy bills. Cleaning up is a breeze, there is no need for oven cleaners that take hours to work. Just wash out the non-stick pot and you are done.
If you are still not convinced, let's take a closer look at the Ninja AF101 Air Fryer.
Let's start with the different programs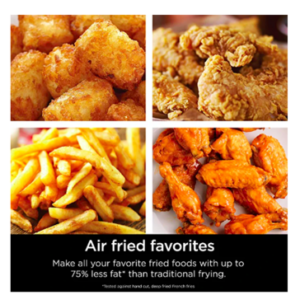 An Air Fryer program is a cooking method choice that you can make by selecting a touch button on the control panel. Some Air Fryer models are complex and have more than 10 programs.
The Ninja AF101 Air Fryer is much simpler, with a choice of 4 programs.
Air Fry – This process uses hot air that is circulated in the chamber to cook your food quickly and evenly. It uses up to 75% less fat than conventional cooking but gives a crisp and tasty result. Air frying is a much healthier option and your food is still delicious.
Roast – Roast a leg of lamb, a side of pork, a chicken, or potatoes. Tastes just like a traditional roast from your oven, but takes less than half the time and uses far less fat. The Ninja AF101 Air Fryer heats up in just 3 minutes, greatly reducing the cost of your energy bills. Roasted food is crisp, tasty, and succulent and no one will know that you didn't spend hours in front of the oven. The device has a temperature range of 105°F to 400°F that allows you a range of cooking possibilities from slow cooking to quickly crisping foods.
Dehydrate – This is a fun choice that you can use to make dried healthy snacks for school or work. You can dehydrate fruit like apples, pears, bananas, and apricots. The kids will love it! I also use dehydrated strawberries on ice cream as a treat. Dehydrating potatoes makes great crisps that you can flavor as you choose. If you want to try out something fancy, dice some crusty bread and dehydrate it to make croutons for a Caesar Salad. The Ninja AF101 Air Fryer uses a combination of low heat and low fan speed to perfectly dehydrate food. Here is an easy recipe for croutons in an air fryer.
Reheat – Reheating food is a mission if you have to wait 20 minutes for your oven to heat up. An Air Fryer heats up in just 3 minutes. You can reheat pizza, soup, veggies, and leftovers with ease. They won't dry out as they do in a conventional oven, and you will find that you have far less waste, saving you money.
The Ninja AF101 is perfect for singles and couples
The Ninja AF101 air fryer has a 4 qt basket, ideal for single people, couples, and smaller families. It will easily hold 2 lbs of French fries and a small chicken roast. The device takes up less counter space than the bigger models.
Yes, this Air Fryer is very easy to use. Touchscreens can be scary for people who are not tech-savvy. But you will soon get the idea. Take a look at this photo of the functions. It is easy to select any function you want by pressing on the word. You will see that the bar underneath the word lights up so you know which one is selected. For temperature, you can press the up or down function and the temperature will display in digits on the center panel. The same applies to the time you want. When the cooking is complete, the unit will beep and the display will read 'END'.
It has an easy-to-clean non-stick basket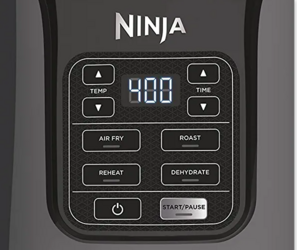 The basket of the Ninja AF101 is non-stick. You can wipe it clean with a damp cloth. Remember not to use bleach, abrasive cleaning pads, or steel wool and your pot will last for years. The Crisper Plate and Multi-Layer Rack can be put into the dishwasher. Although the manufacturer states that the basket is dishwasher-safe, I would not recommend putting the basket into the dishwasher as the non-stick coating may erode over time.
20 great recipes to get started
You also get a recipe book with 20 delicious recipes to get you started. Try out Brussels Sprouts & Bacon (even my grandkids eat them!). You can make Loaded Baked Potatoes and a tempting dish of Lemon & Herb Panko Crusted Cod, perfect for a Sunday lunch.

This is a great choice if you are a beginner. The basket is 4 qt which is ideal for a small family. It is easy to clean and takes up less space than the bigger Ninja Models I have reviewed. Ninja is a well-known and reliable brand. They offer online chat support and also have a very comprehensive FAQ section to help you find and solve your problem. It comes at a good price of under $100.
For a larger family, this model may be too small. It only offers 4 functions and a more experienced cook may want the option to broil, fry, sous vide, steam, and more. For a bigger model, I would recommend the Ninja Foodi FD302 11-in-1 Air Fryer.
Air Fryers are larger devices. Make sure that you have enough counter space for it to stand on. It is not a device that you will pack up and put away easily after use.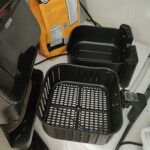 Cleaning an air fryer is a simple process that should be done regularly to ensure that the appliance is in top working condition and to…
Read More »