Cool Kitchen Essentials under $30 to Elevate Your Cooking Game
While I love buying kitchen appliances, I cannot resist all the tempting cool gadgets that come with them. From microwave mugs to space-age bottle openers and knife organizers, I am addicted! So, since I am on a budget I have found some really cool kitchen essentials under $30.
You won't feel bad splashing out and after all, your cooking will go to the next level, so the family cannot complain.
These fun kitchen essentials also make great gifts for birthdays, newlywed or engaged couples, and for those friends who have everything.
Tartine: A Classic Revisited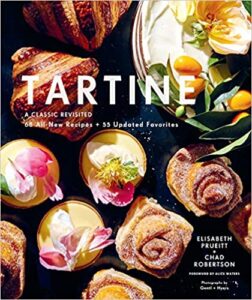 A must-have for Mums who love to cook!
This classic book now features 68 All-New Recipes and 55 Updated Favorites. Direct from San Francisco's legendary Tartine Bakery. This brilliantly revisited and beautifully re-photographed baking book is a totally updated edition of a go-to classic for home and professional bakers. Winner of many awards including the The New York Times Best Cookbooks of Fall 2019.
Personalized Cutting Boards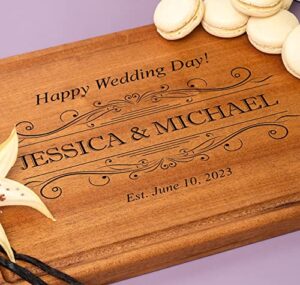 Give Mum a unique cutting board personalized with a special message of your choice. These boards are locally made and are 100% food safe. They contain no chemicals, stains, or lacquers. The board can be used both for food preparation and for food serving. They are ideal for cheese boards, breads, snacks, fruits, and canapés. Give your Mum a unique gift that she will treasure for years to come.
Evriholder Campbell's Micro Microwave Mug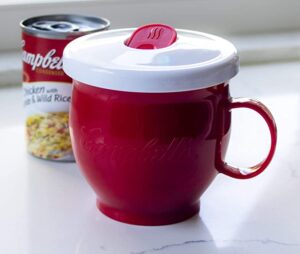 We all know that Campbell's makes the best feel-good, heart-warming soups, so are they not the best people to make a microwave soup mug? The mug can hold a full can's worth of soup and comes in a vibrant and nostalgic red and white color scheme. It has an airtight, leakproof lid and a built-in steam release vent so you won't scald your hands or lips when taking a sip. The Campbell's Kitchen Essentials Microwave Soup Mug is ideal for on-the-go people to take in the car, to the office, or to your home work desk when you are rushing to meet that hectic deadline. 
Kitchen Mama Electric Can Opener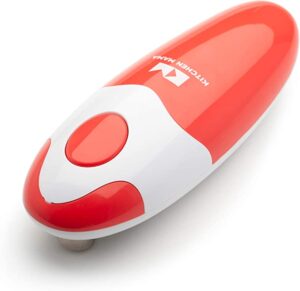 If you still have an old manual can opener that cuts your hands open, it is time to upgrade to the stylish Kitchen Mama Electric Can Opener. Simply place it on your can, tap it and it slides 360 degrees around the can and cuts along the side of the lid. Tap again to stop and lift off the lid. There are no sharp edges and it doesn't touch the food. This kitchen gadget is ideal for elderly people and those with weak hands. It uses 4 x AA batteries (not included, unfortunately) but is definitely worth buying for its looks, convenience, and safety.
NOTE – There is a new version of this opener at a higher price – BUT it is still a fabulous buy and well worth the money! It also now comes in a great black marble design.
Deluxe Cold Brew Coffee Maker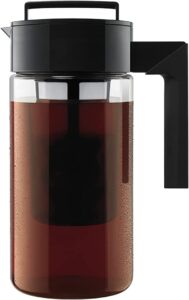 Treat the family and friends to a delicious cup of Cold Brew Coffee! The BPA-free Tritan pitcher of the Deluxe Cold Brew Coffee Maker is strong and features a secure airtight lid and a comfortable non-slip silicone handle. It can make 4 servings of delicious cold brew with any type of coffee beans, resulting in a less acidic taste compared to regular coffee brewing methods. This 1-quart kitchen essentials black coffee maker comes with a fine-mesh coffee filter that prevents coffee grounds from contaminating your brew. The pitcher fits in most refrigerator doors.
Are you looking for a great recipe to make with these kitchen essentials? This one for crispy chicken breasts is a family favorite that I make at least once a week.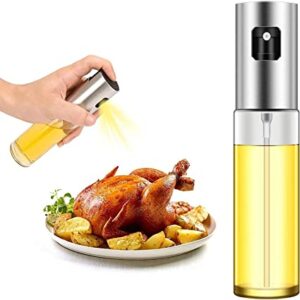 Do you find that greasing a tray or drizzling olive oil over a salad leaves you drenched in oil that is impossible to get off? This handy and cool-looking Oil Sprayer for Cooking solves the problem. Simply fill it with your oil, olive oil, avocado oil, vinegar, or even soy sauce. Give it a few pumps and spray a fine mist that perfectly coats the surface. It is easy to use, budget-friendly,  and makes no mess. The kitchen essentials sprayer is made of glass and stainless steel which is easy to clean and always looks new. Ideal to take on picnics too!
Durmmur Compost bin for kitchen counter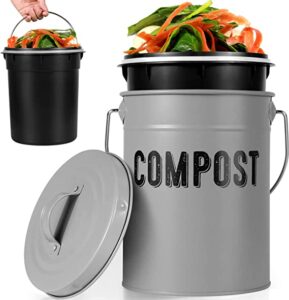 Going Green may not be possible for every one, but you can certainly take a step in the right direction with this cool compost bin. Instead of throwing away kitchen waste, you can turn it into compost for your garden or indoor home plants. Fill it with fruit and veggie scraps, bones, leftovers, tea bags, coffee dregs, and egg shells. If you are hesitant, the answer to the question – does it smell? – is NO. It has a unique concave design and a special rubber ring that makes it airtight. It holds up to 1 gallon and can stand on a kitchen counter to show guests that you care for Mother Earth.
Magnetic Knife Holder for Wall in bamboo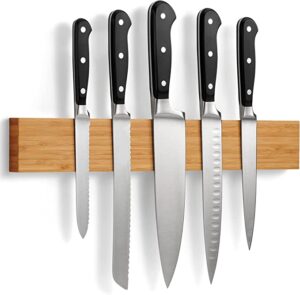 Don't struggle to find your knives in a drawer. It is irritating and dangerous when knives become weapons that can cut your fingers off. This stylish magnetic knife holder allows you to display all your knives neatly on the wall. It is easy to install and comes with screws, wall plugs, mounting racks, and instructions. Best of all, it has a lovely bamboo finish, making it ideal for cottage, farmhouse, and vintage-style kitchen décor themes. This is a really cool kitchen essential under $30.
Clip On Silicone Strainer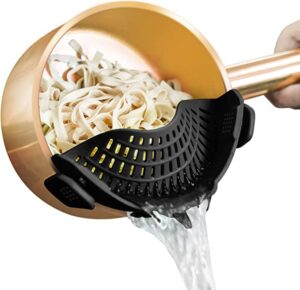 If you are still trying to drain water from a pot using your hand to hold the contents inside, you are like me, and probably end up with the whole lot going down the drain. This innovative clip-on strainer snaps onto most pots, pans, and bowls. It is compact and far smaller than a normal strainer, making it ideal for kitchens with limited space. You don't need to transfer the food, simply clip and strain. It is made from heat-resistant Silicone and is dishwasher-safe. This is a must-have cool kitchen essential under $30. 
24 Piece Silicone Utensil Set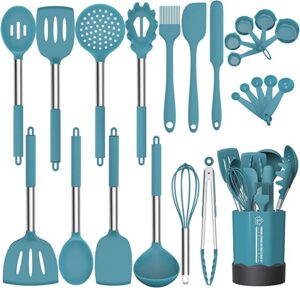 It's time to get rid of all those mismatched and broken utensils and enhance your kitchen with this stylish kitchen essentials set of 24 pieces. You get everything you need from measuring spoons to spatulas, a slotted turner, whisk, a deep soup ladle, a pastry brush, and more. Each piece features a stainless steel handle and a silicone head that will never damage your pots and pans. The utensils are heat-resistant, rust-resistant, and BPA-free.
14-in-1 Multifunction Vegetable Chopper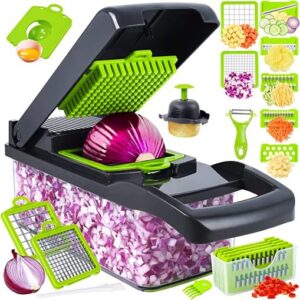 Slice, dice, shred, grate, chop, and more all with one innovative gadget. The blades are made of 420 stainless steel that is durable, sharp and ideal for any type of fruit or vegetable. The set comes with 8 interchangeable blades to give you multiple options. It also has an egg separator, a peeler, a blade storage box and 2 cleaning brushes. It is easy to clean and cuts down on preparation time. I love the cutter that makes groove patterns on potato crisps for the perfect snack.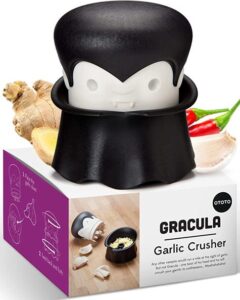 Gracula crushes garlic and looks ultra-cool on your kitchen counter. Press, crush and mince in a jiffy and get fresh garlic to keep the dreaded Dracula out of your kitchen. The fun gadget is made of food-grade material, is easy to clean, and is BPA-free. It is also ideal for ginger, nuts, chili, herbs, and spices. Stop hurting your hands crushing garlic, let Gracula come to the rescue!
OTOTO Red the Crab Silicone Utensil Rest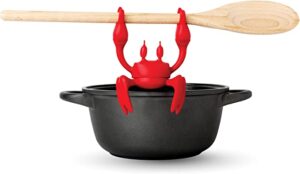 If you don't yet have a trendy talk-about-gadget from the OTOTO Design Studio, you need this fun Red the Crab. It is a claw-some addition to a mod kitchen. Simply attach it to your pot to hold spoons, tongs, ladles, and other utensils. It prevents mess, drips, splatters and the need for a spoon rest, And, it looks super cool. Red the Crab is made of food-safe Silicone that is heat-resistant, BPA-free and dishwasher-safe.
Air Fryer Magnetic Cheat Sheet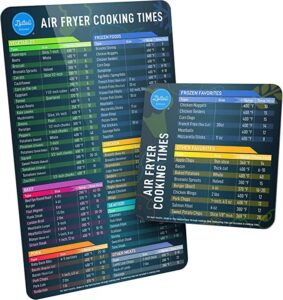 With air fryers being the top selling kitchen appliance at the moment, not everyone is making MasterChef worthy meals (me included). Getting the times, temperatures and quantities spot-on can be a challenge. This handy Air Fryer Cheat Sheet gives you everything you need to know at a glance. It is magnetic and can be stuck to your fridge where it is easy to see. If your fridge is too far away, use the included double-sided tape to put it in a more convenient spot. The writing is bold and clear and it covers everything from vegetables to beef, pork, chicken, frozen foods and other favourites. It is also laminated so you can easily wipe it clean. If you are getting started on air fryers, this is a must-have cool kitchen essential under $30. 
Penguin Boiled Egg Cooker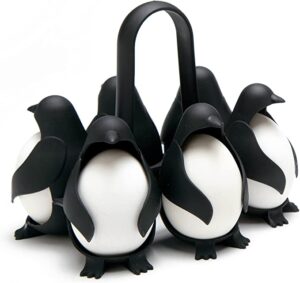 This is the perfect gadget to cheer up the family at breakfast. Simply insert 6 eggs into the tummies of the penguins and place the holder into a pot of boiling water. When the eggs are done, remove it and serve it up! No more trying to fish eggs out of a pot with a spoon or breaking eggs accidentally. You can also use the penguin holder to store your eggs. It is made of food-safe plastic and the handle stays cool to the touch. The holder is BPA-free and dishwasher-safe.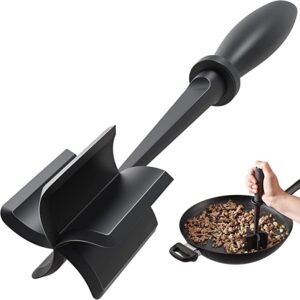 I must admit, this meat masher does look a bit intimidating! But, it does a great job or mashing, chopping and grinding beef, chicken, turkey and more. It has 5 blades in a pinwheel style and makes grinding super easy. Simply press the blade into the food and stir. As you do, it mashes up the contents and also scrapes the sides of the bowl. It has an ergonomically designed handle that does not hurt your hands. The masher can be used on all types of cookware including those with non-stick surfaces. Dishwasher-safe and BPA-free.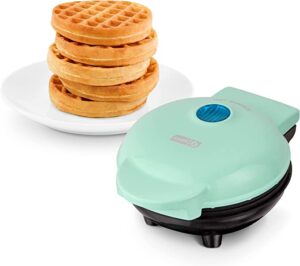 This cute Mini Waffle Maker can make classic waffles, waffled hash browns, cookies and even biscuit pizzas. Mix up your batter and get creative! It is perfect for smaller apartments, campers, and dorms. Simply plug in and it heats up in minutes. The 4-inch cooking surface is non-stick and provides golden waffles every time. It is easy to clean and stashes away in a drawer. Try your hand at making chaffles. Not sure what that is? It is a waffle made with only eggs and cheese. If you don't believe me, take a look at this great explanation and recipe from the Pioneer Woman. 
Easter Bunny Mini Waffle Maker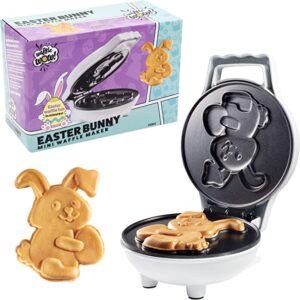 While I am thinking of waffles, I had to include this adorable Easter Bunny Waffle Maker. And, you can use it any time of the year, so don't wait for Easter. Make great bite-size treats in the shape of a smiling bunny in minutes. The electric waffle iron stands upright for storage and has a non-stick coating for easy clean up. Makes a perfect addition to breakfast and is sure to put the family in a good mood before work, school, college, grocery shopping or doing the daily chores.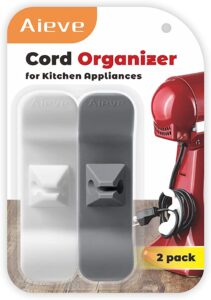 Do you get frustrated with lose cords lying all over your kitchen counter? These handy Cord Organizers will sort out the problem. Simply attach them to any kitchen appliance (toaster, juicer, air fryer, blender, coffee machine) and wind it to wrap up your cords. They are made of food-grade silicone and are easy to use. The set has 2 organizers, one in white and one in gray.
Stainless Steel Butter Spreader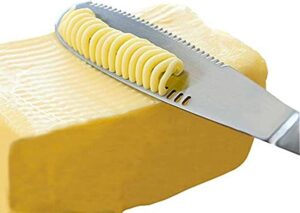 Trying to spread hard, cold butter on bread or toast is a definite mood-downer. It just does not work on every level. So, unless you are planing on setting your alarm for 4.00am to take the butter out of the fridge, you need this stylish, innovative Butter Spreader. It is made of Stainless Steel and is long lasting, durable and corrosion-resistant. The small slotted holes on the blade edge are designed to curl hard butter. It also has a Cheese Cutter and can be used to make chocolate curls for decadent desserts. The spreader has an ergonomic design that is safe and won't cut your hands. This is a must-have for busy on-the-go people.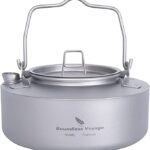 My family loves camping and we often head out into the outdoors for a weekend of sleeping on hard stony ground and getting drenched in…
Read More »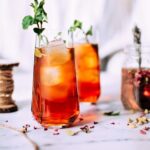 As much as I love tea, I do sometimes get tired of … yet another cup of tea. I also sometimes drink far too much…
Read More »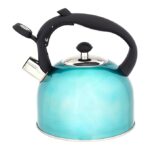 I find that nothing is more satisfying than the whistling sound of a stove top kettle. It is time for tea, relaxing, family bonding, or…
Read More »