Almost every home has a traditional toaster, so why would you need a toaster oven? Like all kitchen appliances, there are pros and cons. This guide will highlight the differences in Toaster Ovens vs Traditional Toasters and help you make an informed decision.
Let's look more closely at the differences.
Toaster ovens are larger and more versatile
Toaster ovens are versatile appliances that can be used for baking, broiling, and toasting, in addition to heating up leftovers and frozen foods. They typically have a larger interior than traditional toasters and can accommodate up to four slices of bread or a small 9-inch pizza. This makes them ideal for families or anyone who wants to prepare more than just toast. Toaster ovens also come with a variety of features such as adjustable temperature control, cooking functions, and even a built-in timer.
Traditional toasters are smaller and more compact
Traditional toasters are designed solely for toasting bread. They come in different sizes, ranging from two-slice toasters to four-slice toasters, and they are ideal for those who only need to toast bread occasionally. Some have wide slots that allow you to toast bagels, muffins, and artisan breads. You cannot, for example, put a full size pizza into a toaster to warm it up. They take up far less space on your kitchen counter or island.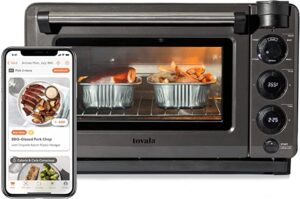 Tovalo Smart Oven Toaster – Ideal for air fry, steam, bake, broil, reheat and toast. You can create custom, automated cook cycles with 1 or more modes for perfectly cooked meals every time.
Controlled by Integrated Smartphone App.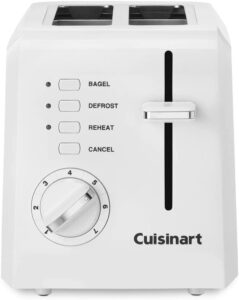 The Cuisinart Compact 2-Slice Toaster is compact and is able to fit comfortably on your countertop while toasting bagels and bread. It has a bagel, preheat, defrost and cancel option.
How many slices can you toast?
Traditional toasters in the home typically hold either 2 or 4 slices of toast. Some larger commercial models can toast up to 6 slices, but may not be the type of aesthetically pleasing appliance you want in your newly decorated kitchen. Depending on the model you buy, toaster ovens can easily handle 6 to 12 slices of toast in one go, perfect for a large family.
Traditional toasters are more affordable
Because they are smaller and less complex, a traditional toaster will usually cost far less than a toaster oven, unless you are really splashing out on an expensive brand like Smeg.  It may hurt your pocket, but you will have a conversation piece in your kitchen. Take a look at the Smeg 50's Retro Style Toaster. 
When it comes to cooking performance, toaster ovens are more versatile and offer more cooking options than traditional toasters. For example, you can use a toaster oven to bake a small cake, broil a steak, or even roast a chicken.
Toaster ovens often come with adjustable temperature control, cooking functions, and timers, while traditional toasters are typically more basic. A traditional toaster that has multiple functions will usually include cancel, defrost, and bagel features.
For those who need apps and more apps, some toaster ovens will give you another icon to put on your mobile phone. Smart toaster ovens come with apps that allow you to set the oven to use single or multiple modes, follow the steps to make a perfect meal, and get notified when food is done. If you are not tech-savvy, don't stress, many toaster ovens are operated with easy-to-understand manual controls.
Energy costs are always a huge consideration for any household and especially for people who are trying to follow a more eco-friendly lifestyle. Traditional toasters are typically more energy efficient than toaster ovens. This is because toaster ovens require more energy to heat up their larger interior and perform multiple cooking functions.
Toaster ovens are more convenient than traditional toasters because they can be used for multiple cooking tasks, reducing the need for additional appliances in the kitchen. For example, you can use a toaster oven to cook a frozen pizza, bake a cake, or even roast a chicken. This makes toaster ovens a great choice for those who want to save time and space in the kitchen.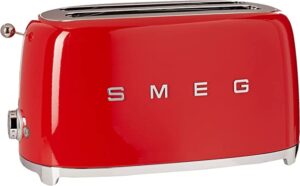 Show your style with a very expensive toaster!
The Smeg 50's Retro Toaster features a powder coated steel body in a vibrant red, a polished chrome base, stainless steel ball lever knob, self-centering racks, and an automatic slice pop up.
Toaster ovens can be more difficult to maintain than traditional toasters because of their larger size and multiple cooking functions. For example, you may need to clean the interior of a toaster oven more frequently and thoroughly than you would with a traditional toaster. Additionally, toaster ovens often have more moving parts that can break down over time, making them a less durable choice than traditional toasters. So, it is important to consider the level of maintenance required when choosing between a toaster oven vs traditional toaster.
To determine the pros and cons of Toaster Ovens vs Traditional Toasters, and which appliance is best for you, consider your cooking needs and the amount of space you have in your kitchen. If you're looking for a simple and affordable solution for toasting bread, a traditional toaster may be the right choice. However, if you're looking for a more versatile appliance that can handle a variety of cooking tasks, a toaster oven may be a better option.
With so many factors to consider, it can be daunting to know which toaster to choose. To help you, I have reviewed a range of 2 slice and 4 slice toasters. 
Read my reviews on my choice of best 2 slice toasters 
Read my reviews on my choice of best 4 slice toasters 
This is such fun that I just cannot resist! My family loves hot dogs and this trendy Hot Dog Toaster takes making hot dogs to…
Read More »