This is such fun that I just cannot resist! My family loves hot dogs and this trendy Hot Dog Toaster takes making hot dogs to the next level.
A hot dog toaster is a fun appliance that adds a unique touch to the traditional way of cooking hot dogs. It's perfect for those who love hot dogs but want a quick and easy way to cook them without the mess of a stove or grill. With a hot dog toaster, you can have perfectly cooked hot dogs in minutes. They are also perfect for small spaces, such as dorm rooms, RVs, or boats. Not only that, they are easy to clean and maintain, making them a great choice for anyone looking for a low-maintenance appliance.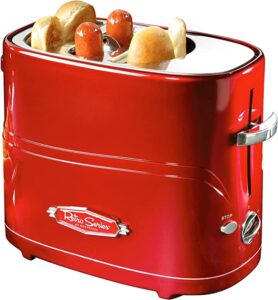 The unique design of this hot dog toaster brings a touch of fun and excitement to the kitchen, making it a great addition for anyone who loves to cook and entertain.
This model is made by Nostalgia, known for their retro designs that bring back memories of times gone by.
I always like to check out a bit of info about the company. I don't want to buy a product from a company that won't be around to support it if required.
The Nostalgia Kitchen Appliance Company creates fun and unique kitchen appliances that evoke feelings of nostalgia. From their retro-inspired hot dog toasters to their vintage-style popcorn machines, their products are designed to bring a touch of nostalgia to your kitchen and your meals. They are known for their high-quality and durable appliances that are perfect for families and entertainers. Their focus is on creating fun and functional appliances that evoke memories of the past and remind us of the joys of simpler times. I love the company vision "We preserve the past, embrace the present, and look forward to the future".
A closer look at the Nostalgia Hot Dog Toaster
The design
You can't miss the stunning bold metallic red color, with stylish shiny chrome accents, perfect for a retro or classic vintage-styled kitchen. It looks like a regular toaster until you see that it has a third middle slot for holding the sausages. That's when it got my attention.
The toaster is tall and slim and really uplifts any kitchen counter or kitchen island. It is made with high-quality and durable materials, ensuring that it will last for years of use.
I would never usually take my toaster out of the kitchen. But this is one that I am happy to show off on the patio table or in the garden nook when we are having brunch or an afternoon snack. I have a long cord to plug it in and I make hot dogs while everyone is totally enthralled.
The 3 slots!
Notice the 3 slots! This toaster can toast up two regular size or extra plump hot dogs at a time, and also toast 2 buns at the same time. All in one device. So no need to keep an eye on the rolls in the oven and the sausages on the stove. They are all together in one place in the Hot Dog Toaster and are ready in minutes.
You can toast beef, chicken, turkey, or veggie sausages. It is also great for brats and other exotic German-style sausages. The rolls come out warm and crispy on the cut side, ready for your butter and toppings.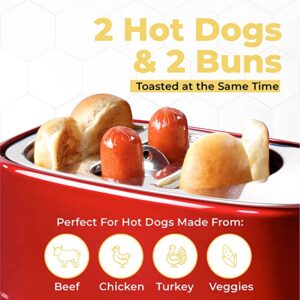 Special Hot Dog Cage and Tongs
For holding the sausages, the toaster comes with a special hot dog cage made of metal. It can be lifted out of the toaster, filled with 2 sausages, and then placed into the device for toasting. You also get a pair of mini tongs to keep your hands safe when removing hot dogs and buns from the hot dog machine.
Toaster settings and drip tray
There is an adjustable timer so you can select the level of toastiness that you want. Your toast and sausages are ready in minutes. For easy cleaning, the fat from the sausages drips into the drip tray that can be removed and washed.
I love that it has a place to wrap the cord, so that I don't have cables lying around on my kitchen counter when the toaster is not in use.
A good chance to learn about sausages
Since we are talking about sausages, here is some info about different types of sausages from around the world. Try them out in your Hot Dog Toaster.
Bratwurst – A traditional German sausage made from pork, veal, and/or beef, typically flavored with ginger, nutmeg, and caraway.
Chorizo – A spicy pork sausage originating from Spain and Portugal, seasoned with paprika and garlic.
Andouille – A spicy sausage made from pork, originating in France and commonly used in Cajun cuisine.
Kielbasa – A type of sausage of Polish origin, typically made from pork and flavored with garlic, marjoram, and other herbs and spices.
Boudin Blanc – A French sausage made from pork, chicken, and milk-soaked bread. It is considered a delicacy in Louisiana.
Bangers – Everyone knows these! A traditional British sausage made from pork and/or beef, seasoned with herbs and spices.
Sujuk – A spicy sausage of Turkish and Middle Eastern origin, made from beef or lamb and flavored with cumin, paprika, and other spices.
Linguica – A Portuguese sausage made from pork and flavored with paprika, garlic, and other spices.
Morcilla – A blood sausage of Spanish and Latin American origin, made from pig's blood, rice and onions, traditionally encased in pig's intestine.
Salsiccia – A traditional Italian sausage made from pork and/or beef, flavored with fennel, anise, and other herbs and spices.
And why not talk about toppings?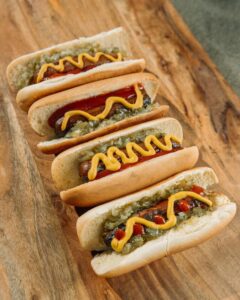 If you are stuck (like me) on mustard and ketchup as a topping, here are some more exciting and adventurous toppings for your hot dogs.
Onions – Sautéed or raw onions add a great deal of flavor and texture to hot dogs. They are a popular topping that can be used alone or in combination with other toppings.
Sauerkraut – A traditional German topping, sauerkraut is made from fermented cabbage and adds a tangy and sour flavor to the hot dog. It's often used as a topping for bratwurst and other German-style sausages.
Cheese – Cheese can be a great topping for hot dogs, adding a creamy and rich flavor. It can be melted over the hot dog or added as a topping along with other condiments, such as ketchup or mustard.
Relish – A sweet and tangy topping, relish can be made from pickles or a variety of vegetables, such as cucumbers, peppers, and onions. It adds a great deal of flavor and a touch of sweetness to the hot dog.
Chili – Chili is a hearty  and flavorful topping that can be added to hot dogs. It can be made with ground beef, beans, and a variety of spices, adding a spicy and savory flavor to the hot dog.
Jalapenos – Jalapenos can add a spicy kick to hot dogs. They can be sliced or diced and added as a topping to give the hot dog a nice spicy bite.
Coleslaw – Coleslaw can add a nice crunchy and refreshing taste to the hot dog. It is made from finely shredded cabbage and carrots, mixed with mayonnaise and vinegar.
Guacamole – Guacamole can add a creamy and flavorful topping to the hot dog. It can be made from mashed avocado, lime juice, cilantro and other ingredients.
Bacon – Bacon can add a smoky and salty flavor to the hot dog. It can be cooked and crumbled or wrapped around the hot dog before grilling, adding a crispy texture and bacon flavor to the hot dog.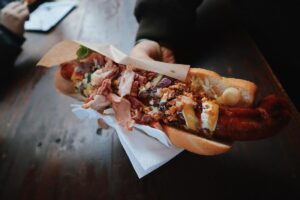 Is the Hot Dog Toaster worth the price?
This is a must-have for families that love hot dogs, single people and those that entertain a lot. It adds a sensational look to any retro kitchen and will become a centerpiece that your guests will love. The toaster is made of high-quality materials and has over 12000 reviews on Amazon.
Retro-style toaster for hot dogs
Holds 2 buns and 2 sausages
Hot dog cage and tongs
Drip tray for oil and fat
Adjustable settings
Stop function
Some other fun Novelty Toasters for you to look at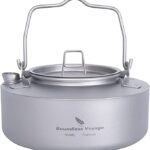 My family loves camping and we often head out into the outdoors for a weekend of sleeping on hard stony ground and getting drenched in…
Read More »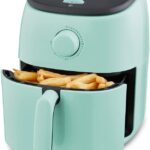 If you are new to air fryers take a look at my overview here. It will give you a rundown of the main features of…
Read More »