Crispy chicken breasts are one my family's favourite meals. I always cooked them in the classic way in a large pot of boiling oil, but it is really so unhealthy! And, if you don't drain them properly, then you have the unpleasant experience of eating far too much oil.
Since I discovered Air Fryers, I only make crispy chicken breasts in the air fryer. They are easy to make, cook so fast, and are totally delicious.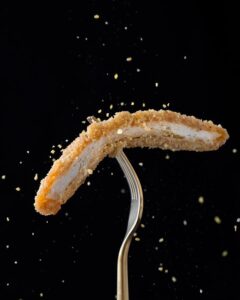 This is my Air Fryer Crispy Chicken Breasts recipe.
You will need
4 boneless, skinless chicken breasts
1/2 cup all-purpose flour
2 eggs
1 cup breadcrumbs
1 tsp salt
1 tsp pepper
1 tsp paprika
1 tsp garlic powder
Cooking spray
Follow these steps
Preheat the air fryer to 400 degrees Fahrenheit.
In a shallow dish, combine the flour, salt, pepper, paprika, and garlic powder.
In a separate dish, beat the eggs.
Place the breadcrumbs in a third dish.
Dip each chicken breast in the flour mixture, then the egg mixture, and finally the breadcrumbs, making sure each breast is evenly coated.
Spray the chicken breasts with cooking spray.
Place the chicken breasts in the air fryer basket, making sure they are not overcrowded.
Cook the chicken for 12-15 minutes, or until the internal temperature reaches 165 degrees Fahrenheit.
Serve and enjoy!
Note: Cooking time may vary depending on the thickness of the chicken breasts. Adjust accordingly.
Here are 2 sides that go well with these crispy chicken breasts
I must admit, that I do use my conventional oven for this one!
Roasted vegetables – Cut your favorite vegetables (such as carrots, broccoli, and bell peppers) into bite-size pieces, toss them with a little olive oil, salt and pepper, and roast them in the oven at 425 degrees Fahrenheit for 20-25 minutes.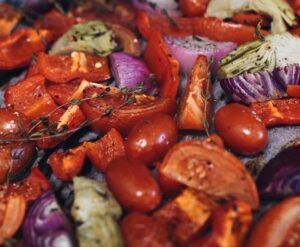 If you still love using your stovetop, try out these Garlic mashed potatoes.
Peel and chop 4-5 medium sized potatoes, and boil them in a pot of salted water until they are tender. Drain the potatoes and add 1/4 cup of milk, 2 tablespoons of butter, 2 cloves of minced garlic and mash them until smooth. Add salt and pepper to taste.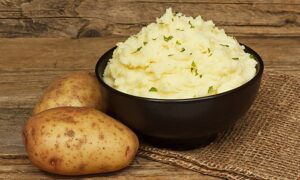 Spinach Salad with Cashews and Lemon Dressing.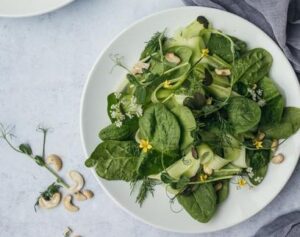 A salad always add a fresh element and a touch of color to a meal table. This is my Spinach Salad with Cashews and Lemon Dressing.
You will need
6 cups baby spinach leaves, washed and dried
1/2 cup roasted, unsalted cashews
1/4 cup diced red onion
1/4 cup crumbled feta cheese
1/4 cup sliced fresh strawberries (optional)
For the dressing:
2 tablespoons fresh lemon juice
1 tablespoon honey
1/4 cup olive oil
Salt and pepper, to taste
Follow these steps
In a large bowl, combine the baby spinach, cashews, red onion, feta cheese, and strawberries (if using).
In a small bowl, whisk together the lemon juice, honey, olive oil, salt and pepper.
Drizzle the dressing over the salad, and toss until the salad is evenly coated.
Divide the salad onto plates and serve immediately.
Note: If you like, you can cut up the Crispy Chicken Breasts and add them into the salad. It makes a great meal for an office lunch or a lazy picnic on a hot day. This salad also works well with grilled shrimps for people who love seafood.
For those who enjoy rice with chicken, take a look at my Tips For Cooking Perfect Rice Every Time 
Why is air fryer chicken healthier than oven roasted chicken?
Air fryer chicken is considered healthier than oven-roasted chicken because it requires less oil to cook. In an air fryer, hot air circulates around the food, cooking it evenly while also creating a crispy exterior. This creates a similar texture to deep-fried or pan-fried chicken without the added oil.
Additionally, when cooking chicken in an air fryer, the excess fat drips away from the food, which further reduces the overall fat content of the dish.
It's also important to note that using an air fryer can help reduce the amount of acrylamide, a chemical that forms when foods high in starch are cooked at high temperatures, which is considered a possible cancer-causing substance.
That being said, it's also important to pay attention to the type of oil you are using and the amount of oil you are adding to the chicken, as well as the breading or marinade you are using. Try to choose organic products if possible, they may cost more, but they are worth it!
Here are some other great Air Fryer choices for beginners and advanced home cooks. Trying out air fryer nachos as a first attempt in a new air fryer is a great way to get a feel for this exciting (and healthy) method of cooking.