Trying out an air fryer for the first time can be a daunting experience. There is a lot to learn and understand. I found that making a few simple recipes got me going fast and I soon gained the confidence to try out some more advanced recipes.
To start with, I simply tried to make crispy bacon and it turned out so well! I then moved on to side dishes for meals. If something went wrong, I would still have a meal to serve – minus a side! But that could always be quickly sorted out by whipping up a salad. Two of my favorite sides are Hasselback potatoes and fancy (but really easy) lemon zest asparagus. I have also added garlic bread to my skills. My family loves garlic bread and it is so versatile, pairing well with pasta, soups, and salads.
Take a look at my fave easy and delicious air fryer recipes …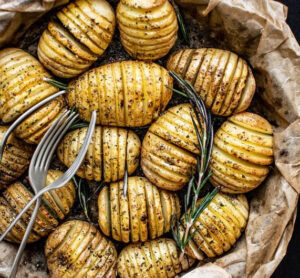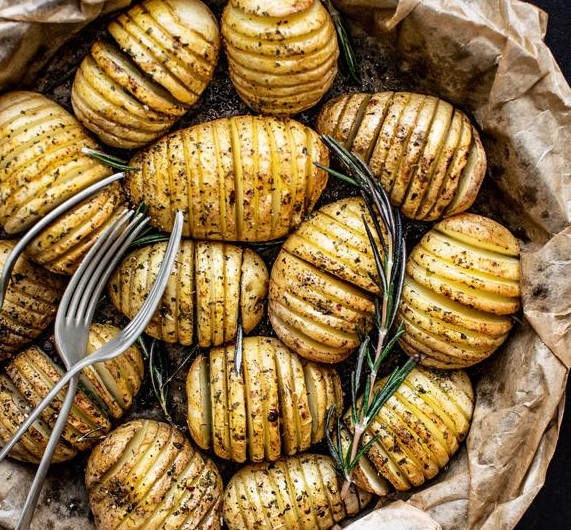 Potatoes always make a great side dish for any meal. They go well with chicken, meat, and fish and are a great component of any vegetarian option. I love to serve Hasselback potatoes with breakfast as an alternative to hashbrowns.
The name Hasselback comes from a restaurant in Stockholm, Sweden, named Hasselbacken. They invented this recipe as far back as 1940. It soon became a popular choice for home cooks worldwide. The potatoes look very snazzy, but they are, in fact, very simple to make. The first clue is to get them cut properly. They need to be sliced in parallel lines NOT all the way through. This proved to be really difficult and frustrating for me every time I sliced right through one and had two pieces in my hand. I then discovered a really handy trick! Place the potato into a deep wooden spoon and cut downwards with a sharp knife. The spoon stops the knife just before you cut through it. Simple and easy.
Russet potatoes, red potatoes, or Yukon gold potatoes work best for this recipe.
For a family-sized side dish you need – 
8 to 10 medium sized potatoes
3 tablespoon olive oil
3 tablespoons melted butter
Sea salt and black pepper
Optional rosemary and parsley
Follow these steps
Wash and dry the potatoes, do not peel them
Place one potato at a time into a wooden spoon and slice vertically 1/8 inch apart
Place the potatoes into a bowl and fan open the slices
In a bowl, combine the melted butter and olive oil
Use half your mixture and brush over the potatoes taking care to get it in between the slices
Season with sea salt and pepper


Preheat your air fryer to 350°F
Place the potatoes into the fryer basket, cut sides up
Cook for around 15 minutes
Take the basket out and brush the potatoes with the remaining mixture
Cook for another 15 minutes until they are crisp on the outside but still soft inside
Remove from the air fryer and top with rosemary and parsley
You can also add loads of garlic to your butter mix. If your family likes spicy treats, add 1/2 teaspoon of ground paprika.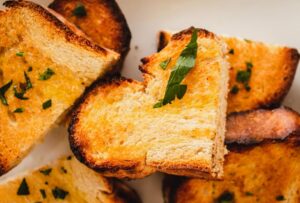 Garlic bread can be made using any crusty bread such as baguette, sourdough, ciabatta, or French loaf. It makes a great accompaniment to any meal and is really great with a hearty soup or beef stew on a cold winter's night. Garlic bread is ideal to make a grilled chicken sandwich and goes very well with pasta dishes. You can eat it as a snack for lunch with a Caesar salad if you are looking for a fresh and tasty light meal. For something different at breakfast, serve up your scrambled eggs on garlic bread.
When I have time, I cut my bread into heart shapes for my granddaughter and her friends and they love it!
You will need
8 slices of bread of your choice
1/4 cup softened butter
3 tablespoons grated Parmesan cheese
2 garlic cloves, minced
2 teaspoons minced fresh or dried parsley
Follow these steps
Preheat your air fryer to 350°F
Combine the butter, cheese, cloves, and parsley in a small bowl
Spread generously over the bread
Place your bread in a single layer on a tray in an air-fryer basket
Cook for around 2 to 3 minutes, until golden brown
Serve warm
Depending on the size of your air fryer basket, you may have to do your bread in 2 batches.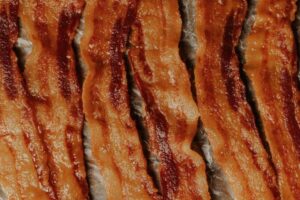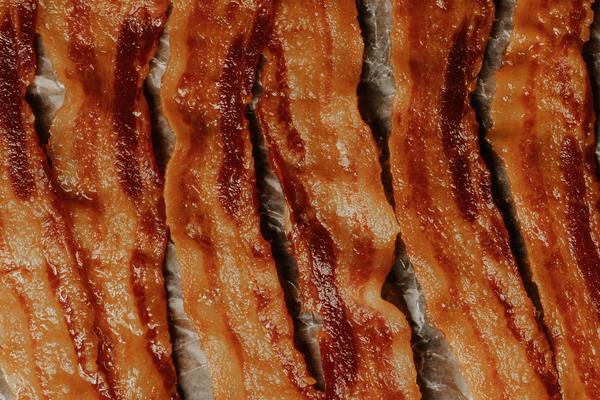 This is the easiest recipe of all. All you need is bacon! Making bacon in an air fryer takes away the hassle of cleaning greasy pans and all the grease splashes that end up on your stovetop, the floor, and your work outfit for the client's meeting.
You will need
Bacon – ready sliced or you can slice from a large piece
Follow these steps
Preheat your air fryer to 375°F
Place the bacon in a single layer into the air fryer basket
Cook for 2 to 3 minutes
Take out the basket and flip the pieces using tongs
Cook for another 3 minutes, or 4 minutes if you like crispy bacon or if your bacon is thick-cut
Depending on how many pieces you are doing, you may have to do your bacon in batches.
Bacon Wrapped Avocado Wedges
If you have bacon and avocado in your fridge – this is a great recipe that I found while surfing the net. You will need an air fryer that can heat up to 400°F. The COSORI Air Fryer, 5 QT, 9-in-1 Airfryer Compact Oilless is a great choice with a temperature range of up to 450°F.  It has one-touch cooking functions that are easy to use, even if you are not a tech-savvy whiz (like me).
This recipe is a great way to use up avos that are getting overripe and these wedges make a great treat to add to any breakfast or lunch meal. For the full recipe click here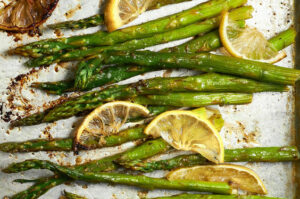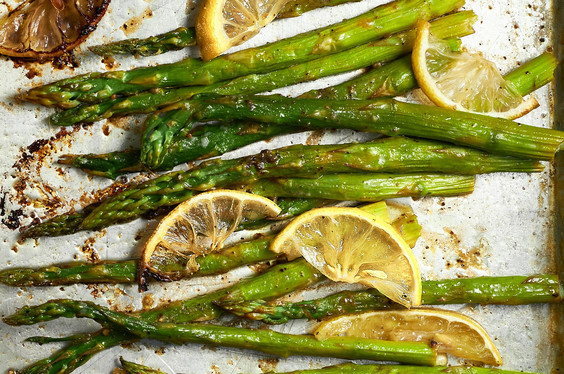 A side of asparagus will always add a touch of 'fine dining' to any dinner meal. They give me the feeling of a posh restaurant! For this recipe, you can use fresh asparagus that have been trimmed and washed. The secret here is the dressing that you use to toss the asparagus in before cooking. Once they are in the air fryer, they take only 4 to 6 minutes to cook. This recipe always gets great comments from my family and guests, and I use it to accompany chicken, meat, and fish dishes.
You will need
1 pound fresh asparagus, trimmed and washed
4 teaspoons olive oil
1/4 cup mayonnaise
1 1/2 teaspoons grated lemon zest
1 garlic clove, minced
Seasoned salt and black pepper
2 tablespoons shredded Parmesan cheese
Lemon wedges
Follow these steps
Preheat your air fryer to 375°F
Grease the tray in your air fryer basket
In a large bowl, combine the olive oil, mayonnaise, grated lemon zest, and garlic
Add salt and pepper to season
Add in the asparagus and toss to coat them well
Place them in a single layer on the greased tray in the air-fryer basket
Cook for 4 to 6 minutes until they are tender and lightly brown
If desired, open the air fryer, pop in the lemon wedges, and cook for a further 1 minute
Transfer the asparagus and lemon wedges to a serving platter and sprinkle with Parmesan cheese
Serve while still warm
Easy Air Fryer Chicken Schnitzel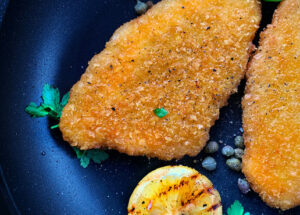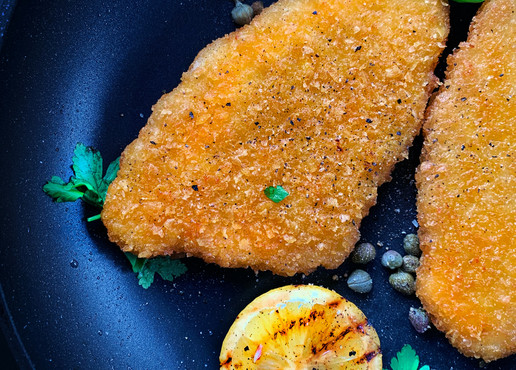 Once you become more familiar with your air fryer, it is easy to move on to making chicken. Chicken schnitzels are a fave with my family! I serve them hot with lemon slices and I also do them cold the next day with mayonnaise. They are great for work and school lunches and are so easy to make.
This recipe needs a timer for 12 minutes. The DASH Tasti-Crisp Electric Air Fryer Oven Cooker has a handy timer that you can set for up to 30 minutes. So, it is the perfect choice if you have not yet bought an air fryer. Always look for a timer function, it is so useful.
You will need
4 x 6.5oz chicken breast fillets
2 cups Panko breadcrumbs
1 egg, lightly whisked
1/4 cup grated parmesan cheese
2 tablespoons milk
1/3 cup plain flour
Olive oil spray
Sea salt and black pepper for seasoning
Lemon wedges for serving
Follow these steps
Flatten each chicken breast by placing it between two pieces of cling wrap, and using a rolling pin or mallet to pound it until around 3/4 inch thick
Place the breadcrumbs and parmesan cheese in a medium bowl
Whisk together the egg and milk in a separate medium bowl
Put the flour onto a plate and season with salt and pepper
Take a piece of chicken and dip it into the flour
Shake off the excess flour
Dip it into the egg mixture
Then dip it into the breadcrumb mixture, pressing firmly to ensure that the crumbs stick and coat the chicken
Place carefully onto a tray
Repeat for each chicken breast
Cover the tray and place it into the fridge for 15 minutes
Preheat the air fryer to 390°F for 3 minutes
Spray the chicken with olive oil spray
Place the chicken in a single layer in the basket of the air fryer
Set the timer for 6 minutes
Turn the chicken
Set the timer for another 6 minutes and cook until golden brown
Transfer to a plate and cover with foil to keep warm
You may have to do this in batches depending on the size of your air fryer basket
Serve the schnitzel with lemon wedges
This dish goes well with the Hasselback potatoes I mentioned earlier. If you have the Ninja DZ201 Foodi 8 Quart Air Fryer you can cook two different dishes at once. This is a game changer for busy cooks and gives you amazing flexibility to make, for example, these chicken schnitzels and the Hasselback potatoes together. Take a look at my detailed review here 
Sweet and Spicy Air-Fryer Meatballs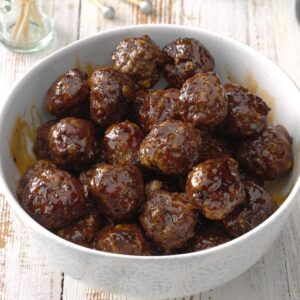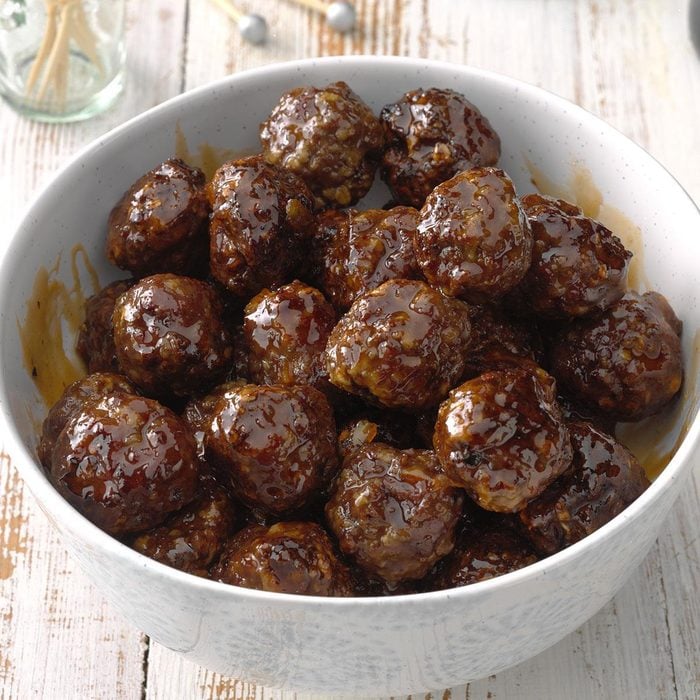 Image from tasteofhome
Meatballs may not be everyone's favorite meal, but my family loves them with noodles or rice. If you have time and want to do some family bonding on a wet and rainy day, this is a great recipe to make. The meatballs are sweet and spicy and can be served with noodles, rice, buttery mashed potato, crisp fresh veggies, mac 'n cheese, or even put into soup. They can be stored for up to 3 days in an airtight container in the fridge and can be frozen for up to 3 months if you make a large batch or a double batch.
If the kids don't like the spicy taste, you can leave out the Louisiana-style hot sauce, they taste just as good. The secret to making meatballs that are not dense and heavy is to not overwork or over-handle the balls. Work lightly and fast when you form the balls and the meat will stay soft and light. If you are really ambitious, buy quality beef and grind it yourself in a food processor. 
For the full Sweet and Spicy Air-Fryer Meatballs recipe click here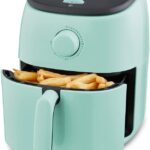 If you are new to air fryers take a look at my overview here. It will give you a rundown of the main features of…
Read More »