Put a Ninja in your kitchen and turn blending into a stealthy art! Is Ninja A good brand? In the world of kitchen appliances, Ninja has defined its identity as a brand that blends innovation, creativity, and culinary artistry.
From game-changing blenders that effortlessly crush ice and whip up silky-smooth purees to versatile food processors, coffee makers, and air fryers that simplify meal preparation, Ninja will become your secret and stealthy partner in the kitchen.
Ninja is known for innovative products for people who are proud of their homes and know value when they see it. Ninja claims that their customers are more than buyers, they are ambassadors. Ninja appliances stand the test of time and are valuable assets for home cooks, health fans, and those who want beauty products
Ninja's entry into the kitchen appliance scene brought a breath of fresh air. The brand introduced a line of blenders that pushed the boundaries of what was possible in terms of power, precision, and convenience. Ninja blenders are not just tools, they are culinary companions, inspiring creativity and opening up new horizons for cooking enthusiasts.
For those who will enjoy knowing a bit more about the people who had the Ninja vision – read on, else skip to the next section!
SharkNinja, established by Mark Rosenzweig in 1997 in Montreal, Canada, expanded to the U.S. in 1998. His passion lies in creating groundbreaking products that enhance consumers' lives. In 2003, Mark took a hands-on approach by appearing as the face of SharkNinja in Direct Response Television campaigns, showcasing the quality and effectiveness of their products. Before venturing into the world of SharkNinja, Mark Rosenzweig had a background in the entertainment industry. He holds a Bachelor of Arts degree in Psychology and a Bachelor of Arts in Economics from the Wharton School of Business.
Mark A. Barrocas, CEO of SharkNinja and board member since July 31, 2023, was previously the President of SharkNinja from 2008. He has driven product innovation, global expansion, and a customer-centric culture, expanding the business to nine countries and twenty-five offices. Before SharkNinja, Mark held leadership roles at Aramark Uniform and Broder Bros Co. He also serves on the JCC of Greater Boston's Board. Mark earned a Bachelor of General Studies from the University of Michigan.

What is the product range?
Here is the extensive range of products that fall under the Ninja Brand.
Are you looking for
Portable blenders
Drink systems
Outdoor ovens
Outdoor grills
Ice cream machines
Indoor grills
Blenders
Food processors
Air Fryers
Ovens
Toasters
Bakeware
Cutlery
Cookware
Coffee makers
Electric kettles
Juicers
Pressure cookers
Waffle makers?
Ninja will have an affordable model to suit your needs.
Let's talk about Ninja portable blenders
In today's fast-paced world, I always seek convenience without compromising on our health and well-being. That is why a Ninja Portable Blender is the perfect solution for those who are always on the move but refuse to compromise on nutrition. These sleek, compact, and powerful blending machines have totally changed the way my family enjoys their favorite smoothies, shakes, and juices. And, it can work for you too!
Whether you are an on-the-go professional, a fitness enthusiast, or a travel junkie, Ninja Portable Blenders are your trusted sidekick. They're designed to blend your favorite ingredients into delicious and nutritious drinks with ease while fitting seamlessly into your busy lifestyle.
Ninja Blast Portable Blender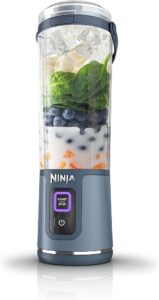 The cordless Ninja Blast allows you to blend-on-the-go, any time and anywhere you need to. It has a unique handheld design that makes it easy to use out in the field, at the office, on a picnic, or even in the car. The blender holds 18oz, perfect for a 1-cup delicious healthy meal. Use it to make smoothies, protein shakes, and frozen drinks. This model comes in a fun choice of colors to suit all tastes. It has a removable blade for easy cleaning. I love the separate buttons for power and blending. So, pressing the power button does not start the blending, when you are not ready for it! And, for added value, it has an easy-open sip lid, so you can drink directly out of the blender.
If you are like me, you appreciate the joys of cooking, but you also value your time and energy. That's where Ninja's food processors and kitchen systems step in to make life in the kitchen a breeze. Experience the kind of professional power that lets you effortlessly chop, shred, slice, blend, and knead dough with just a simple touch of a button. It's like having your own kitchen assistant, always ready to help you create culinary masterpieces. I love the Auto-iQ® pre-set programs that deliver perfect results without the guesswork. I can set the machine, rush off to do something else, and not come back to a disaster!
Ninja BN601 Professional Plus Food Processor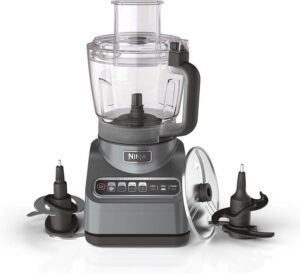 This extremely powerful food processor comes with a 1000-peak-watt motor that can deal with the toughest ingredients. It is ideal for a large family where the cook wants restaurant-quality results and no time wasting. It will precisely chop, consistently slice, and evenly mix all in one appliance, keeping your kitchen free of a multitude of different appliances. The 4 Auto-iQ intelligent preset programs make food prep easier with 3 speeds, low, high, and pulse. You can chop veggies, shred cheese, and make smooth sauces and quick pizza dough or cookie dough from scratch, all at the touch of a button. It features a 9-cup, 72oz. processing bowl that can handle batches as small as a few cloves of garlic, or a full bowl of dough. If you have run out of ideas for supper, the food processor comes with a 20-recipe Inspiration Guide. All parts are BPA-free and dishwasher-safe.
Stay healthy with Ninja air fryers
Do you love the sizzle and aroma of fried foods, but know that they are not really that good for you? Using an air fryer will give you that same crispy taste without the guilt! And, that is where Ninja Air Fryers step in, creating a culinary revolution that is healthier and just as delicious.
Using a Ninja Air Fryer, you can whip up perfectly crispy french fries, golden chicken wings, or even delectable donuts, using little to no oil. It is a game-changer for anyone who loves the taste of deep-fried goodness but wants to make smarter, healthier choices.
Ninja Air Fryers use hot air to achieve that fab crunch, so you can enjoy all your favorites without the excess oil and fat. These kitchen wizards are versatile, allowing you to cook, roast, reheat, and dehydrate a wide range of dishes, all with the ease of pushing a few buttons.
Take a look at my articles on
All About the Ninja Foodi DZ201 Air Fryer
The Ninja Foodi FD302 11-in-1 Air Fryer
Ninja AF101 Air Fryer for Beginners
Create creamy treats with the Ninja CREAMi®
Let us take a delightful peek into the world of the Ninja CREAMi, a kitchen appliance that is all about transforming your dessert dreams into reality. If you are like me, indulging in a creamy, frozen treat is one of life's simple joys. And with the Ninja CREAMi, you can craft these frozen delights right in your own kitchen.
Imagine being able to create luscious ice creams, silky sorbets, and dreamy frozen yogurts with the touch of a button. The Ninja CREAMi is designed to make these sweet concoctions a breeze. What sets it apart is its innovative approach, allowing you to experiment with flavors, textures, and ingredients to craft customized frozen delights.
From classic vanilla and rich chocolate to exotic fruit sorbets and dairy-free options, the possibilities are as endless as your imagination. The Ninja CREAMi takes your creativity to new heights, making it simple to experiment, and discover new favorites. Whether you are a dessert aficionado or a novice in the world of frozen treats, this appliance is your key to creating sweet masterpieces.
Ninja CREAMi Ice Cream Maker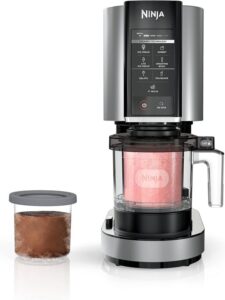 Do you wake up dreaming of a cool creamy treat? The Ninja CREAMi Ice Cream Maker will whip one up for you in minutes. With this model, you can turn almost anything into ice cream, sorbet, milkshakes, and more. Create decadent gelato to low sugar, keto, dairy-free, and vegan options. And, you can add exciting treats like their favorite chocolate, nuts, candy, and fruit. The CREAMi offers 7 One-touch programs for different speeds and pressures. You have choices for Ice Cream, Sorbet, Gelato, Milkshake, Smoothie Bowl, Lite Ice Cream, and Mix-in. The touchpad screen is easy to use and you don't need to be a tech-whizz – I am certainly not! To make your treats even more decadent, there is a Re-Spin option to make them softer and creamier.
Wake up to waffles with a Ninja waffle maker
Designed to a smile on faces and get into a great mood to start the day! There is something undeniably delightful about the aroma of freshly baked waffles in the morning. And if you're ready to take your breakfast game to the next level, you are in for a treat with Ninja Waffle Makers.
Whip up golden, crispy waffles with the perfect level of fluffiness, all thanks to a Ninja Waffle Maker. Ninja Waffle Makers are all about providing you with a hassle-free, restaurant-quality breakfast experience right in your own kitchen. They bring together innovation and simplicity to help you create waffles that are nothing short of perfect.
Ninja NeverStick PRO Belgian Waffle Maker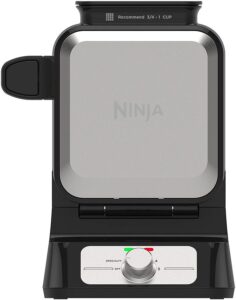 With the Ninja® Belgian Waffle Maker PRO Neverstick™ you have no mess and waffles that won't stick. The unique vertical design offers edge-to-edge heat that consistently creates fluffy waffles with a crisp finish. This model has 5 Shade Settings ranging from soft and fluffy deliciously crispy, 1-inch thick Belgium-style waffles. For something extra, you have an exclusive specialty setting that allows for high-sugar batters like brownies and cake mixes. The machine comes with a Precision-Pour Cup that makes it easy to measure and pour the batter. And, it beeps when your waffle is done – so no half-cooked or over-cooked waffles and no guessing is needed.

Customer feedback for Ninja products is close to 5 stars across all their ranges. Customers love their portable blenders which are extremely popular with gym enthusiasts, sports lovers, and outdoor explorers.
Their website is packed full of tempting recipes for everything from bacon burgers to blue cheese ice cream, and slow-cooked pork ribs. Ninja products have proven over the years be to high-quality and professional.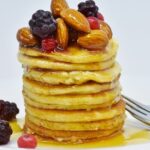 Crispy and Delicious: Vegetarian Air Fryer Recipes to Try Today Having a vegetarian daughter-in-law, I had to become creative to serve her up healthy, tempting…
Read More »