Today I am talking about health and safety, specifically when it comes to kettles. Have you ever been to someone's house for tea, only to find that the base of the kettle is full of horrible grimy limescale build-up? If you are like me, you probably asked for a glass of water instead of a cup of tea.
Not all kettles are made equal and some are far more healthy than others. As a family, you probably consume vast quantities of boiled water, and you want to be sure that it is not filled with leached chemicals and other nasty organisms.
When looking for the healthiest kettle to boil water, consider one made from safe, non-toxic materials such as stainless steel or Borosilicate glass, that has a concealed heating element, temperature control feature, and water level indicator.
Stainless Steel kettles are the healthiest kettles to boil water
Kettles made from Stainless Steel look stylish and are considered to be the most healthy option, together with glass. Stainless Steel comes in a food-grade rating known as 304, 316, 18/8, or 18/10. Food grade stainless steel is a type of stainless steel that is safe for food contact and is commonly used in kitchenware and cookware. Note that not all stainless steel products are food grade!
Stainless steel is a healthy choice for a kettle or other cookware because it is non-toxic and does not leach any harmful chemicals into the food or water. It is also very durable and resistant to corrosion, which helps to prevent the buildup of mineral deposits on the heating element. Additionally, Stainless Steel is easy to clean and does not absorb food odors or flavors, making it a great choice for boiling water or cooking a variety of foods.
Glass kettles are also the healthiest kettles to boil water
Like Stainless Steel, glass does not leach chemicals into the water. It does not absorb odors or flavors. Many high-end kettles are made of Borosilicate glass. This is a type of glass that is made with boron and silica, and is known for its durability and resistance to thermal shock. It is often used in laboratory equipment, cookware, and other applications where a high level of heat resistance is required. It also does not leach any harmful chemicals, making it a safe and healthy choice for boiling water and cooking. Additionally, it is also lightweight and transparent, making it an ideal material for kettles or any cookware.
Glass can break, and you certainly don't want a kettle that breaks! One great feature of borosilicate glass is that, in the unfortunate case of it breaking, it will crack into chunky pieces rather than shatter into small dangerous shards. It is far safer than normal glass.
What about unhealthy heating elements?
The heating elements inside kettles tend to attract build up of mineral deposits. This leads to limescale and other debris that find their way into your water, making it unhealthy to drink. Cleaning limescale can be a mission and is sometimes almost impossible to remove it totally. I have spent hours trying to scrub off scale, only to keep on finding more hidden in small hard-to-reach crevices. Some kettles use a concealed heating element, which is a much healthier option. The water does not touch the element and this prevents the build-up of mineral deposits on the heating element. This can also extend the life of the kettle.
If you do have to remove limescale from a kettle, here is a helpful video that uses natural lemons instead of harmful chemicals.
Are plastic kettles healthy?
The answer here is a definite NO. Plastics leach a host of horrid-sounding chemicals into your water. The common ones are known as
PFOA – perfluorooctanoic acid
PTFE – Polytetrafluoroethylene
BPA – Bisphenol A
These components pose a danger to your health as they release various gases and chemicals that range from mild to severe levels of toxicity.
Sometimes you will see that the manufacturer's product description specifically states that the product is PFOA-free or BPA-free. This can lead to some measure of comfort, but I would personally avoid plastic kettles at all costs. Also look out for metal, steel, or copper kettles that have a plastic coating inside, they are also not a good choice.
Safety and health often go hand-in-hand. I also look for other features in a kettle that offer added safety options. A kettle with a temperature control feature can be a good choice as it allows you to set the temperature to your desired level, which is especially important for teas that require a specific water temperature. This is also a vital feature for baby formula preparation. You don't want to scald baby or offer her a drink that is too cold.
A kettle with a water level indicator is also helpful, as it allows you to easily see how much water is in the kettle and avoid overfilling.
I really like electric kettles as they have an automatic shut-off feature that kicks in once the water has reached the desired boiling temperature. They will never boil dry and become a dangerous smoldering piece of metal like a stovetop kettle if you leave it on the heat without water.
Here are 5 of my top choice healthiest kettles to boil water. I have Stainless Steel and Glass options for both stovetop and electric preferences.
OXO BREW Classic Tea Kettle - Brushed Stainless Steel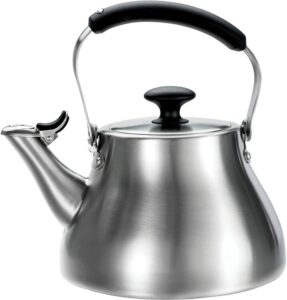 This classic stovetop kettle is made of brushed stainless steel. it has an easy-open, one-touch spout cap and a fun loud whistle when the water has boiled. The handle is comfortable and soft for pouring and it rotates out of the way for filling and storing. The high-grade brushed stainless steel will never rust or corrode. For safety, you have heat-resistant silicone touch points on the spout and handle. Holds 1.7 qt capacity, ideal for a small family.
Cuisinart Aura 2-Quart Tea Kettle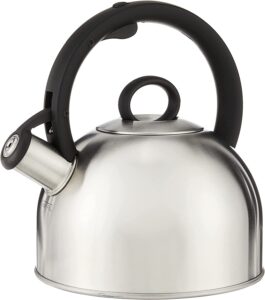 Cuisinart is one of my favorite brands and this stylish kettle adds a cool touch to a kitchen in polished stainless steel. It has a fun whistling sound and boils water fast and reliably. The ergonomic handle makes pouring safe and easy. I also love that the interior is made of nonreactive material that is corrosion-proof. If you want to match a retro bold kitchen color scheme, this model also comes in metallic red and red.
Cafe Brew Collection Borosilicate Glass Whistling Tea Kettle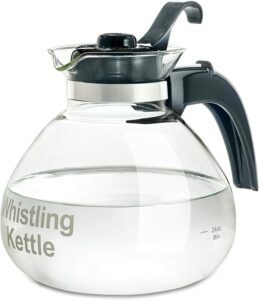 This is a fabulous High Quality Borosilicate Glass from Duran in Germany. It can hold 12 cups and can be used on Electric, Glass Cook-Top, and Gas stovetops. When the water is boiled, it gives off a loud whistle. For me, clear glass kettles always look so much cleaner and healthier and they are super easy to wash. This model can be put onto the top rack of the dishwasher.
MegaWise Electric Kettle Borosilicate Glass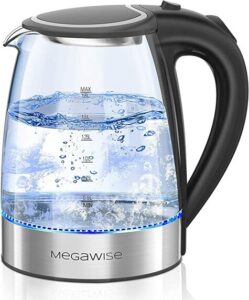 If you prefer an electric kettle, the MegaWise is my top choice. It is made of sturdy Borosilicate glass that is resistant to thermal shock. There are no plastic components and the inner base and lid are made of stainless steel. I really enjoy electric kettles as they shut off automatically when the water is boiled. It also has a trendy LED light around the base that shines in blue, adding an exotic atmosphere to your dark kitchen when you sneak down for a midnight snack.
TAKE A LOOK AT SOME MORE FABULOUS  HEALTHIEST KETTLES TO BOIL WATER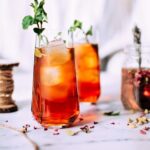 As much as I love tea, I do sometimes get tired of … yet another cup of tea. I also sometimes drink far too much…
Read More »