Since I got hooked on air fryers, I simply cannot get enough of them. I was actually considering getting two so that I can cook multiple things at once. Space and cost are obviously an issue and this won't be at all practical in a small kitchen. After all, I am not running a restaurant.  But, wishes do come true, and I have just found the amazing Ninja DZ201 Foodi Air Fryer with 2 Independent Frying Baskets. Now, this may sound like a really long name, but it perfectly describes this fabulous appliance.
I am going to tell you all about it, so you can decide if you would benefit from an air fryer that has two baskets instead of the usual one.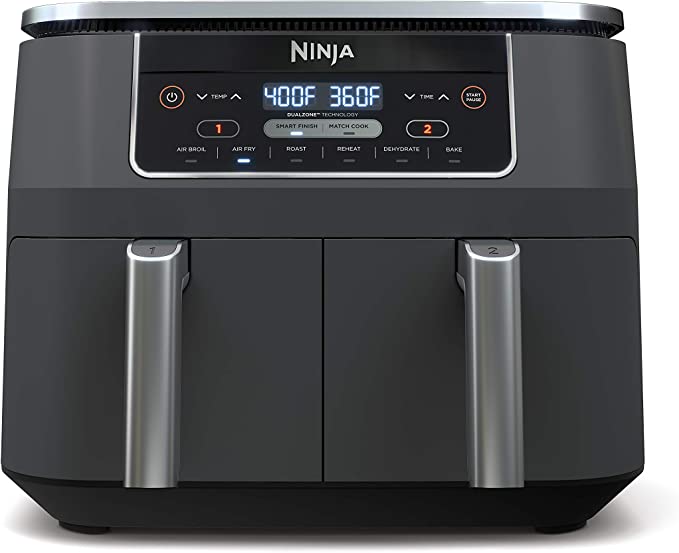 I always like to learn a little about the company that makes the appliance. If you don't, skip this section!
Ninja® is a brand of small home appliances developed by SharkNinja Operating LLC. The company started in Montreal, Canada, and is now located in Needham, Massachusetts. They produce a large range of innovative home appliances from blenders, to state-of-the-art vacuums and air fryers.
The founder is Mark Rosenzweig who has become a well-known face on TV networks, showcasing their innovative products.
This is the deciding factor that made me want this air fryer. Traditional air fryers are not great for cooking different foods together. It can be done with some juggling. By using a small ramekin, I put frozen chicken nuggets and fries into the basket. I then, for example, put spaghetti and tomato sauce into a ramekin and make space for it amongst the chicken pieces. This is my hack for cooking different foods at once. It doesn't always work.
If the foods I want to cook really don't go together, I revert to the standard back-to-back method that most people use.
Having TWO baskets is absolute bliss. They can work independently, or they can work together.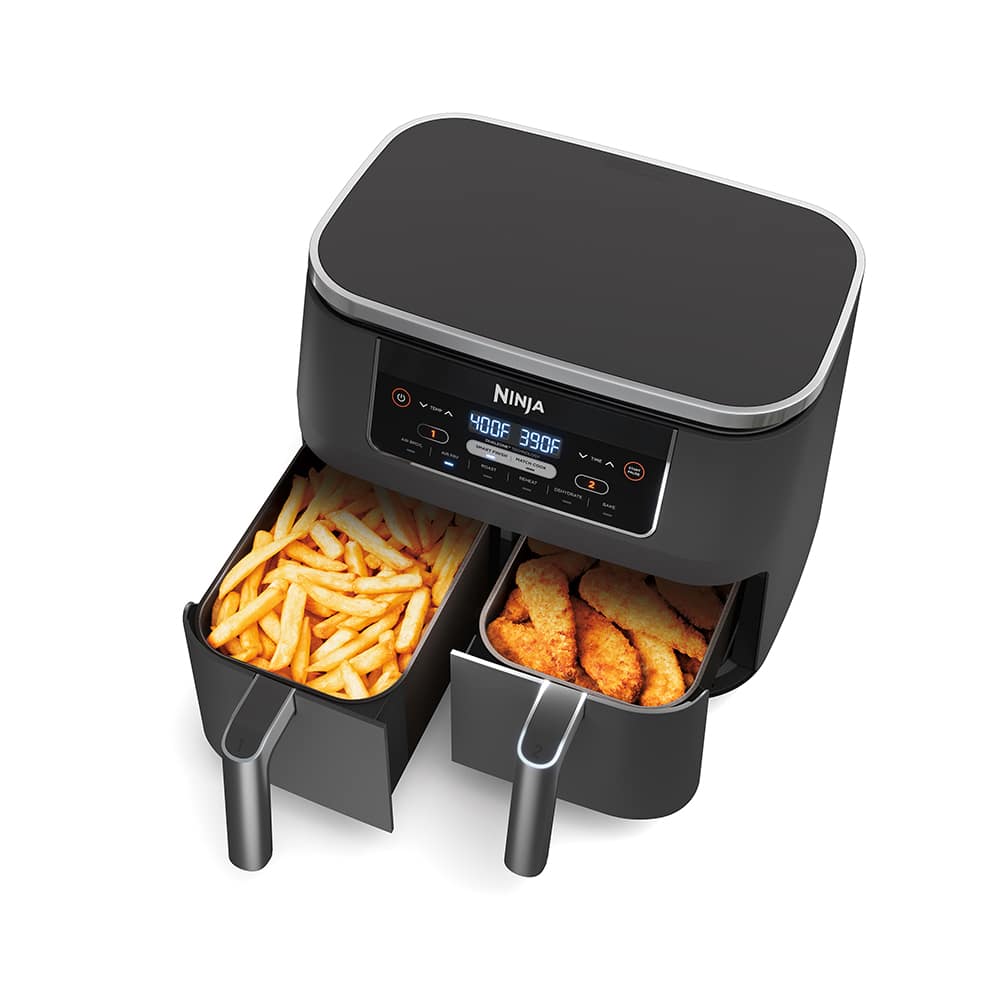 You can cook 2 foods, 2 ways at the same time. You can also set different temperatures, times, and the type of cooking program per basket. So for example –
Basket 1 can be – Air Fry chicken pieces, 400°F for 28 minutes
Basket 2 can be – Roast frozen veggies, 360°F for 18 minutes
The Ninja DZ201 Air Fryer has a Smart Finish feature that ensures both baskets finish at the same time, regardless of the time needed for each. How amazing is that?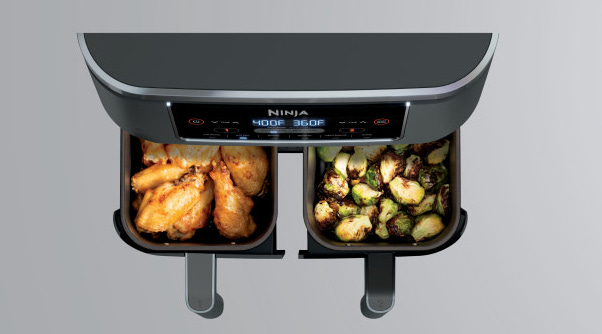 If you want to cook a larger meal and need the full capacity, you can Match Cook the two baskets by syncing the settings across both. This gives you the benefit of using the full 8 quart capacity in one go. When you use the baskets separately, each one offers a 4 quart capacity.
The Ninja DZ201 Air Fryer has 6 different functions
Having cooking options is a must for me if I am investing in an expensive air fryer.
The Ninja Foodi DZ201 Air Fryer has 6 customizable programs
Air Fry, Air Broil, Roast, Bake, Reheat, Dehydrate
If you are a beginner at air frying, here is a look at what each one can do
Air Fry – Uses hot air that is circulated around the basket to cook the food. It uses up to 80% less oil than conventional cooking. This program is ideal for fries, chicken pieces, vegetables, meatballs, chops, and any food that you would usually fry in loads of oil or fat.
Air Broil – Broiling uses heat from the top combined with very high temperatures to crisp or brown the top of your dish. If you want to melt cheese or brown a casserole, the broiler feature will do it for you. It uses direct, top-down heat to get a crisp, bubbly top to your dish.
Roast – Nothing beats a hearty roast, gravy, and veggies on a cold winter's night. The Ninja roasts like a normal oven in far less time, using far less fat.
Bake – You can also bake treats. Try out cinnamon buns, cookies, cup cakes, and breads. Here is a great recipe for a Lemon Sponge Cake that is ideal for an afternoon tea with friends and family.
Reheat – Heating up leftovers in an oven takes so much time. And, the cost of your energy bill is a factor to consider. Why try to save money using leftovers and then spend a fortune heating them up? The Ninja Foodi DZ201 has a program specifically for reheating food.
Dehydrate – This is a fun setting to help you make snacks and treats. You can dehydrate apples, bananas, and apricots to make a tasty trail-mix that is healthy and ideal to take to work or school. I use this program to dehydrate raisins and figs that I put into decadent desserts.
Non-stick for easy cleaning
Both baskets are non-stick, making them super easy to clean. The crisper plates are dishwasher safe.
When cleaning non-stick surfaces, do not use bleach, abrasive cleaning pads, or steel wool. These will damage the non-stick surface. Wash the baskets with lukewarm water and a mild detergent and then wipe them dry with a damp cloth. They will never get damaged and will last for years.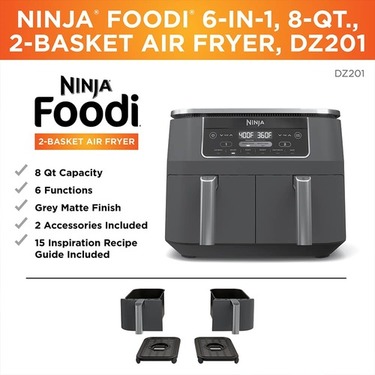 Wide temperature range - 105°F to 450°F
Some basic air fryers have a very limited temperature range. This is frustrating when you find that you are unable to cook certain foods. With a range of 105°F to 450°F, you will be able to cook anything from a delicate grilled fish to a hearty roast.
Help and support for the Ninja DZ201 Air Fryer
Help and support are vital for me, especially when buying an expensive device. I don't want to feel abandoned if something goes wrong. Ninja® has a great website with live chat support. They also have a very comprehensive FAQ section to help you find and solve your problem.
Supplied with the air fryer is an Instruction Booklet and a Quick Start Guide. You also get a booklet of 15 Chef-inspired recipes to try out and show your skills.
The Ninja Foodi DZ201 Air Fryer is a very exciting purchase and a must-have for anyone who loves air fryers!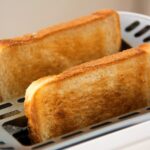 Almost every home has a traditional toaster, so why would you need a toaster oven? Like all kitchen appliances, there are pros and cons. This…
Read More »