Are you in a hurry to make breakfast but are tired of eating cheese on toast? It is very easy to dish up far more exciting toast treats for your family. I have experimented with some different and delicious toast toppings and would love to share them with you. 
Toast toppings are enhanced by using whole-wheat, rye, sourdough, or grain breads. These breads make a great change from your everyday whites and browns. Whole wheat bread is full of essential vitamins, minerals, and proteins. It also has complex carbs that keep you feeling fuller for longer and boost your energy levels. 
When toasting whole-wheat, rye, or grain breads, you may want to adjust your browning settings to be lower than normal. These breads are quite delicious warmed up and don't need to be toasted to a crisp. 
Egg And Spinach With Toast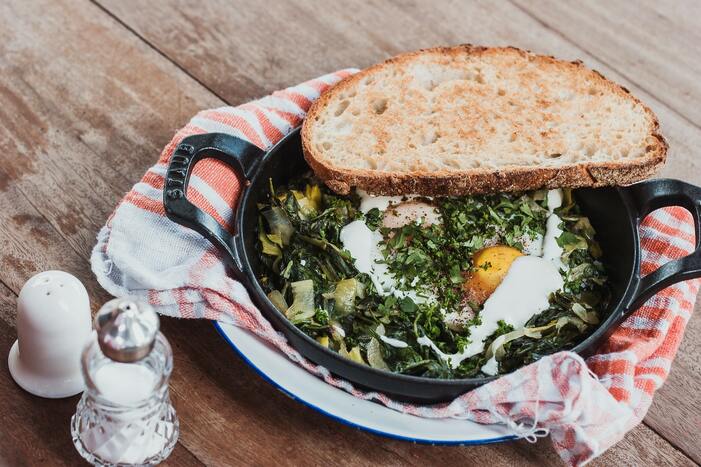 This recipe is more about WITH toast, rather than ON toast. But, it is a delicious and easy meal to whip up in the morning. 
For one person you need 
1 slice of toast, rye toast is a great choice for this meal

1 egg

4 ounces spinach

White vinegar

Salt and pepper

Butter
Follow these steps for the spinach
Wash and dry the spinach
Heat 1 tablespoon of butter in a pan until it melts
Add in the spinach
Season with salt
Cook until the spinach has reduced
Place the cooked spinach into a serving pan and keep warm in your counter top toaster oven
Follow these steps for the egg
Fill a small pot with about 2 to 3 inches of water
Add 2 tablespoons of vinegar
Bring the water to the boil
Reduce to a simmer
Stir the water with a spoon
Crack the egg and drop it in
(Making the perfect poached egg can take skill, but keep trying!)
Cook for around 2 minutes
While the egg is poaching, make your toast and spread with loads of butter. Take the spinach out of the oven. Place the egg on top. Season with salt and pepper. Enjoy with your toast!
Feta And Tomato On Whole Wheat Toast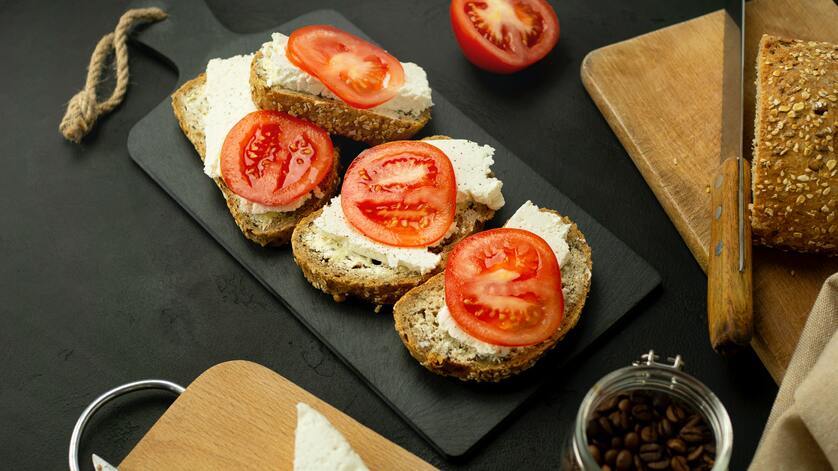 Feta is a fabulous salty cheese that pairs well with whole wheat toast. This is a quick and easy treat, ideal for lunch or brunch.
You need
Whole wheat bread
Feta cheese
Fresh tomatoes
Salt and pepper
Black olives
Follow these steps
Cut up the feta into thick slices
Slice up the ripe tomatoes
Toast your whole bread on a medium setting
Spread lavishly with butter
Place a slice of feta onto each piece of toast
Place a slice of tomato on top
Season with salt and pepper
Serve with the olives, or, sprinkle some chopped up olives on top
Honey, Banana, Apple On Toast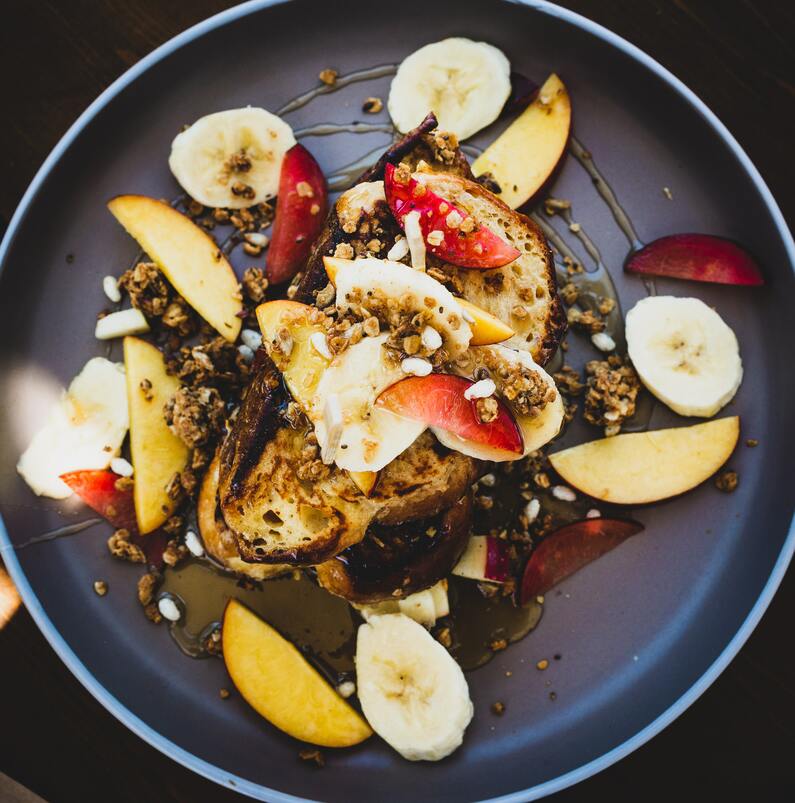 Toast toppings with fruit salad may sound crazy, but this is a delicious and nutritious treat for the whole family.
You will need
Sliced bananas
Sliced apples
Sliced peaches
Nut and seed mix
Honey
Toast – choose a freshly baked artisan bread or sourdough bread
Very easy to make
Toast your bread
Top with the bananas, apples, and peaches
Sprinkle generously with nuts and seeds
Drizzle with loads of honey!
My grand-kids love this treat. It is a great idea to get them to eat healthy fruits and nuts.
Rye Cheese Toast With Garlic
This is a great recipe that I found while surfing the net. You will need a counter top toaster oven that has a broil function. Take a look at the Hamilton Beach 4-Slice Countertop Toaster Oven with Bake Pan. It is an inexpensive device that has so many great features. The broil function radiates heat from above to cook your food. It is a great way to melt toast toppings. 
The recipe for this delicious toast treat includes cheddar cheese, sweet paprika, garlic powder or fresh garlic, and dill pickles. Choose rye bread for that extra exotic taste. 
For the full recipe click here
Mushrooms On Toast With Garlic And Thyme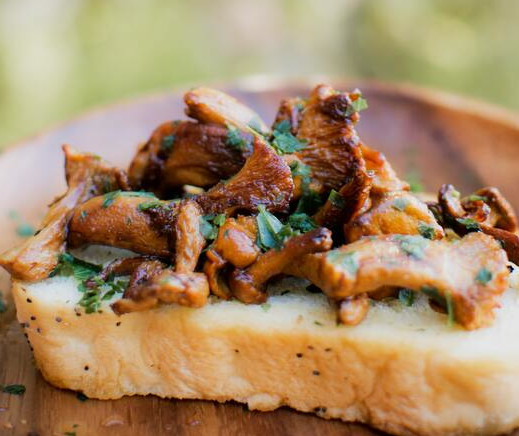 Mushrooms do require some cooking time, but they are well worth the effort.
Wash your mushrooms well. Mince up some fresh garlic and thyme. Heat oil in a pan. I always use olive oil for its rich authentic flavor. Put in the mushrooms, garlic, and thyme. Spread the mushrooms into a single layer. Cook for about 5 minutes without stirring. Season with salt. Stir and cook for another 5 minutes until golden brown on all sides.
Toast your bread and butter well. Top with the mushrooms, season, and serve. This is a great idea for a quick supper when you don't feel like slaving in the kitchen for hours. If your family is really hungry, serve your mushroom toast with bowls of piping hot soup.
Smoked Salmon And Cream Cheese On Toast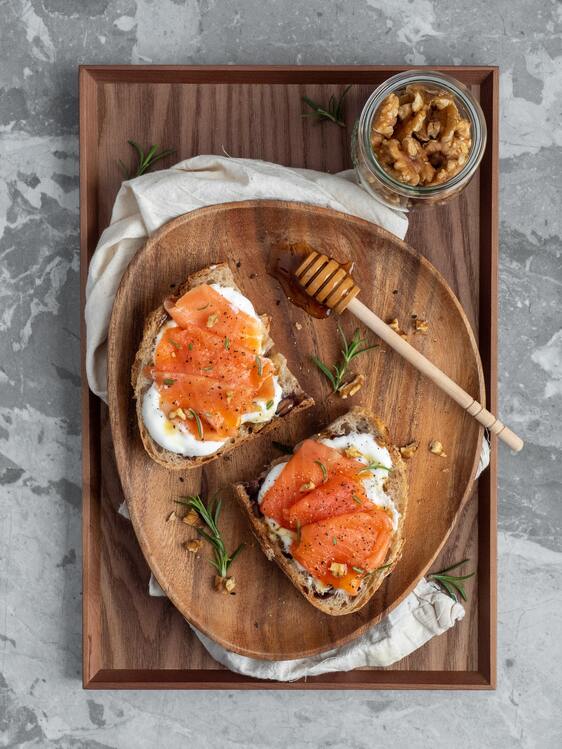 When I have guests over, I love to treat them to toast toppings  of smoked salmon and cream cheese treats. They look so fancy, but to make them is really easy!
You need
2 oz smoked salmon
3 tablespoons cream cheese
Sea salt and black pepper
1/2 teaspoon lemon juice
1 tablespoon chopped scallion or spring onions
1 teaspoon black sesame seeds
1 garlic clove
Optional fennel fronds
2 slices of bread
Follow these steps
In a small bowl combine the cream cheese and lemon juice
Season with sea salt and black pepper
Store in the fridge
Toast your bread
Let the toast cool and then rub with garlic cloves. If your guests don't like garlic, skip this step.

Spread the cream cheese mixture onto the cooled toast

Top with slices of smoked salmon

Garnish with black sesame seeds, chopped scallion or spring onions

Top with fennel fronds for an added wow-factor
Avocado Rose On Whole-Wheat Bread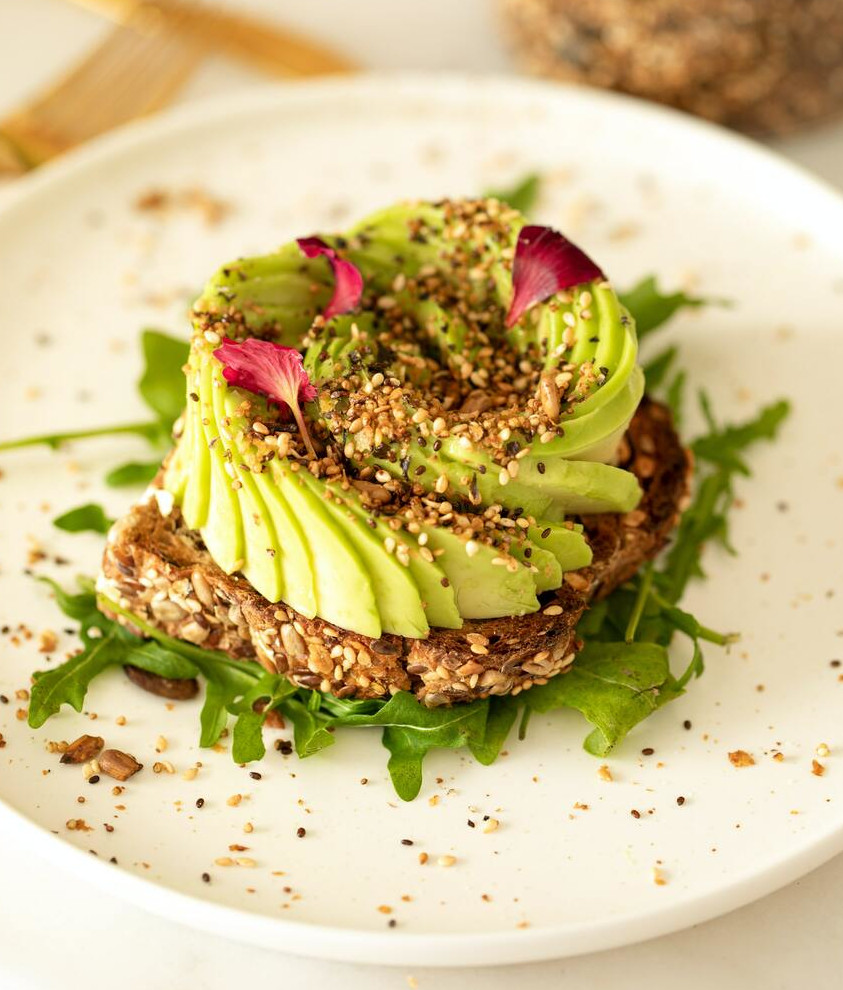 Avocados are packed full of Vitamins and nutrients. They are ideal for vegetarian and vegan diets, and also offer a healthy alternative for meat-eaters.
This fabulous toast treat is loaded with avo. You need to get creative! Slice up your avo into thin slices, keeping them together and intact. Place the slices standing upright in a circular shape in the center of your toast. It is not too difficult and you end up with a fabulous design that looks like a rose.
Avocado is always enhanced by a drizzle of fresh lemon, salt and pepper. Make a mix of healthy seeds including chia seeds, pumpkin seeds, sunflower seeds, hemp seeds, and sesame seeds. I always keep a supply of this mix in an airtight container. Sprinkle loads of seeds over the top and finish it off with a few edible rose petals.
This is such fun that I just cannot resist! My family loves hot dogs and this trendy Hot Dog Toaster takes making hot dogs to…
Read More »