Hamilton Beach is a famous brand sold in over 100 countries worldwide. You or one of your family members, probably have at least one Hamilton Beach appliance somewhere in your kitchen! They are known for a range of kitchen and household appliances ranging from small hand-held blenders to kettles, toasters, sandwich-makers, and larger appliances like ovens.
Hamilton Beach is a well-respected and reliable brand name. Their products are well-priced, durable, and are supported by a reliable and friendly customer support system. Their products have 5-star reviews and many customers remain loyal over decades, preferring this brand over any other.
One of the key strengths of Hamilton Beach is its focus on innovation. The company consistently introduces new and improved products to the market, such as the Stack & Snap food processor, which features a unique design that allows for easy assembly and disassembly. Additionally, the company has a strong reputation for producing high-quality, durable products that are built to last.
I always like to know a little bit about the history of the company – so here we go …
Hamilton Beach was established in 1910 by L.H. Hamilton and Frederick J. Osius in Racine, Wisconsin. The company started out by manufacturing and selling a motorized drink mixer called the "Hamilton Beach Drink Mixer." The product was an instant success, and the company quickly expanded its product line to include other home appliances such as blenders, coffee makers, and toasters.
Throughout the 20th century, Hamilton Beach continued to innovate and introduce new products, such as the first electric can opener in 1940. Today, the company is headquartered in Glen Allen, Virginia and has manufacturing facilities in the United States, China, and Mexico. It continues to be a leading manufacturer of home appliances, known for its innovative and affordable products.

What is the product range?
You can find almost any kitchen appliance in the Hamilton Beach range.
Are you looking for
Electric kettles
Food chopper
Ovens
Air purifiers
Coffee makers
Popcorn maker
Toasters
Deep fryers
Ice cream makers
Electric knives
Pizza maker
Waffle irons
Blenders
Can openers
Coffee
Bread machine
Rice cookers
Hamilton Beach will have an affordable model to suit your needs.
Let's talk about Hamilton Beach electric kettles
Hamilton Beach offers a range of electric kettles. Their electric kettles are designed to make boiling water fast, easy and safe. They come in a variety of sizes and styles to fit different needs and preferences. Some of the key features of their electric kettles include rapid boil, automatic shut-off, and cordless pouring. They also offer a range of additional features such as keep-warm function and water level indicator. Some models come with temperature control options.
Hamilton Beach electric kettles are made with high-quality materials and are built to last, they also come with a limited warranty. With a Hamilton Beach electric kettle, you can quickly and easily make tea, coffee, hot chocolate, and more.
Hamilton Beach Glass Electric Tea Kettle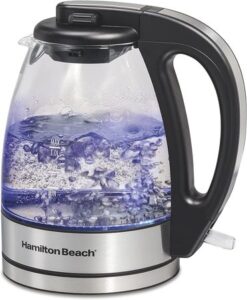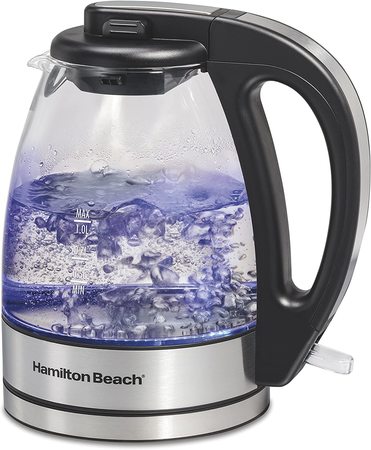 If you prefer an electric kettle to a stovetop whistling kettle, the Hamilton Beach Glass Electric Kettle is a stylish choice. It heats up 1 liter of water faster than a microwave or a stovetop. The modern glass design with stainless steel accents looks stunning on any kitchen island and I love the soft blue illumination LED light that gives it a luxurious ambiance. stovetop kettle. It has an automatic shutoff feature that turns the kettle off when the water is boiled. No pressure to miss the whistle and find that your kettle is melting on the stovetop. For easy cord-free use, the kettle lifts off the base.
With today's focus being on healthy foods, having a sturdy blender for smoothies, organic soups, and healthy sauces is a must!
Hamilton Beach offers a wide variety of blender options for different needs and preferences, including personal, countertop, and commercial-grade blenders. Their blenders are known for their durability, power, and versatility. Some of the key features of their blenders include powerful motors, stainless-steel blades, and multiple speed settings.
They also offer a range of additional attachments such as chopper and grinder attachments, which expands the functionality of the blender. Furthermore, Hamilton Beach also offers a range of blender options with specific features such as wave-action blending and no-mess pouring spouts. With a Hamilton Beach blender, you can easily make smoothies, soups, sauces, and more.
Hamilton Beach Personal Blender for Shakes and Smoothies

When I head to the gym, the office or to fetch the grandkids from school, I love to take along a nutritious smoothie for energy. This handy Blend-and-Go personal blender is so fast and easy to use. I can whip up fruit smoothies, shakes and refreshing icy drinks in a minute. The drinks are mixed directly in the 14 oz. BPA-free travel jar that comes with a travel lid to double as a go-cup. It's portable, lightweight and fits most car cup holders.
This blender ticks all the right boxes –
Durable stainless steel blades
The blending jar, blades and travel lid are all dishwasher safe
Compact size is ideal for home, office, travel
Easy one-touch blending for no time wasting
Sandwich makers are super-fun!
Nothing beats a tasty sandwich for on-the-go, to perk you up at lunchtime in the office, or a large platter for a cozy family get-together around a fire in winter. Hamilton Beach has a fabulous range of sandwich makers.
Their sandwich makers are designed to make delicious and crispy sandwiches quickly and easily. They come in a variety of styles to fit different needs and preferences, such as the classic two-slice sandwich maker and the four-slice sandwich press. Some of the key features of their sandwich makers include non-stick plates, indicator lights, and cool-touch handles. They also offer additional features such as a lockable lid, which helps to keep the sandwich in place while cooking.
Hamilton Beach sandwich makers are easy to clean and maintain, and they come with a limited warranty. With a Hamilton Beach sandwich maker, you can make tasty and crispy sandwiches in just minutes, perfect for breakfast, lunch or dinner.
Hamilton Beach Breakfast Sandwich Maker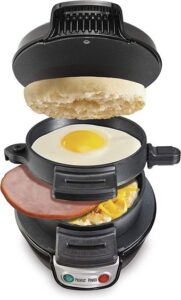 Make single-decker, double, or triple-decker sandwiches with this innovative Sandwich maker. I love the special Egg Ring that adds a perfectly cooked egg to my breakfast or brunch sandwich treats. The device is also perfect for Muffins, Croissants, and Mini Waffles. You can use bread or skip the bread to create Keto and Paleo options too. On the website, you will find 25 sandwich maker recipes to get you going. Build up a delicious designer breakfast sandwich and impress the family! All removable parts are dishwasher safe and surfaces are covered with durable, nonstick coating.
Slow cookers are perfect for comfort food
When I have time and want to make a warm and comforting meal for the family, I always choose to use a slow cooker.
The Hamilton Beach Slow Cooker is a versatile and convenient kitchen appliance that allows you to prepare delicious meals with ease. With multiple settings, including low, high, and warm, you can cook a variety of dishes, from stews and soups to roasts and casseroles. The removable stoneware crock and glass lid make for easy cleaning and the compact design makes it easy to store.
The slow cooker also features a programmable countdown timer that automatically switches to warm when the cook time is complete. Overall, the Hamilton Beach Slow Cooker is a reliable and user-friendly option for busy cooks looking to create tasty meals with minimal effort.
Hamilton Beach Digital Programmable Slow Cooker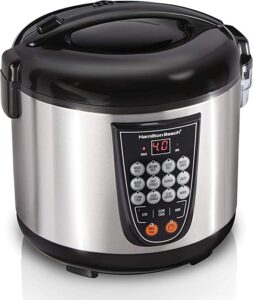 Don't get put off by the digital controls! Once you start using this slow cooker it is very easy. Use it to make tasty one-pot meals that are delicious and nutritious. It can slow cook, sauté, sear, and steam. It has 14 pre-programmed settings and includes a Keep Warm and Delay Start setting for extra convenience. The large 4. 5 quart capacity can hold up to 20 cups of cooked rice. The dual-purpose basket makes it easy to steam and cook at the same time. The inner pot is non-stick and dishwasher-safe.
If you can't function before that morning cup of coffee, you need a Hamilton Beach Coffee maker. Hamilton Beach Coffee Makers are reliable and easy-to-use appliances that allow you to brew delicious coffee with minimal effort. With options for regular or bold brew strength, you can customize the flavor to your preferences.
The programmable clock and timer allow you to set your coffee to be ready when you wake up in the morning. Most models feature a 2-hour automatic shut-off for added safety. The non-stick hot plate keeps your coffee warm for hours without burning it. The brew basket and carafe are dishwasher-safe for easy cleaning.
The compact design of the coffee machines makes them a great option for small kitchens or for those who want a coffee maker that doesn't take up too much counter space.
Overall, a Hamilton Beach coffee maker is a great option for coffee lovers looking for a simple and affordable way to make their morning cup of get-up-and-go.
Hamilton Beach FlexBrew Trio 2-Way Coffee Maker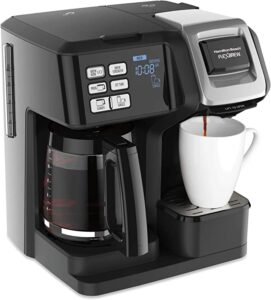 The FlexBrew Coffee Maker offers 3 ways to brew. You can brew up to 12 cups with ground coffee on the carafe side. You can also choose to do a dual purpose single serving to brew a pod or ground coffee on the other. It has an Easy-Touch program for wake-up ready coffee. After brewing, coffee stays warm for 2 hours and then the power automatically shuts off to prevent damage to the device. You can select your brew strength with Select-a-Brew, regular and bold brewing options. It has 2 separate easy-fill water reservoirs with a water window, so you always know exactly how much water to add.

Another important aspect of Hamilton Beach is its commitment to customer service. The company offers a wide range of resources, including product manuals, FAQs, and customer support, to help customers get the most out of their products. Additionally, Hamilton Beach offers a limited warranty on all of its products, providing customers with added peace of mind.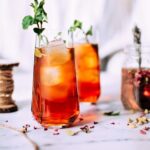 As much as I love tea, I do sometimes get tired of … yet another cup of tea. I also sometimes drink far too much…
Read More »