You probably already have a kettle, so why look for another one? Well, maybe just for fun! Novelty kettles are sure to get the family into a good mood in the morning before school and work. They also make great gifts for those friends who have everything.
Why not consider a kettle that changes color or a kettle that folds up? They are unusual and are sure to be a talking point when guests come around. Delight the grandkids with a Mad Hatter Tea Party and an elephant kettle or zebra kettle to match the theme.
For tech-geeks, you can connect a smart kettle to an app and get it boiling to a pre-selected temperature while you are still in bed in the morning. I mean, why not add a kettle app to the gazillion apps that you already have on your mobile? Unfortunately, the kettle won't be able to bring you coffee in bed, but I am sure you can make a plan.
My reviews below focus on some of the novelty kettles out there. You probably already have a kettle but it is always fun to mix things up a bit. You can use your boring kettle Monday to Friday and bring out your fun novelty kettle on the weekend.
If you are in a hurry and don't like reading, skip down to 'My Top Novelty Kettle Suggestions' or 'Which Novelty Kettle is Best For Me'.
PAHTTO Portable Collapsible Camping Kettle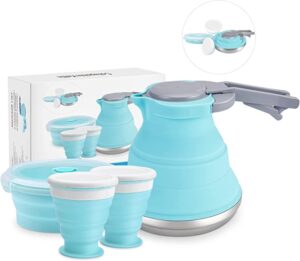 This fun kettle can fold into a tiny size that fits into a backpack, suitcase, or carry-on. I love this for those weekends away when you find a not-so-clean-looking kettle in your guest room. Simply unfold your PAHTTO portable kettle, fill it with water, and it boils in a jiffy.
This novelty kettle has a quality stainless steel base and a food-grade silicon body that collapses in seconds to half its size. It is BPA-free, odorless, and non-toxic, giving you a 100% safe way to boil water.
There is a handy lid-lock mechanism at the handle that keeps the lid closed when pouring. No more sudden gush of boiling water that will scald your hands if you are not paying attention.
The kettle holds 520 oz and comes with a matching Collapsible Bowl and 2 Collapsible Cups. It is also ideal for camping and can be used over a fire, but I would be cautious and ensure that the silicon sections do not get direct fire heat. For ease of cleaning, it is dishwasher safe.
520 oz capacity
Made of quality stainless steel and food-grade silicon
Collapses to 50% of its size
Can be heated on electric stovetops and open fire
Lid lock mechanism
Comes with matching collapsible bowl and 2 collapsible cups
BPA-free, odorless, non-toxic
HOME-X White Elephant Whistling Tea Kettle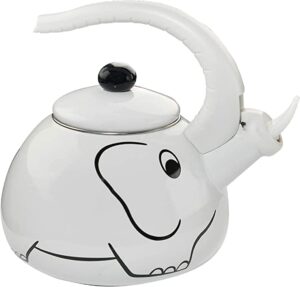 When there is 'an elephant in the room' no one wants to talk about it. But, in this case, your fun novelty elephant kettle will be the main topic of conversation.
This cute kettle is decorated to look like an elephant, perfect to enchant little people. The teapot handle resembles the elephant's trunk and lifts to reveal the spout. On the lid of the spout are two tusks.
Adding to the fun, the kettle emits a loud train-like whistle when your water has boiled. Everyone will hear it loud and clear and come running in for tea!
On the practical side, the kettle can be used on gas, electric, ceramic, radiant, and halogen stoves. The outside and inside are made of enamel-coated steel that can withstand high heat. The handle, spout, and knob on the lid are made from durable plastic, and the handle has a soft, comfortable grip. For extra safety, the lid fits very tightly on top, keeping the hot steam inside. This kettle is white, and also comes in a choice of gray.
This is a fun gift to offer at birthday parties, housewarming events, and weddings! Make an impression and get people smiling. If I ever get enough space to start a teapot and kettle collection, I will certainly add this as my first choice!
1.9 quarts capacity
Body made of strong enamel on steel
Handle, spout, and lid knob made from durable plastic
Can be heated on electric, radiant, gas, and halogen stove tops
Comfortable soft-grip handle
Loud whistle when the water has boiled
Easy to clean, just use warm water
This fun novelty kettle also comes in other designs – Take a look at the Giraffe and the Dinosaur
Fun Giraffe Novelty Kettle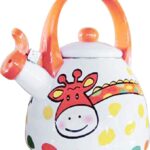 Fun Dinosaur Novelty Kettle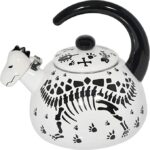 Vissmarta Vintage Copper Turkish Tea Kettle Pot for Stovetop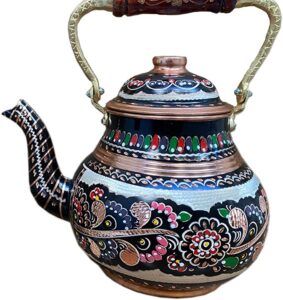 If I owned this kettle, I would never get any work done! I would just stand in my kitchen all day and admire it. It is decorated with the most amazing antique vintage Moroccan pattern in tones of copper, red, green, blue, and yellow. The kettle is handcrafted and takes up to 28 for each one be to meticulously made.
The kettle holds 2.1 quarts and can be heated on a stovetop. The inside is lined with tin on copper for safe drinking. This design stems back to the days of Anatolia, a country now known as Turkey. (I looked that up on Google). The kettle contains a tea strainer to hold loose-leaf tea in the traditional style. The large wooden handle offers a comfortable grip when pouring tea.
Buy this kettle if you love having lavish garden teas, planning Moroccan-style events, or showing off your artistic style. It makes a stunning gift for someone who appreciates something special. Because each one is handmade, you will notice that colors and designs may vary from one teapot to another.
If you love this design, you can also find matching trays and cups to create an even more breathtaking display! Take a look here.
2.1 quarts capacity
Handmade kettle
Stunning Moroccan design
Body made of tin on copper
Large wooden handle
Includes tea strainer
Easy to clean, just use warm water
Onlycooker Rainbow Mirror Finish Whistling Tea Kettle Stainless Steel 2.1 Quart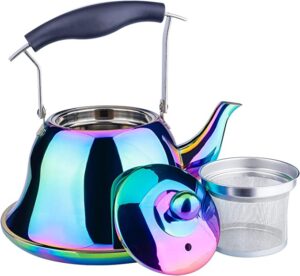 If you love colors and design and want something modern and eye-catching, the Onlycooker Rainbow Mirror Finish Whistling Tea Kettle is for you. The attraction has to be the amazing Titanium metal mirror finish that displays iridescent colors of pink, purple, blue, and silver that change as you move it. No one can miss this kettle in your kitchen.
On the practical side, it holds 2.1 quarts, perfect for a family without you running up and down to refill it many times. It is made of premium food-grade stainless steel that is high quality, durable, and rust-resistant. don't worry about cleaning, the surface is easy to keep clean and shiny by wiping with a damp cloth. It also has a whistle that alerts you when the water has boiled. It can be used on ceramic, electric, gas, halogen, and induction stovetops. It is also dishwasher safe.
The Bakelite handle stays cool, which is a must-have for me. It is also ergonomically designed for comfort, ease of handling, and can also fold down for storage. Although, a kettle that looks so cool, should definitely not be stored away!
If you fill it with the right amount of water it will whistle. If not, it won't, so you will have to pay attention (I guess) and get it right. The kettle also includes a premium stainless steel tea strainer, ideal for a single cup of loose-leaf tea. Treat yourself to a premium cup of green tea, Oolong tea, black tea, herbal tea, or rare Pu'er tea.
2.1 quarts capacity
Titanium rainbow mirror finish
Includes tea strainer
Can be used on gas, electric, halogen, induction, and ceramic stove tops
Whistles if correctly filled
Ergonomic design handle that can fold down
Dishwasher safe
Toptier Cast Iron Teapot, Stovetop Safe Japanese Cast Iron Tea Kettle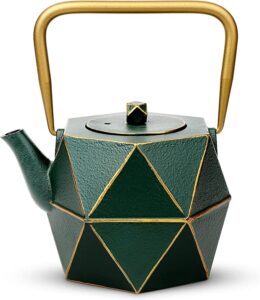 I am totally hooked on the look of this awesome kettle. It is made of cast iron, making it super heavy and solid. It has a beautiful diamond design in two-tone colors. This photo shows it in dark green, but you can get it in aqua, black, green, pink, white, and yellow. These choices are sure to fit in with any décor theme.
The novelty kettle holds enough water for 3 to 4 cups when boiled. It is far sturdier than ceramic and glass and I am sure if you drop it, your cement floor will crack before the kettle does. You can use it on most stove tops including induction cookers, electric stovetops, gas stoves, ceramic stoves, halogen, and wood stoves. For easy pouring, it has a non-drip spout and an ergonomic fold-down handle.
In traditional Japanese style, you can put your loose tea leaves directly into the infuser inside the kettle. The interior is fully enameled to retain the taste and flavor of the tea. To clean it, simply rinse with warm water.
You should not use this stunning teapot to make regular tea! Take a look at my ideas for exotic teas.
Holds 3 to 4 cups
Stunning two-tone diamond design
Made of heavy-duty cast iron
Can be used on all stove tops
Interior enamel lining
Ergonomic fold-down handle
Non-drip spout
Includes tea infuser
COSORI Electric Gooseneck Kettle Smart Bluetooth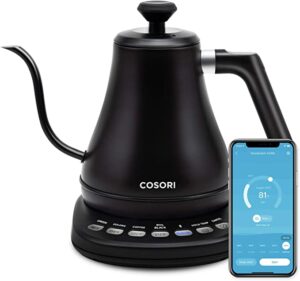 Tech-geeks who love apps cannot miss out on the COSORI Electric Gooseneck Kettle Smart Bluetooth. The word Bluetooth should tell you all you need to know. This is a smart device that you can control while sitting in the garden playing on your mobile phone.
The interior, lid, and spout are made of food-grade 304 stainless steel. The kettle has no Teflon or chemical linings. You will never experience that nasty plastic taste. You can boil up to 0.85 quarts of water in 3 to 5 minutes. For safety, the kettle has auto shut-off and boil-dry protection functions.
Let's get to the fun part … using the free VeSync app you can set the desired temperature between 104°F to 212°F and monitor it in real time. You can decide when you want your kettle to start heating. Control fanatics can set it for the minute after you have finished frying your over-easy eggs and toasting your artisan bread.
It has 4 Presets to choose from and a Baby Formula Mode that I really like. This will cool the water to a set temperature after boiling. The water will then be at the perfect temperature for baby formula. No more testing water on your wrist and standing the chance to scald yourself!
As well as all these fancy features, the COSORI Electric Gooseneck Kettle has a stylish design that will make an impact when guests come over. It comes in a shade called Space Black that is black (perhaps?) but certainly sounds so much cooler. The handle is designed to stay cool, a must-have for me.
This is a great gift for any tea or coffee lover. Keep it on your list for a Mother's Day, Father's Day, birthday, or anniversary event.
0.85 quarts capacity
Made of food-grade 304 stainless steel, No Teflon or chemical linings
Fast boil in 3 to 5 minutes
Auto shut-off and boil-dry protection functions
Connects to the free VeSync app
Temperature control, 4 Presets, timing control
Baby Formula Mode
BELLA Electric Ceramic Tea Kettle
I do like a kettle that stands on its own power base. It doesn't use up a plate on my stove when I am busy cooking up a storm. The BELLA Electric Ceramic Tea Kettle boils water faster than a microwave. It has a fully detachable 360° power base with an easy-to-use and safe design.
The look is ultra-stylish with a classic Quatrefoil tile pattern that defines the Bella Collection of kitchen appliances. It is elegant and sophisticated, ideal for an upmarket home décor theme.
The novelty kettle is made of ceramic and has an automatic shut off and boil dry protection function. This is a great help for those occasions when you get sidetracked and forget that you were planning on making a cup of tea. The long gooseneck spout helps to prevent spills and makes you look very stylish when you pour tea for the in-laws.
The kettle stands on a base and can be lifted off to pour your water. The base plugs into a wall powerpoint and has storage for the power cord if you don't enjoy having cords trailing all over your kitchen island. It also has an indicator light that lets you know whether the kettle is on or off.
1.2 liter capacity
Stunning Quatrefoil tile pattern
Stands on a 360 degree power base
Made of ceramic
Boils extremely fast
Gooseneck spout for less spilling
Automatic shut-off and boil dry protection
Indicator light for on or off
My Top Novelty Kettle Suggestions
Which Novelty Kettle is Best For Me?
For adding style to a Moroccan-themed kitchen, the magnificently decorated Vintage Copper Turkish TeaPot Tea Kettle Pot for Stovetop is a great choice. It is handcrafted and hand-painted, creating a unique kettle that will be handed down through the generations.
For homes with kids or grandkids, you can delight them with a HOME-X White Elephant Whistling Tea Kettle. For a classy look, nothing beats the stylish BELLA Electric Ceramic Tea Kettle.
If you don't enjoy using grimy kettles in hotel rooms, take along a PAHTTO Portable Collapsible Camping Kettle, it folds up into a small size and fits into a suitcase with ease. It also comes with 2 collapsible cups and a collapsible bowl.
For tech fans who must control everything via an app, the COSORI Electric Gooseneck Kettle Smart Bluetooth does have a higher price, but gives you total app control over your water-boiling needs! In a space-black color, it looks ultra-stylish on a kitchen counter or dining table.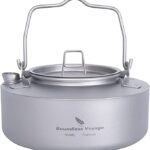 My family loves camping and we often head out into the outdoors for a weekend of sleeping on hard stony ground and getting drenched in…
Read More »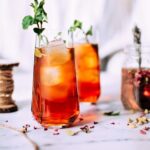 As much as I love tea, I do sometimes get tired of … yet another cup of tea. I also sometimes drink far too much…
Read More »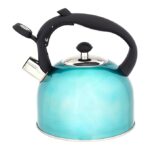 I find that nothing is more satisfying than the whistling sound of a stove top kettle. It is time for tea, relaxing, family bonding, or…
Read More »