Cuisinart is a famous brand sold globally. Every passionate cook has at least one Cuisinart appliance in their kitchen. Known originally for creating the amazing food processor that changed the face of cooking, today Cuisinart offers a range of products ranging from air fryers to blenders, can openers, toasters, coffee makers, and more.
Cuisinart is a well-respected and reliable brand name. Their products are innovative, tried and tested, and adhere to their mission of "Savor the Good Life®." Many of their products have 5-star reviews with loyal customers preferring this brand over any other.
One of the key strengths of Cuisinart is its visionary focus on shaping the way we cook and eat today. These appliances make our home kitchens as powerful as professional ones, offering everyday cooks a wide range of choices for a better cooking experience.
For those who enjoy learning about the humble beginnings of a great company, here is some info …
Cuisinart owes its existence to the visionary mind of Carl Sontheimer, a man with a deep appreciation for French cuisine and a desire to bring the art of cooking to American households. In the early 1970s, inspired by his experiences in France and the culinary traditions of Europe, Sontheimer was driven to revolutionize the American kitchen. His idea was to introduce a kitchen appliance that would simplify and elevate the preparation of gourmet meals.
In 1973, Carl Sontheimer introduced the world to the Cuisinart Food Processor, a groundbreaking kitchen gadget that would forever alter the culinary landscape. Inspired by the French "robot coupe," the food processor was designed to make time-consuming tasks such as chopping, slicing, and dicing, more efficient and accessible to home cooks. It was a revelation, a kitchen companion that turned ordinary individuals into culinary artists. Cuisinart's food processor not only simplified and streamlined cooking but also ignited a passion for exploration and creativity in the kitchen.
Today, Cuisinart continues its commitment to producing innovative, functional, and top-quality products. They have won awards that include the Good Design Awards, the Gold Hermes Award, and the Gold Summit International Award.

What is the product range?
You can find almost any kitchen appliance in the Cuisinart range.
Are you looking for
Food processors
Bread makers
Coffee makers
Electric knives
Deep fryers
Electric skillets
Grills
Tea kettles
Toasters
Waffle makers
Microwaves
Juicers
Espresso makers
Pressure cookers
Hand Mixers
Ice cream makers?
Cuisinart will have an affordable model to suit your needs.
Let's talk about Cuisinart food processors
Cuisinart food processors are kitchen superheroes! They chop, blend, slice, and shred effortlessly, making meal prep a breeze. To pick the right one for you, consider how much you need to cook. If you're feeding a large family like mine, go for the 14-cup Food Processor. But if it's just you or a couple, the compact Elemental 4-Cup model is perfect for simple tasks like chopping, grinding, or blending. With a choice of 4 to 14 cups, there is sure to be a food processor to suit your needs.
Consider what you like to cook. Food processors can do it all, from making pizza dough and slicing cheese to chopping veggies and kneading dough. If you need a power model that can cut through whole fruits, nuts, and veggies. For ease of loading, Cuisinart has models with wide-mouth feed tubes.
For the kitchen whiz who wants it all in one place, check out the Cuisinart Core Custom 10-cup or 13-cup food processor. It is like having a blender, juicer, and dicer all in one. Your kitchen will no longer be cluttered with multiple appliances and you will only need one streamlined model to do it all. Cuisinart food processors are easy to use and clean, with dishwasher-safe parts. Get ready to save time and enjoy whipping up fab meals.
Cuisinart Food Processor 14-Cup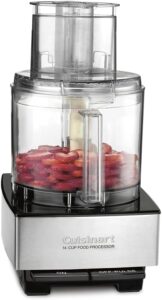 This superior 20-watt motor Food Processor is ideal for a larger family. It can handle almost anything you throw in it. Use it for making soups, dips, and sauces. It can shred, chop, mix, knead dough, and slice through cooked meat and semi-frozen raw meat. The 14 cup food processor has on/off and pulse buttons with a sturdy Lexan bowl. It features an extra large feed tube with a small and large pusher bowl sleeve assembly. With a cord length of 36 inches, you won't need to worry about your power source. Plug it in where it is most convenient for you.
Cuisinart Air Fryer Toaster Ovens
Cuisinart versatile air fryer toaster ovens cater to your cooking needs, simplifying baking, broiling, toasting, air frying, and grilling for any occasion.
If you are tight on space, the Compact Air Fryer Toaster Oven is a space-saving marvel that allows you to whip up delicious, crispy meals with minimal oil for ultra-health. Need something bigger? The Large Air Fryer Toaster Oven has ample space to air fry up to 4lbs of potatoes, chicken, or veggies – that is a lot! For those who want a top-of-the-range model, the Air Fryer Toaster Oven with Grill offers 8 oven functions plus a grill and griddle plate. Use it to bake, roast, and barbecue.
The air fryer toaster ovens all have nonstick interiors that make cleaning a breeze. If you want to learn more about these models, Cuisinart also offers a comprehensive Guide To Air Fryers. 
Cuisinart Air Fryer + Convection Toaster Oven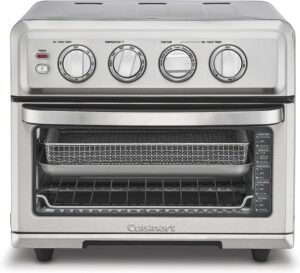 This top-of-the-range 1800-watt toaster oven and AirFryer has a setting for AirFry and can also toast, convection bake, bake, convection broil, grill, and warm. Designed for large families and those who want a state-of-the-art appliance this model will stand the test of time. It is large enough to toast 6 slices of bread, bake a 12-inch pizza, roast a 4lb chicken and air fry 3lbs of chicken wings. It features an adjustable temperature dial, a 60-minute timer/auto-shutoff and a toast shade selector. The model has an oven light, oven rack, baking pan, AirFry basket, grill, and a nonstick easy-clean interior for easy cleaning.
Ice cream and yogurt makers are super fun!
Are you dreaming of a cool treat on a hot summer day? Cuisinart has a range of state-of-the-art ice cream and yogurt makers that will allow you to whip up cooling gelato, creamy ice cream, fruity sorbet, and refreshing yogurt in no time.
The Cool Creations™ Ice Cream Makers will produce a treat in as little as 20 minutes, delighting the family, the kids, and their friends. There is no need to waste money on expensive takeouts and risk getting your cart seats covered in sticky ice cream!
If you are into entertaining, their soft-serve machines make professional-quality ice cream that will add the final touch to any 5-course dinner. They also have three built-in condiment dispensers that add an extra wow factor of color, flavor, and pizazz of your guests choice.
If your grandma taught you to make icecream the hard way by churning, you will appreciate the ease of these innovative machines with their multiple settings, speeds, and automatic timers.
Cuisinart Ice Cream Maker Machine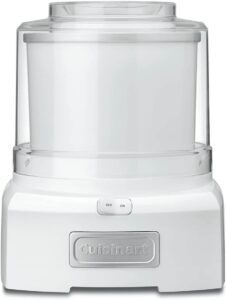 This very affordable Ice Cream Maker will make frozen treats in 20 minutes or less. It has an innovative double-insulated freezer bowl that eliminates the need for ice. You can make up to 1.5 quarts of your favorite ice cream or frozen yogurt at a moment's notice. The easy lock transparent lid with a large spout makes adding ingredients simple and mess-free. Get creative and add fruits, nuts, berries, and even veggies to your ice cream and yogurts.
When you have a demanding family like mine, a toaster must do more than just toast. That's why I love the range that Cuisinart offers. With wide slots, these toasters can be used to warm up bagels, defrost waffles, heat pastries, and brown artisan breads.
I can make a scrumptious breakfast in minutes with a variety for everyone from the grandkids to my hubby. The designs are made to save space and blend in with any kitchen décor theme. The Bakery™ bread toaster has two extra-long, extra-wide 10-inch x 1.5-inch slots, ideal for making open sandwiches on a lazy weekend. For a stylish look, the shiny 4 Slice Compact Stainless pop-up toaster can do two functions at the same time. So you can defrost, toast, warm bagels, or reheat as you desire.
I am diverting here 'cause Halloween is just around the corner and I am busy thinking of toasty ideas for the grandkids!
Ghostly Peanut Butter and Banana Toast – Spread peanut butter on a slice of toast. Add banana slices for the eyes and mouth to create friendly ghost faces.
Eyeball Toast – Spread cream cheese on a slice of toast. Place a grape tomato or a slice of hard-boiled egg in the center, and use olive slices or red pepper pieces to create bloodshot veins.
I also found this awesome Halloween Calendar online that my fam are luving!
Cuisinart 2-Slice Toaster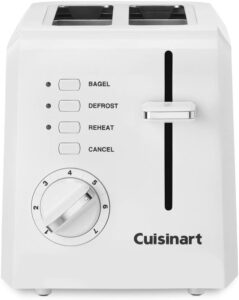 This 2 slice toaster is perfect for a single person or a couple. It does not cost a fortune and comes with a Limited 3-Year Warranty, giving you peace of mind for years. In a stylish clean white color, it will enhance any modern kitchen. It has easy settings for bagels, reheat, defrost, and cancel options. You don't have to be a tech whizz to understand this toaster. The 7-setting shade dial gives you control over the toasting shade and the slide-out crumb tray makes cleanup easy.

Another important aspect of Cuisinart is their commitment to customer service. They offer support on all their products and have a no-fuss return policy. They even encourage suggestions on new products and new features you would like to see on existing products. Not many companies do that!
If you are interested in other great brands take a look at my articles on Hamilton Beach and Kitchenaid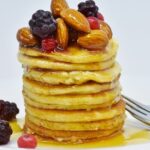 Crispy and Delicious: Vegetarian Air Fryer Recipes to Try Today Having a vegetarian daughter-in-law, I had to become creative to serve her up healthy, tempting…
Read More »