Nachos are such a feel-good treat. I love making them for a weekend picnic or a late afternoon get-together with the family. This is my tried and tested nacho recipe! 
 I used to make nachos in a conventional oven, but since I became a fan of Air Fryers, I cannot resist using mine at every opportunity. The jalapeños are optional and far too spicy for my grandkids. So I make 2 batches, one with and one without. Because the air fryer is so fast, it is not a problem and everyone is happy.
This recipe requires heat of 390°F which can be set on most air fryers. A great air fryer for a beginner is the Chefman Compact 2 Qt Air Fryer. It has a 2 qt basket and a simple easy knob control that will suit people who prefer to stay away from touchscreen controls.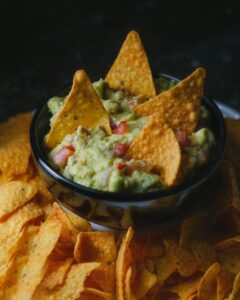 For a family-sized side dish you need – 
8 oz tortilla chips
1 cup shredded cheddar cheese
1/2 cup shredded Monterey Jack cheese
1/4 cup diced tomatoes
1/4 cup diced red onion
1/4 cup sliced black olives
1/4 cup sliced jalapeños (optional)
1/4 cup chopped fresh cilantro
Guacamole and sour cream, for serving these steps
Follow these steps
Preheat your air fryer to 390°F
Spread half of the tortilla chips evenly in the bottom of the air fryer basket.
Sprinkle half of the cheddar cheese, Monterey Jack cheese, tomatoes, red onion, black olives, and jalapeños (if wanted) over the chips.
Repeat layering with the remaining tortilla chips, cheese, and toppings.
Carefully place the basket in the air fryer, and cook for 5-7 minutes, or until the cheese is melted and bubbly.
Remove the basket from the air fryer, and sprinkle the chopped cilantro over the nachos.
Serve the nachos immediately with guacamole and sour cream on the side for dipping.
Keep this in mind –
Depending on the air fryer size, you might want to divide the recipe in half for a smaller basket.
Experiment with your favorite toppings.
You may want to try adding a small amount of oil to the chips before frying for an extra crispness.
You can also stack the chips to make a layered air fryer nacho dish but this would require more time to cook, to ensure cheese melts and is bubbly.
Here are some other great Air Fryer choices for beginners and advanced home cooks. Trying out air fryer nachos as a first attempt in a new air fryer is a great way to get a feel for this exciting (and healthy) method of cooking.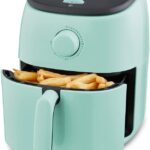 If you are new to air fryers take a look at my overview here. It will give you a rundown of the main features of…
Read More »