Blending, blitzing, pulverizing! Are you ready to take your culinary skills to the next level? I was not, but after buying my first blender, I just can't get enough of the whizzing sound and the delicious creations I am making. With so many options on the market, it can be hard to choose the right one for your needs. In this blog, I am recommending the top 5 best countertop blenders.
Whether you're a smoothie aficionado, a soup connoisseur, or a sauce savant, a high-quality blender will be your new secret weapon. There are large blenders for a family and fabulous smaller models for a quick on-the-go smoothie. I will explore the features and functions that make them must-have appliances for any home chef. Let's get blending!
Ninja BL610 Professional Countertop Blender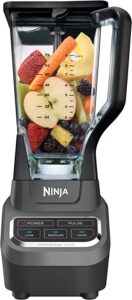 This is a powerhouse for people who want to crush anything from ice to whole fruits. With 1000 watts of professional power, this blender can handle even the toughest ingredients with ease. I love the extra-large 72 oz pitcher, letting me whip up delicious drinks and smoothies for the whole family and some for seconds.
It features Intelligent Technology, which means its Total Crushing Technology can crush through ice, whole fruits, and vegetables in mere seconds. For those hot summer days, you will love the ice-crushing feature that turns ice into snow in the blink of an eye.
The Ninja BL610 looks stylish and is also really easy to use with simple touch controls that don't require you to be a tech-whizz. If you run out of inspiration, it comes with a handy recipe guide to provide you with drink and dish-making ideas. When it comes time to clean up, the BPA-free pitcher is dishwasher safe, making cleanup a breeze.
1000 watts of power
Extra-large 72 oz pitcher
Intelligent Technology for crushing
Ice crushing into snow
Comes with a recipe guide
Dishwasher safe
BPA-free
Magic Bullet Blender, 11 Piece Set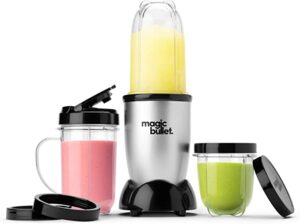 The Magic Bullet is magic (in a way!) It is absolutely perfect for those quick on-the-go drinks when you are running late and forgot to eat. It comes with 2 portable cups, a short and a tall, and a flip-top-to-go lid that lets you take your creations in the car, or on the walk around the neighborhood.
It has a 250W motor base and a cross-blade that can mix, blend, whip, grind and more. Also included are a party mug, two lip rings, two Stay-Fresh resealable lids. For those who absolutely have NO time, you get a 10-second recipe guide. (Can you actually make something in 10 seconds?)
The cups are made out of high-impact plastic so you don't have to worry about them breaking or cracking. This nifty little blender looks stylish and ultra-cool on a kitchen island. To use it, simply twist the container onto the power base and push down. It starts immediately and stops when you release the pressure. Use it to make your favorite meals and snacks like smoothies, omelets, sauces, and dips. Makes a great gift for a young couple or a single setting up a home.
250 watt motor base
Comes with a load of handy accessories
1 tall cup, 1 short cup, 1 party mug, 2 lip rings, 2 stay-fresh lids, 1 to-go lid
Cups are made of high-impact plastic
10-second recipe guide
Hamilton Beach Wave Action Blender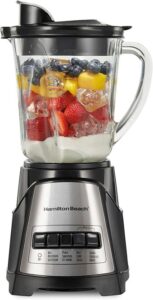 Hamilton Beach is a great brand and always makes me feel like I am sailing away on a vacation on a tropical island (I wish). But, in this case, I am simply sailing into my kitchen to whip up an exotic tropical drink (which I guess is almost as good).
This model features a powerful 700 watt motor combined with stainless steel Ice Sabre blades. The blades have a patented Wave Action System (there goes the beach again). As you blend, the ingredients are continuously forced down into the blades and circulated around the jar. You can crush ice, frozen fruits, whole fruits, nuts and other hard foods with no problem. It has all the power you need to make smoothies, protein shakes, soups, baby food, frozen drinks and more.
For those tech-savvy people who love options, the Hamilton Beach Wave Action Blender has 12 Blending Functions controlled by 5 simple buttons on the easy-to-read control panel. It also has neat words on the controls so you don't have to be a tech-whizz. You can select Grind, Mix, Milkshake, Dice, Chop and more, and it will do exactly what you want.
The spout on this electric blender lets you pour contents into your glass without spills or drips, so serving is easy and mess-free. The jar, lid and removable blades are all dishwasher safe making clean-up very easy.
700 watt motor
40 oz container
Patented Wave Action System
Stainless steel Ice Sabre blades
12 blending functions
NutriBullet Baby Complete Food-Making System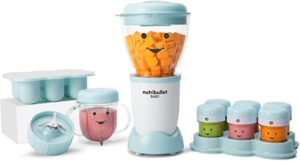 This little NutriBullet Baby Complete Food-Making System is sure to make you feel happy when you wake up at 2.00am on a freezing morning to feed baby. It is totally adorable with a smiley face and cute little serving cups that will delight the most difficulty baby.
The blender has a 200 watt motor base combined with 1 baby blending blade. Included are one 32 oz batch bowl with lid, one 12 oz short cup with handles and re-sealable lid. You also get six storage cups with date ring lids, a fabulous storage tray, and a handy silicone freezer tray with lid. You can mix up your meals, pour them into the tray, cover and freeze them, making your life so easy! For added convenience, the storage containers have a date dial to track freshness.
Don't spend money on baby food from the store when you can make your own nutritious, wholesome and delicious food that your baby wants to eat and won't throw on the floor.
The batch bowl and cups are made of non-toxic, BPA-free, super-durable plastic and are dishwasher-safe for quick and easy cleanup. When you run out of ideas for a meal, the blender comes with a fabulous recipe book.
200 watt motor base
Fun smiley baby design
1 x 32 ounce batch bowl with lid
1 x 12 ounce short cup with handles and re-sealable lid
6 storage cups with date ring lids and storage tray
1 silicone freezer tray with lid
Ninja Foodi Smoothie Maker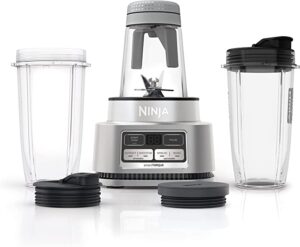 The Ninja Foodi Smoothie Maker is a super-powerful blender with a mega 1200-peak-watt motor. It is powered by SmartTorque Technology, which means that it can handle heavy loads without stalling or the need to stir or shake.
If you have a large family and are serious about blending, this is the model for you. The 14 oz Smoothie Bowl Maker comes equipped with a built-in tamper that blends and powers through frozen foods with ease, making perfectly thick smoothie bowls, nut butters, and even blender ice cream.
It also includes a 24 oz Nutrient Extraction Cup that can extract a drink containing vitamins and nutrients from fruits and vegetables. Ideal for people looking for a quick healthy meal or those on a diet.
The blender has 6 versatile functions for one-touch blend, pulse, smoothies, extractions, bowls, and spreads. If you are not sure, don't panic, this smart device has Auto-IQ Technology that takes the guesswork out of drink making. It will use its intelligent programs to figure out unique timed pulsing, blending, and pausing patterns that do the work for you. All you do is take the credit for producing amazing delicious creations. The parts are dishwasher safe making cleaning up a breeze.
1200 watt motor base
24 oz Nutrient Extraction Cup
14 oz Smoothie Bowl Maker
6 versatile functions
Auto-IQ Technology with Intelligent Programs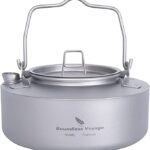 My family loves camping and we often head out into the outdoors for a weekend of sleeping on hard stony ground and getting drenched in…
Read More »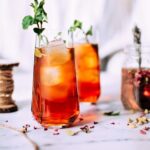 As much as I love tea, I do sometimes get tired of … yet another cup of tea. I also sometimes drink far too much…
Read More »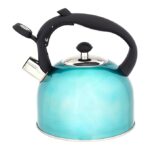 I find that nothing is more satisfying than the whistling sound of a stove top kettle. It is time for tea, relaxing, family bonding, or…
Read More »