If you are new to air fryers take a look at my overview here. It will give you a rundown of the main features of basket air fryers to consider.
In this review, I am looking at basket-style air fryers. These are usually cheaper than oven-style air fryers. They are also simpler, heat up faster, and are great as a first-time buy.
Air fryers are amazing for quick meals when you don't have time to wait for your conventional oven to heat up. They are also so easy to clean as they have just one main compartment that can be wiped out with a damp cloth or put into the dishwasher.
I am enjoying making crispy chicken wings, fries, and veggies in my air fryer. I have a delicious recipe for Garlic-Rosemary Brussels Sprouts that even my grandkids eat! I also use it to make pizzas on a weekend and meatballs with gravy on a cold winter's night. For something sweet, I have tried Chocolate Chip Oatmeal Cookies and they are delicious.
My reviews below will help you make a decision on which basket air fryer is best for you. If you are in a rush, skip down to 'My Top Air Fryer Suggestions' or 'Which Air Fryer is Best For Me'.
COSORI Air Fryer, 5 QT, 9-in-1 Airfryer Compact Oilless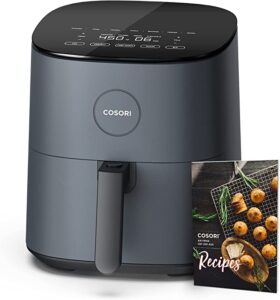 The COSORI 5 QT is a top seller air fryer on Amazon, which always gives a boost of confidence as a consumer.
It uses 360° rapid heat circulation technology that gives you the same crispy outcome as deep frying in oil but with 85% less fat. This is a huge bonus for people following a diet and for those who are watching their fat intake.
The COSORI heats up speedily to 450°F, making it ideal and energy-effective for quick meals. Even if you are not a tech-savvy whiz, you will find that the one-touch cooking functions are easy to use. There are 9 one-touch cooking functions on a tempered glass display. The design is compact, but it can hold a large 5-quarts of food, making it ideal for families of 2 to 4 people. To understand this better – this air fryer can hold 1 pound of fries, 12 chicken wings, a 4.5 pound whole chicken, and an 8.5 inch pizza.
Dishwasher-safe is a must-have for me, and the COSORI basket can be placed in the dishwasher. The basket is also BPA and PFOA-free. If you have run out of ideas for supper, the air fryer comes with a cookbook of 30 original recipes by Cosori R&D chefs. You can also find more than 100 recipes on the free VeSync app.
It does have a slightly higher price but will last for many years, making it a worthwhile purchase.
5-quart capacity
Non-stick basket that is BPA-free and PFOA-free
9 easy one-touch cooking functions
Dishwasher safe, easy to clean
Compact size
Comes with a recipe book and access to the VeSync app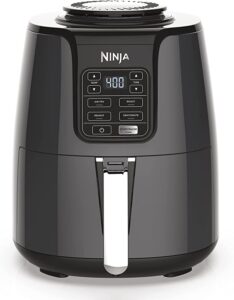 The Ninja AF101 is a great choice for beginners. It has a simple touch screen display with 4 main features –
Air Fry
Roast
Reheat
Dehydrate
You don't have to be a rocket scientist to use this basket air fryer, which makes me very happy!
The variable temperature range of 105°F to 400°F gives you the flexibility to gently remove moisture from foods or quickly crisp foods with convection heat. The manufacturer claims that they have tested the device on hand-cut deep fried French fries, and it uses 75% less oil than conventional cooking methods.
The basket is slightly smaller than other models, at 4 quarts, but this is still ample for a small family and is deal for a single person. The basket has a dishwasher-safe ceramic coated non-stick base. The multi-layer rack and the crisper plate are also dishwasher safe.
This unit needs around 3 minutes to heat up to temperature. This is a bit slower than others that heat up in 2 minutes. But, compared to my 20-minute wait for a conventional oven, I don't have a problem with this at all.
For fun, the dehydrate function can be used to make crispy snacks for the kids. You can also dehydrate bananas, apples, and apricots to make a healthy trail mix for work.
4-quart capacity
Non-stick ceramic basket
Heats up to temperature in 3 minutes
4 easy one-touch cooking functions
Dishwasher safe, easy to clean
Comes with a recipe book
Instant Vortex 4-in-1, 2-QT Mini Air Fryer Oven Combo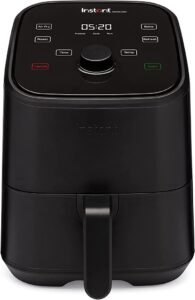 The Vortex 4-in-1 air fryer is a great buy at under $50. This is a cool gift to give to new homeowners to get them away from living on unhealthy take-outs. With a 2 quarts capacity, it is ideal for 1 to 2 meals.
I like the simple easy functions that can be selected on the touch panel. They offer an air fry, bake, roast, and reheat choice. I always get confused with complex touch screens, so this one suits me fine. If you are more ambitious, you can use the One-touch Smart Programs that allow you to make chicken wings, potatoes, roasted veggies, and cinnamon buns.
The Vortex works with EvenCrisp Technology that drives air flow from the top down for a perfect golden finish. It offers a fast preheat function and a temperature range of 120°F to 400°F.
The basket and tray are both non-stick and dishwasher-safe. For inspiration on those days when you have run out of ideas for supper, you can download the free Instant Pot app, which gives you a host of easy quick recipes for delicious meals.
2-quart capacity
Non-stick basket and tray
Fast preheating time
4 easy one-touch cooking functions
One-touch Smart Programs
Dishwasher safe, easy to clean
Comes with a free Instant Pot app with delicious meal recipes
DASH Tasti-Crisp™ Electric Air Fryer Oven Cooker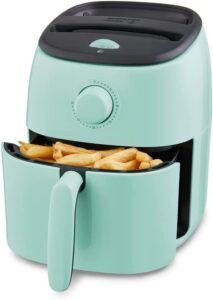 The cool aqua color of this air fryer really caught my attention! It is perfect for a retro-style kitchen. It is also very compact and lightweight, at half the weight of a standard air fryer. This is a must-have for people with small kitchens, bachelor pads, or students living in dorms. I may even consider this for our family camper trips!
Like most basket air fryers, this model uses a special technology to cook food with up to less than 70% to 80% fat. The DASH technology is called AirCrisp Technology.
Being a smaller device, the basket is also a smaller size at 2.6 quarts. However, this is somewhat bigger than the 2 quart models that I have reviewed on this page. This size is ideal for 1 to 2 people.
I really like the 30 minute timer function on this basket air fryer model that I have not seen on some others. It also has a handy auto shut-off function that prevents overcooking if you rush off to take a mobile call or attend to grandkids who are destroying your home. The cool touch handle makes it easy to use. This simple, well-priced model has a lot of thoughtful features that really impress.
2.6-quart capacity
Non-stick basket
Compact and lightweight design
Timer and auto-shutoff function prevents overcooking
Easy to use
Fun aqua color
CHEFMAN Small, Compact Air Fryer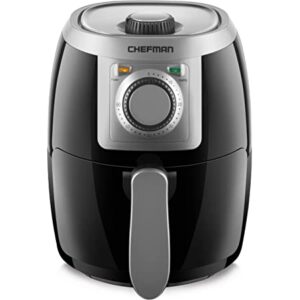 If you get dizzy looking at touchscreens, (and I am one of those people who can give them a miss if I can!) the CHEFMAN air fryer has a good old-fashioned dial that you turn by hand.
But, don't underestimate this model, it can do all the great things that air fryers are known for. It has a non-stick 2 quart basket, which is ideal for a single person or a family of 2. It also makes a great gift for new homeowners.
Like most models, you can cook using very little or no oil, making this a great choice for healthy eating. The temperature range of 200°F to 400°F allows you to cook a variety of meals.
This air fryer is ideal for smaller kitchens and is perfect to take along on RV and camper trips. It has a manual temperature control and a handy 60-minute integrated timer that will stop cooking when you have been distracted and forgotten your meal.

The CHEFMAN has a BPA-free basket for people who are concerned about this issue. I like the cool-touch exterior, it makes for one less hazard in the kitchen, especially if you have kids around. Both the fryer basket and the tray are removable and are top-rack dishwasher safe.
2-quart capacity
Non-stick basket
Compact design
Manual adjustable temperature control
60 minute timer and auto-off function prevents overcooking
Dishwasher safe basket
Cool-touch exterior
Ninja FD401 Foodi 12-in-1 Deluxe XL 8 qt.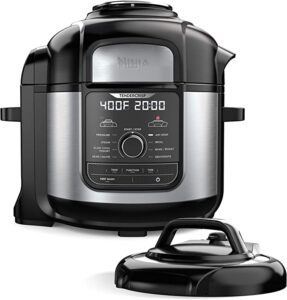 If you are looking for the BOSS of air fryers, the Ninja FD401 Foodi 12-in-1 Deluxe XL is for you. It costs a lot more than your average model, but it offers a host of features and value for your money.
This model is definitely for the serious cook who has a large family. It has a huge 5 quart basket capacity, ideal to hold meals for up to 6 people. The basket is non-stick, PTFE and PFOA free. It is easy to hand wash and can also be put into the dishwasher.
The FD401 operates with Tendercrisp Technology, which quickly pressure cooks ingredients to lock in the juices and then gives them a crispy, golden air-fryer finish. What more can you want? The device also works as a pressure cooker with a non-stick cook pot that has an 8 quart capacity.
The Ninja touch screen is a joy for tech-savvy people. It offers 12 programmable cooking functions. You can choose from Pressure Cook, Air Fry or Air Slow Cook, Crisp, Steam, Sear or Sauté, Yogurt, Bake, Roast, Broil, Dehydrate, Keep Warm, and Sous Vide.
The structure of this model is complex. Inside it has a pressure lid and a deluxe Reversible Rack that can be used to steam or broil. The Cook and Crisp basket will hold 4 pounds of French fries. The Crisping Lid can be used to finish off pressure cooked recipes or to sir fry your food. Lastly, there is an 8-quart cooking pot that can serve 8 to 10 people.
With a machine like this, I am sure you have some fabulous recipes up your sleeve. If you do need some inspiration, it comes with a guide featuring 45 amazing recipes.
Deluxe model for experienced cooks
8-quart pressure cooker capacity
5-quart air fryer basket capacity
Non-stick ceramic pot, PTFE and PFOA free
Non-stick ceramic basket, PTFE and PFOA free
12 cooking functions
Reversible rack
My Top Basket Air Fryer Suggestions
Which Basket Air Fryer is Best For Me?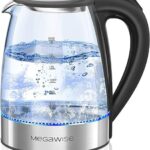 Today I am talking about health and safety, specifically when it comes to kettles. Have you ever been to someone's house for tea, only to…
Read More »