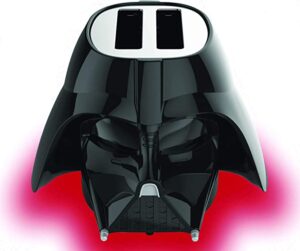 Star Wars fans never get old – I should know, I am one and I have grandchildren! Bring the Dark Lord into your kitchen and delight the family. This unique Star Wars Darth Vader Halo Toaster is crafted in the shape of Darth Vader's helmet in a stunning 3D black design. It is a fabulous recreation in amazing detail that looks just like the real thing (is there a real thing?). Well, yes or no, my grandkids can't get enough of this toaster and my everyday model has been banished onto a shelf in the pantry.
This is the ultimate gift for a Star Wars Fan of any age. It is also officially licensed by the Star Wars Company, making it an icon and certainly more than just a toaster.
Pop in your bread and as it browns, the Star Wars Darth Vader Halo Toaster plays authentic sounds and displays light patterns from the Star Wars Archives. Don't do this at midnight, unless you are looking to totally frighten a family member as a wild joke. Your kitchen turns into a surreal place where the evil Lord Darth Vader is coming to get you and destroy your Kitchen Empire.
This model is made by Uncanny Brands, known for their fun, quirky and way cool kitchen appliances.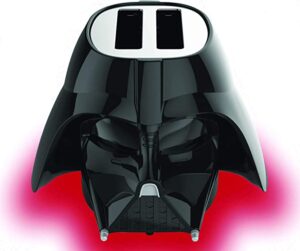 If you want to know more about the company – here it is. If not, skip to the next section!
Uncanny Brands is a consumer products company that designs and sells a wide range of products, including kitchen gadgets, home décor, and personal care items. They are known for their innovative and unique designs that are quirky and cool, as well as their commitment to providing high-quality products at affordable prices. Their products can be found in retail stores and online.
Uncanny Brands is based in the United States and started operating in 2015. They focus on pop-culture passion that includes labels like Marvel, Pokémon, Peanut, Dungeons & Dragons, Hello Kitty, Minions, and more.

A closer look at the Star Wars Darth Vader Halo Toaster
The design
So, it is Darth Vader's Helmet in full 3D glory, in shiny jet black with incredible detail. It is truly a thing of beauty! If it was not a toaster my Star Wars fan husband would want to display in the family entertainment room. As it toasts, you will see authentic light sabre effects as the bottom of the toaster lights up in red. When the toast is done, you will hear Darth Vader breathing. The 10 second sound and light sequence comes directly from the Star Wars Archives.
This novelty toaster is so cool that you need to ensure that you don't end up with enough toast for the neighborhood, instead of the 2 slices for your brunch snack. My grandkids just want to keep making toast. It looks sensational on any kitchen counter or kitchen island and is sure to get your guests talking.
Shade toasting dial
Getting back to real life, it has a handy dial for adjusting the shade settings. Simply turn the selector dial from light to the dark side, as you dare. Even though this is a high-tech toaster, I love that the shade setting is a conventional dial that you can turn to get to choose your selection.
Note that this toaster does not burn an image of Darth Vader onto the toast. If you are looking for that, have a peek at the Star Wars Darth Vader 2-Slice Toaster, also by Uncanny Brands.
2 wide slots
This is a 2-slice toaster, but it has the advantage of having wide slots.
Wide slots are ideal for toasting artisan breads, frozen treats, waffles, toaster strudels, frozen pancakes, croissants, and bagels. You won't have to struggle to put in your thicker slices and hope that they come out again. Thicker bagels and artisan bread slices slide in and out seamlessly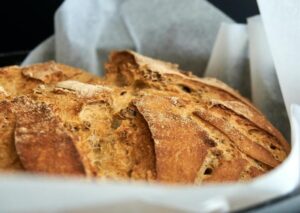 Bagel setting
The innovative bagel setting allows you to toast the cut side of a bagel while warming the round side. This ensures that the cut side is crispy and golden brown, while the round side is warm and soft. It prevents the bagel from getting over-toasted and allows you to enjoy the perfect bagel every time. This is a must-have for bagel lovers like my hubby and kids. Simply touch the Bagel Button to activate this function.
The price is high at around $70, but, OK, Star Wars Fans have to have what they have to have. This is a high-quality toaster, and a sensational show stopper in any modern kitchen.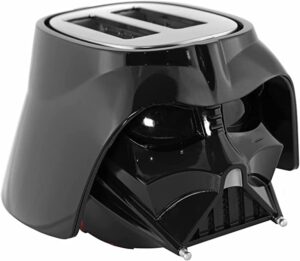 See the light saber patterns and hear Darth Vader breathing
2 slice toaster
Adjustable shade settings
Bagel function
Cancel function
Wide slots for bagels, waffles, muffins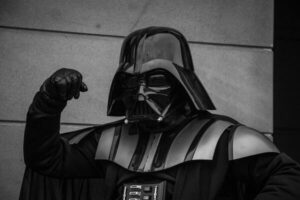 Some other fun Novelty Toasters for you to look at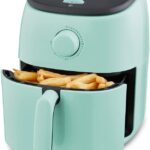 If you are new to air fryers take a look at my overview here. It will give you a rundown of the main features of…
Read More »