Add some color and fun to your kitchen décor theme with a colored stovetop kettle.
Colors are known to change your mood and create a vibe in a room that makes you feel upbeat, relaxed, or excited. So, why not start your day by getting colors to perk you up and set you off to achieve great things?
These kettles are for real – they all have the features I look for in a stovetop kettle. They whistle, pour without dripping, are easily washable, and look very attractive on a stovetop.
Why have boring appliances in your kitchen? You can choose colors to create a décor theme or brighten up a dull corner. Show your creative skills and uplift your kitchen with color! 
My reviews below focus on some of the fun color kettles out there. If you are in a hurry and don't like reading, skip down to 'My Top Fun Color Kettle Suggestions' or 'Which Fun Color Kettle is Best For Me'.
AIDEA 2.3 Quart Enamel-on-Steel Tea Kettle Stovetop (Cobalt Blue)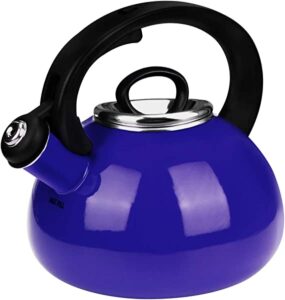 Dark blue is a serious color that represents knowledge, intelligence, reliability, and intelligence. It is often used as a color for corporate identity. The AIDEA 2.3 Quart Enamel-on-Steel Tea Kettle Stovetop comes in a stunning Cobalt Blue color, ideal for a modern in-city apartment. 
The kettle holds 2.3 quarts and has a steel construction with a porcelain enamel coating that heats up quickly. The color will also never fade even after years of cleaning. This cute kettle is hand-crafted in Indonesia. You may see some inconsistencies on the surface which are normal and come from the hand-beating process.
A clear and loud whistle will alert you when your water has boiled. Remember to fill it under the Max Line, or else it won't whistle. I like the comfy feeling of the handle and the tight-fitting lid that keeps water warm for longer than some other models. The handle also has an anti-heat covering so I don't have to worry about burning my hands. The AIDEA 2.3 Quart is perfect for all cooktops including magnetic induction, electric, and gas stovetops. Hand washing is recommended.
2.3 quarts capacity
Stylish Cobalt Blue color
Porcelain enamel-coated on steel construction
Easy push-button spout
Anti-heat handle
Loud and clear whistle
Ideal for magnetic induction, Halogen, electric, gas stovetops
Mr. Coffee Twining 2.1 Quart Pumpkin Shaped Metallic Red Color Kettle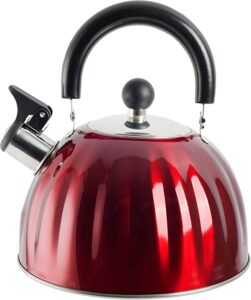 Red is bold and out-there and is sure to bring a pop of color to your kitchen. The Mr. Coffee Kettle has a cute retro style and makes a great gift for Mother's Day, an engagement, an anniversary, or a housewarming event.
It holds 2.1 quarts and has a solid stainless steel construction that will last for years. The spout has a flip-top cover for safety. The handles and stopper both have a Bakelite cover that keeps them cool. This is a must-have for me, as I am always burning my hands on kettles! The kettle whistles when the water is boiling.
If you like this kettle but red is not for you, it also comes in a choice of Brushed Satin, Copper, Matte Black, Metallic Purple, Metallic Royal Blue, and Metallic teal Green. More than enough colors to suit everyone's taste.
Hand washing is recommended and do remember not to overfill it, or else it won't whistle.
2.1 quarts capacity
Stunning Metallic Red color
Stainless steel construction
Flip-up spout cover for safety
Bakelite-covered handles and stopper
Loud whistle
If you are looking for a kettle that is different and these are not your style, take a look at my suggested stunning novelty kettles!
MARSKITOP Tea Kettle Whistling Stainless Steel Green Color Kettle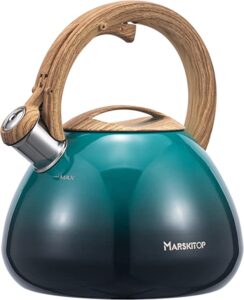 This color stove top kettle is more expensive than some other models, but the cost is worth it. It has an FDA professional food grade finish and is made of rust-proof and corrosion-resistant 18/8 stainless steel. It is also 100% PFOA free and non-toxic, so you know that your family's health is protected.
The kettle holds 2.6 quarts, which is ideal for about 10 cups after a single boil. No more rushing up and down to the kitchen for refills when the family wants more tea.
The MARSKITOP Tea Kettle comes in a fabulous Green color that is calming and brings a hint of forests and tropical islands into your kitchen. The handle contrasts in a natural wood color adding a rustic appeal for retro-themed kitchens.
It has a loud whistle to alert you when the water is boiling. The handle has a convenient one-touch switch button. You won't have to touch any part of the kettle body when pouring water. You can use the MARSKITOP Tea Kettle on induction cookers, electric furnaces, gas, and natural gas stovetops. The manufacturer recommends using low or medium heat to prevent the body from becoming discolored.
2.6 quarts capacity
Stunning green color
18/8 food-grade stainless steel finish
100% PFOA-free, non-toxic, and non-fading
One-touch switch button
Loud whistle
Sotya Whistling Tea Kettle for Stovetop, Yellow Color Kettle, 3 Quart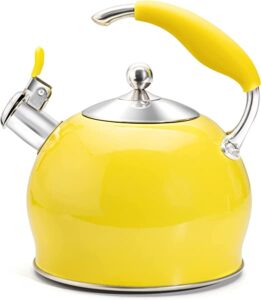 I find that a colored kettle gives my kitchen an instant makeover! It is a great way to bring style and personality into a kitchen that needs some serious TLC. And, yellow is such a fun, bright, and happy color! The Sotya Whistling Kettle is just what you need to create a sunny kitchen nook.
With a capacity of 3 quarts, it is ideal for a large family or for a hostess who entertains a lot. I love the design of the handle on this model. It is ergonomic and so easy to grip, making lifting and pouring super easy. The handle is covered with silicone, so you are assured that you will never burn your hands.
For those who like scientific info, the construction of the base is quite amazing. It consists of a layer of 430 stainless steel, a 0.02 inch layer of aluminum, a 0.1 inch layer of iron, another 0.02 inch layer of aluminum, and a 304 stainless steel layer. If all this means nothing to you, don't stress, just be assured that this base is sturdy, strong, rust-proof, and heats up super-fast.
When the water boils, the spout will automatically whistle, so you don't have to stand and watch it, even if you want to, so you have another excuse not to wash the dishes.
This kettle comes with a full 12 month warranty, which always gives you peace of mind knowing that you can get support if something goes wrong. Remember to use medium or low heat when boiling water to protect the body color.
3 quarts capacity
Fun yellow color
Silicone anti-scald handle with ergonomic shape
Made of food-grade stainless steel
Five-layer metal scientific design base for fast even heating
Loud whistle
ROCKURWOK Pink Tea Kettle, 1.6 QT / 50 OZ, Whistling Teapot for Stovetop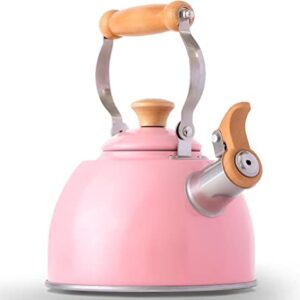 Pink is fun, frivolous, and ideal for a kitchen with lacy curtains and vases filled with cherry blossoms. Is that you? Then the ROCKURWOK Pink Tea Fun Color Kettle for Stovetop is just what you need.
Sporting a fun retro design, the Rockurwok holds 1.6 quarts, ideal for a single person or a couple. The wooden handle ensures that you will be protected from heat and never get burnt. The handle can also fold down for storage.
The kettle is compatible with all stove tops including induction, gas, electric, halogen, and radiant. It has a loud whistle that alerts you when the water is boiled.
If you are hosting a lady's luncheon and you are looking for a fun favor to give to your guests, this snazzy pink color kettle will be a great choice.
Do you like the style but not the color? This kettle also comes in a choice of Gradient Blue, Gradient Green, Gradient Orange, White, and Yellow. The Gradient design offers a color that changes from light to dark over the body, super cool!
1.6 quarts capacity
Fun pink color
Wooden handle does not get hot
Handle can fold down
Sturdy base
Loud whistle
Compatible with induction, gas, electric, halogen, and radiant stove tops
This novelty kettle also comes in other fun colors – Take a look at the Gradient Green and the Gradient Orange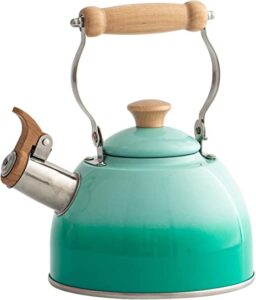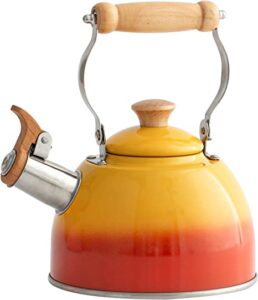 Pinky Up Presley Gold Color Kettle 70 Oz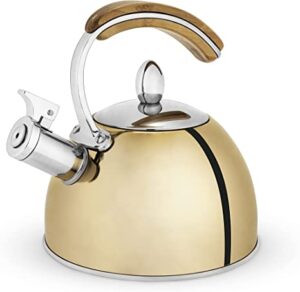 Do you love glam, luxe, and bling? Then this sensational Pinky Up Presley Gold Color Kettle is for you. It is sure to bring a lavish finish to any kitchen nook or kitchen island. When everyone does silver, why not show your style and do Gold?
The Pinky Up has a fun ergonomic design for easy handling. It holds a large 70 oz, ideal for larger families and groups of friends meeting for tea or coffee. The push-button and the easy-grip handle allows for easy pouring. When the water is boiled, it whistles like a regular kettle, despite its posh gold finish.
The body is made of stainless steel and the handle is bamboo, a natural and sustainable product with a feel-good vibe. I love buying products that don't have plastic, they make me feel that I am doing my bit to save the planet.
If you have a regular kettle, you can always keep this one stored away and bring it out for special celebrations! It blends in beautifully with Christmas or Thanksgiving décor.
70 oz capacity
Stunning luxurious gold color
Made of stainless steel
Bamboo handle
Traditional whistle
Push-button technology
My Top Color Kettle Suggestions
Which Color Kettle is Best For Me?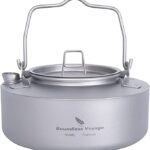 My family loves camping and we often head out into the outdoors for a weekend of sleeping on hard stony ground and getting drenched in…
Read More »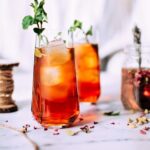 As much as I love tea, I do sometimes get tired of … yet another cup of tea. I also sometimes drink far too much…
Read More »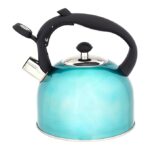 I find that nothing is more satisfying than the whistling sound of a stove top kettle. It is time for tea, relaxing, family bonding, or…
Read More »