My family loves camping and we often head out into the outdoors for a weekend of sleeping on hard stony ground and getting drenched in flimsy tents. Well … not exactly … as a family, we are quite well organized and take along all we need to stay comfortable, warm, and create a campsite that allows us to enjoy our beautiful country.
One appliance that gets packed in first is our camping kettle. The way I see it, no one can do without a camping kettle when you are away from your home kitchen in the middle of nowhere. We use it for tea, coffee, hot chocolate, cooking, and sometimes even for sanitizing water if we feel we need to make sure that the water supply is safe for drinking.
When choosing a camping kettle, there are so many models and designs to consider. I like a durable, tough kettle that can take some knocks and won't dent or fall apart. It must be small and not take up loads of valuable storage space, but must also be able to provide enough boiling water for the family. Folding handles are a plus, as they allow the kettle to take up less space.
These reviews focus on some of the best camping kettles that are tried and tested by campers and have good ratings. If you are in a hurry or don't like reading, skip down to 'My Camping Kettle Suggestions' or 'Which Camping Kettle is Best For Me'.
Fire-Maple Antarcti Portable 1 Liter Lightweight Stainless Steel Camping Kettle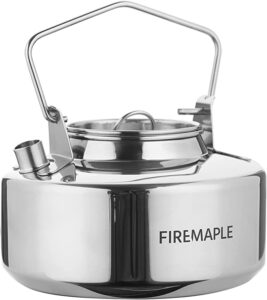 This kettle is made from 6 gauge food grade 18-8 stainless steel. That sounds quite hectic, but in fact, it is just giving you the peace of mind that it is super-durable, super-strong, and has great heat retention. It is also BPA-free, a bonus for people who have health concerns.
The kettle holds 1 quart and is ideal for boiling water for coffee, tea, making dehydrated meals, and camp meals. It is easy to use and comes with a secure lid that ensures fast boiling.
I like the smaller size which makes it very portable and easy to pack. It also has a rotating handle which is ideal for use on campfires and makes for easy storage. The narrow handle is also great for hanging the kettle on a hook over the fire. Some wider handles don't allow you to do this.
1 quart capacity
Made of 6 gauge food grade 18-8 stainless steel
Very durable and strong
Secure lid for fast boiling
Large rotating handle
Boundless Voyage Titanium Kettle 700ml/1.0L with Folding Handle & Filter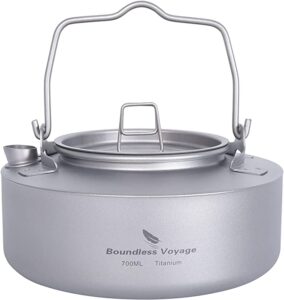 I love the name of this kettle – Boundless Voyage – it sounds super exciting and makes me want to plan my next getaway! This kettle is made of Titanium which is ultra-strong, durable, and will last for years. It is also lightweight, making it ideal for packing and traveling. The manufacturers advertise the kettle as corrosion-resistant, as well as high and low-temperature resistant. For me, that covers everything you need in a camping kettle.
The kettle holds 23.6 fluid oz (700ml) which is ideal for a family or group of friends. It has a unique folding handle that is attached with strong tabs and a connecting groove that prevents the kettle from tilting over if it is accidentally knocked. I like the wide lid that makes it easy to get your hand inside to clean the kettle.
The handle is easy to hold and can be used to hang the kettle from a tripod, chain, or tree branch. It comes with a mesh storage sack that can be used to hold the kettle when it is not in use, and the sack can be washed if it gets dusty or muddy or smoky during your trip. This is a great camping kettle at under $50 and is ideal for hiking, fishing trips, backpacking, picnics, barbecues, school adventure, and college adventure trips.
23.6 fluid oz capacity
Made of 99.8% Titanium
Very durable and strong
Corrosion-resistant
Foldable handle
If you are going camping you may want to cook in bulk and store the food in a camping freezer. It will make life so much easier on the trip, and you can spend time relaxing and not cooking! Take a look at my ideas on Tips for cooking in bulk and storing leftovers
Bulin 2.2L Camping Kettle Camp Tea Coffee Pot Large Outdoor Hiking Kettle Pot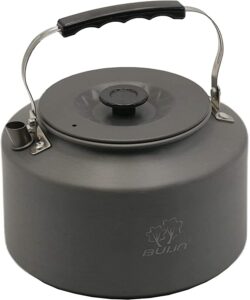 If you get tired of burning your hands on camping kettle handles, the Bulin Camping Kettle is for you, and me! I have spent so many holidays nursing burnt hands that I have decided to keep a thick pair of gloves close by, or get a kettle with a handle that does not get hot.
The Bulin 2,2L (74.3 fl oz) is a larger kettle with a mean black exterior that makes it look the part. It is made of highly durable hard anodized aluminum that conducts heat quickly, withstands high temperatures, is corrosion-resistant, and rust-free. This model is built to last.
The handle and the knob of the lid are covered in insulated plastic that will protect your hands from heat. For space saving, the handle folds down. I love the pointed spout that prevents boiling water from splashing all over when pouring. The lid is also well fitted and does not fall off when you tip the kettle to pour out water. This model has a well thought-out design all-round.
The kettle heats evenly on the base and boils in a fast 3 to 5 minutes. The base is extra thick and and has an anti-slip coating. You can even stand in on the hot coals and it wont buckle or warp. It is easy top clean and comes with a black mesh bag for storing and carrying.
74.3 fluid oz capacity
Made of hard anodized aluminum
Very durable and strong
Insulated plastic covering on handle and knob
Pointed spout prevents water splashing when pouring
Corrosion-resistant
Foldable handle
My Top Camping Kettle Suggestions
Which Camping Kettle is Best For Me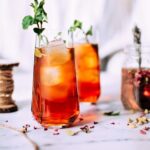 As much as I love tea, I do sometimes get tired of … yet another cup of tea. I also sometimes drink far too much…
Read More »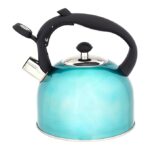 I find that nothing is more satisfying than the whistling sound of a stove top kettle. It is time for tea, relaxing, family bonding, or…
Read More »