I find that nothing is more satisfying than the whistling sound of a stove top kettle. It is time for tea, relaxing, family bonding, or just chilling out with my fave book or magazine.
My stove top kettle is definitely one of my must-have accessories in my kitchen. I use it at least five times a day and that excludes breakfast! I love experimenting with exotic herbal teas too. Although, I must admit, my grandchildren much prefer normal tea to these sometimes weird-and-wonderful flavors. But that's fine too, a great cup of everyday-tea really warms the heart and soul.
When choosing a stove top kettle, there are so many models and designs to consider. I like a simple and easy look that pours without spilling and dripping. A stay-cool handle is a must – I don't want to burn my hands. Stove top kettles are so easy to clean and you don't have to do a juggling act to prevent electrical parts getting wet.
These kettles work on any heat source, so you can use them on an electric stove, a gas stove, and some models are designed for lovers of the outdoors to make tea on a campfire. 
My reviews below focus on some of the best stove top kettles that are ideal for any home. If you are in a hurry and don't like reading, skip down to 'My Top Stove Top Kettle Suggestions' or 'Which Stove Top Kettle is Best For Me'.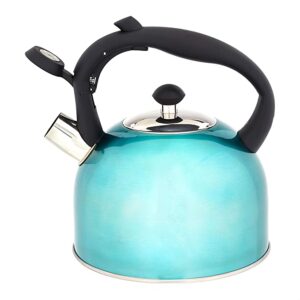 I always like to take a look at an Amazon Basics option. These products are well rated and well priced. They do the job and are backed by an Amazon 1 year limited warranty that gives me peace of mind, should something go wrong.
This fun classic kettle is made of high quality Stainless Steel and has rugged strength that will last for a long time. I don't want to have to buy a new kettle every year, so long-lasting is a key factor for me! The kettle holds 2.4 quarts and boils quickly on an electric or gas stove top. It has a loud whistle indicating that that the water has reached full boil. I love the cute teal color, that certainly pops on any kitchen shelf or island. The trigger-handle stays cool and the spout is drip-free. This is a great gift for a young home owner.
2.4 quarts capacity
Teal color
Made of high-quality Stainless Steel
Long lasting performance
Loud audible whistle
Stay-cool handle with trigger
Drip-free spout
Primula Stewart Whistling Kettle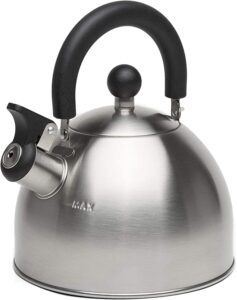 This kettle has a very handy folding handle that makes it easy to store when not in use. I love this idea as it takes up much less space in a cabinet or pantry. It is made of durable, food-grade Stainless Steel that will last for years. The lid is very wide, making it easy to fill and clean. Getting your hand inside a small opening to clean your kettle can be a mission. Cleaning your kettle regularly, is a must. You don't want lime scale and minerals building up at the base. For safety, the kettle has a max fill line that prevents water from boiling over.
The Primula Stewart Whistling Stovetop Tea Kettle boils fast and emits a loud whistle when done. It has a handy trigger-press flip up spout for pouring. The handle is cool-touch and easy to hold. It holds 1.9 quarts, making it ideal for a larger family and ideal for entertaining guests. Boiling a kettle multiple times to make tea for everyone is not something I want to do.
This classic silver stove top kettle is a great choice as a fuss-free long-lasting option.
1.9 quarts capacity
Made of food-grade Stainless Steel
Long lasting performance
Loud audible whistle
Trigger flip-up spout
Stay-cool handle
Folding handle for storage
Wide mouth lid for easy cleaning
SUSTEAS Whistling Tea Kettle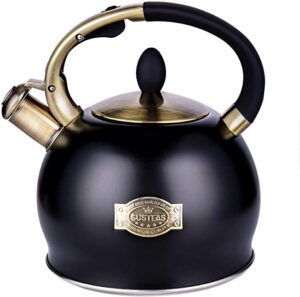 Some stove top kettles end up with burnt and black bottoms. Not the SUSTEAS Stove Top Whistling Tea Kettle! This innovative design features a bottom made of 5 encapsulated layers that can be heated on any type of stove including gas, electric, induction, and radiant cookers. It is made of a combination of high-quality Nylon material and Stainless Steel. For those who love technical info – the five layers are 304 Stainless Steel, aluminum, iron, aluminum, and 430 Stainless Steel. Quite mind-boggling.
I love the cool retro design with copper trims. It also has a fabulous elegant vintage nameplate design on the front. This kettle will really add character to a retro, vintage or rustic-style kitchen décor theme.
The handle is ergonomically designed to be ultra-comfortable to hold and it stays cool. A push button opens the spout for easy drip-free pouring. This model holds a large 3 quarts, ideal for a big family. A loud whistle will alert you, even if you are in another room.
I always love a bonus and this stove top kettle comes with one! Included in the pack is a pair of premium anti-hot gloves. It is also packaged in a gift box, making this a great house-warming or engagement gift idea.
3 quarts capacity
Made of high-quality Nylon and Stainless Steel
Loud audible whistle
Base is made of 5 encapsulated layers
Anti-scalding Nylon handle
Two ways of filling water
Compatible with all stove tops
Dust cover on spout
Cool vintage style nameplate
Comes with free anti-hot gloves
Cuisinart Aura Kettle, 2QT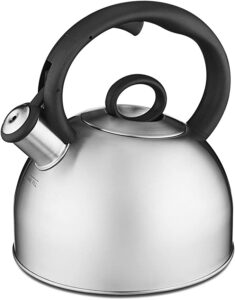 If you want a simple, classic stove top kettle and a great brand name, the Cuisinart Aura Stainless Steel Stovetop Teakettle, 2QT is the perfect choice.
This elegant, no-fuss kettle can stand in any kitchen and look great. It is made of Stainless Steel and comes in a choice of 3 colors. The classic option is silver. For a way-cool look in a modern kitchen you can get an eye-catching metallic red. If your kitchen has a vintage or cottage theme, the copper design will add charm and character.
The kettle holds 2 quarts and has a comfortable ergonomic handle for easy and safe pouring. The whistle is a pleasant traditional sound that alerts you when the water has reached boiling point. This design combines a polished Stainless Steel exterior with a nonreactive interior that will not corrode. I really dislike kettles that corrode inside as they are not healthy! For people (like me) who have concerns regarding health, this model is BPA-free, one less thing to worry about!
2 quarts capacity
Made of Stainless Steel
Non-reactive interior that is corrosion proof
Traditional pleasant whistle
Choice of colors in silver, metallic red, and copper
Comfortable ergonomic handle
Limited lifetime warranty
BPA-free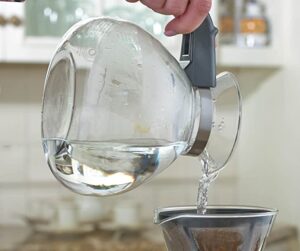 I love this cute Café Brew Collection stove top kettle. It is part of a stylish range of Café Brew Products that includes everything you need to make a great cup of tea or coffee. The kettle stands out from other models due to its clear glass design that allows you to see the water boiling inside. It also allows you to see whether the kettle needs cleaning and how well you have cleaned it! No more guessing as to what nasties are lurking inside your kettle that may pour out with your water into your tea cup.
The Café Brew Whistling Tea Kettle is made of high-quality Borosilicate Glass from DURAN, Germany, and is assembled in the USA. Borosilicate Glass is exceptionally strong and will not shatter if dropped. It is also lead-free and BPA Free, a plus for people who have health concerns.
The kettle holds enough water for 12 4-oz cups and can be used on gas, electric, and glass-top stoves. It is safe in the dishwasher on the top rack. It emits a fun whistle when your water is boiled. This kettle looks really stylish on a countertop or kitchen island and is ideal to take straight to your table to pour water. It is a great choice at under $20.
48 oz capacity
Made of high-quality Borosilicate Glass
Traditional pleasant whistle
Clear glass design
Lead-free
BPA-free
Dishwasher safe on the top rack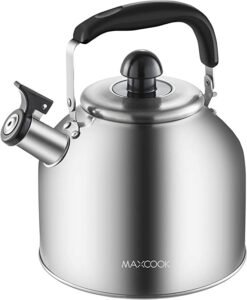 The Maxcook is a larger, heavy-duty kettle that holds 4.2 quarts. It is ideal for those days when the whole family, kids, in-laws, and grandchildren are coming over and I don't want to stand in the kitchen alone waiting for water to boil.
It is made of durable food-grade Stainless Steel with a brushed finish. This kettle will withstand rust, corrosion, and dents. It is built to last! Despite its large rather menacing look, it emits a lovely gentle whistle when the water has boiled. The handle stays cool and is easy-to-grab. This device has an innovative reversible nozzle cover that prevents dust from entering the kettle.
The Maxcook has an encapsulated base – it is made of multiple layers – that allows fast and even heating of the water. It can be used on electric, gas, and induction cookers. It can also be used on a wood stove if you have a classic old-style kitchen.
Large 4 quarts capacity
Made of brushed Stainless Steel
Gentle whistling sound
Easy-grab non-slip handle
Handle stays cool
Reversible nozzle cover
Encapsulated base for even heating
Anti-rust design
My Top Stove Top Kettle Suggestions
Which Stove Top Kettle is Best For Me?
If you are planning a camping trip with the family, you will need a camping kettle! Take a look at my suggestions on great camping kettles that can withstand rugged outdoor conditions.
This is such fun that I just cannot resist! My family loves hot dogs and this trendy Hot Dog Toaster takes making hot dogs to…
Read More »