KitchenAid is one of those iconic brands that last forever. So many modern-day cooks remember learning to cook with Grandma or Mum using a KitchenAid Mixer.
KitchenAid Products are definitely worth buying. They are long- lasting, reliable, and durable. Many KitchenAid products have stood the test of time and are still operating perfectly after 15 years or more. This world-famous brand offers high-quality countertop and major kitchen appliances.
Kitchenaid appliances are known to last up to 15 years, or more, with people having equipment that dates back 30 years! The brand was introduced over 100 years ago, in 1919, and at the time was produced by the famous Hobart Corporation. It was a unique All-American brand that was named after one of the factory executives' wives said "I don't care what you call it, but I know it's the best kitchen aid I've ever had!"
Today, the company is owned by the global corporation Whirlpool, and although it still has American roots, like most products, parts are now made in Asia and China. The good news is that the standard has remained exceptionally high and the brand can be considered to be a premium choice.
This leads to the obvious question –
Do KitchenAid products come with a higher price?
The answer is Yes, the price of KitchenAid appliances is higher than your average appliance. However, you are investing in a product that is high-quality, well supported, and designed to last for decades. They are reliable and durable. For me, this makes sense, as having to replace faulty equipment after only a year or so will become a more costly exercise in the long term.
To understand the commitment to longevity – here is something to consider. After introducing the Model K Mixer in the 1930s, KitchenAid decided to ensure that any attachments would be cross-compatible with newer models. That means that a mixer bought today can still be used with hub attachments from 1930!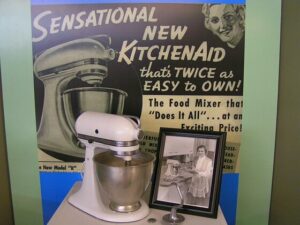 KitchenAid puts a great emphasis on empowering women
When the company started, it employed a mostly-female sales force who went door-to-door selling their mixers. What a change from today's world where door-to-door selling is unheard of!
Today, KitchenAid continues to promote women, especially those who are making waves in the food sector. Women are still a minority in commercial kitchens and the KitchenAid website honors iconic females like
Etana Diaz, a butcher
Marielle Fabie, chef de cuisine at the Ramen Shop
Karyn Tomlinson, a restaurateur
Loria Stern, creator of amazing edible art
To learn more about these female trailblazers you can take a look here. 

Is there a range of products?
Absolutely! While they may have started with mixers, today you can get almost any kitchen appliance you want in the same high-quality. The products are split into two main divisions – countertop appliances and large appliances.
KitchenAid Countertop Appliances
Countertop appliances offer mixers, blenders, toasters, kettles, coffee machines, hand blenders, pasta makers, ice cream makers, food processors, and toasters that are designed to complement the look and feel of their larger appliances. With a sleek, modern design and a range of colors and finishes, these small appliances are sure to elevate the look of any kitchen.
Over the last century, products have been released in specific colors like pink, to promote breast cancer awareness, or unique colors for individual corporations. Designs have become more modern and technologically smarter.
When it comes to specific products like their mixers, you have a choice ranging from a mini model to a classic, a commercial machine and a Pro-Line Series. Make a batch of cookies for the family or a dozen loaves of bread for a large event – you have options. The KitchenAid food processor is another must-have kitchen tool that is perfect for chopping, dicing and puréeing ingredients. It is available in different models with various attachments and sizes, great for small and large tasks.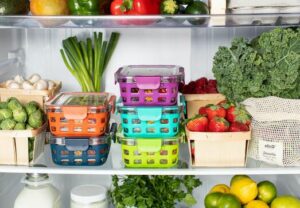 KitchenAid Large Appliances
The large appliances include refrigerators, microwaves, cooktops, grills, dishwashers, wall ovens, oven hoods, and more.
KitchenAid's countertop ovens are a great addition to any kitchen, providing the convenience of a toaster oven with the capabilities of a full-size oven. They come in different styles like convection and microwave, perfect for baking, broiling and roasting.
The brand also has a range of cooktops, perfect for those who are looking for a professional-grade cooking experience. KitchenAid's gas cooktops are available in different configurations, and with options like continuous grates, downdraft ventilation, and even integrated grills.
KitchenAid's dishwashers are also highly rated, designed to make your dishwashing experience as efficient and stress-free as possible. With features like adjustable racks, powerful jets, and energy-efficient options, these dishwashers make it easy to clean even the dirtiest dishes.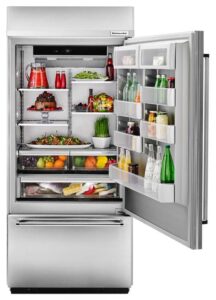 A great choice for a new kitchen
This is a brand that has stood the test of time and will continue to do so. If you can afford it, setting up your new kitchen with all KitchenAid products will be an investment for a lifetime and the envy of your friends.
Here is a look at 10 of the most popular countertop KitchenAid products that you should consider for your home kitchen.
KitchenAid Artisan Series 5-Qt. Stand Mixer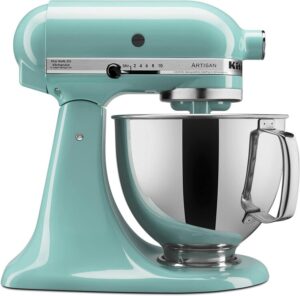 This model comes in a stunning Aqua Sky color, perfect to enhance a modern kitchen. It features a 5-qt stainless steel bowl with a comfortable handle that is large enough for dough for 9 dozen cookies or 4 loaves of bread. The mixer comes with a coated flat beater, coated dough hook, 6-wire whip and a 1-piece pouring shield. Ideal for advanced home cooks and makes a stunning present.
KitchenAid Classic Series 4.5 Qt Stand Mixer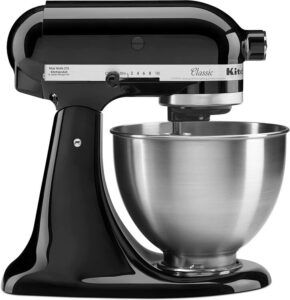 If you want a smaller (and cheaper) stand mixer, this Onyx Black model also offers every feature you need. It has a handy tilt-head design and locks in place while mixing. You have 10 speeds for any task or recipe, from mixing ingredients together on the lower stir speeds, to heavy duty speed 8 for whipping cream. The set includes a 4.5 Quart Stainless Steel Bowl, a coated Dough Hook, a coated Flat Beater, and a 6-Wire Whip. This fab color is perfect for a trendy, modern kitchen.
KitchenAid 3.5 Cup Food Chopper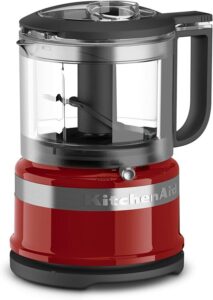 Chopping and mixing need no longer be a hard task with this gorgeous Empire Red food chopper. It works with a simple one-touch operation and has 2 speeds and a pulse mode. Use it to chop, mix, and purée. The bowl holds 3 cups and has a pour spout, handle, and locking blade. It is compact and lightweight and looks good on any kitchen counter.
KitchenAid 1.25-Liter Electric Kettle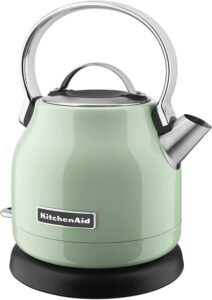 I love the Pistachio color of this KitchenAid Kettle, it is so retro and fun! The kettle has a 1.3 qt capacity, ideal for a smaller household. It has an easy-to-use LED on/off switch and it stands on a removable base. Not everyone is sold on electric kettles, but I really like how they turn off automatically when the water is boiled. Features a smooth, aluminum handle with stainless steel body and comes with a handy limescale filter, perfect to keep your water healthy and free from harmful limescale build-up.  Take a look at my blog on What is the healthiest kettle to boil water


KitchenAid 6 piece Universal Tool Set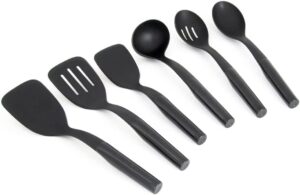 Having odd, mismatched and grimy utensils is a real turn-off when you want to prepare a great meal. Ditch all those oddments and get yourself this stylish set of 6 tools. It includes a solid turner, slotted turner, basting spoon, slotted spoon, ladle, and a short turner. Perfect for cooking and baking and ideal to use on non-stick pots and pans as they will never damage the surface. Dishwasher safe for easy cleaning.
KitchenAid 12-Cup Coffee Maker with One Touch Brewing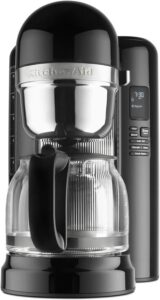 If you can't start the day without a cup of coffee, you need this KitchenAid 12-Cup Coffee Maker. It does require some tech skills, but once you get the hang of it, it is amazing! You can set a timer for coffee to be ready at any time of the day, 24/7. It has a choice for regular and bold strengths, both giving you a full-bodied cup. If you only need a small batch of 2 to 4 cups, it automatically adjusts for the perfect heating and saturation time to give the best flavor. Don't wait for the cycle to finish, you can get your coffee fix by using the Pause and Pour feature that stops the brew cycle at any time, allowing you to pour a cup of coffee before brewing is complete.
KitchenAid Gourmet Stainless Steel Wire Masher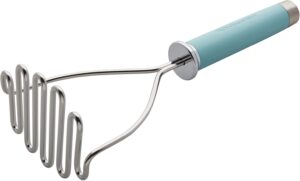 Smashing things is a great way to relieve stress and tension. So why not put your frustration to good use and make delicious mashed potatoes, smashed avos for a brunch sandwich or crushed nuts for a decadent dessert? The KitchenAid Wire Masher has a cool modern design and comes in a matte Aqua Sky color. The handle is ergonomically designed for comfort. The metal is rust-resistant, durable Stainless Steel that always looks shiny and new. Start smashing now!
KitchenAid 5-Speed Ultra Power Hand Mixer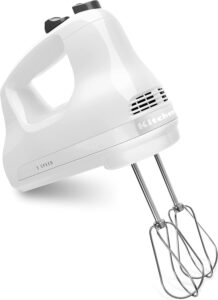 If you are not set on a full-scale stand mixer, a hand mixer can also offer a solution for stirring, whipping, kneading, or blending. I hate doing these by hand, so I always have a small hand mixer ready on a kitchen shelf. This model comes in a clean white color and offers 5 speeds from slow stirring, to whipping eggs at speed 1 or whipping cream at speed 5. The cord locks onto the right or left side of the machine for easy use. It has a simple push button to select the speed you want, no need for complicated electronic selections.
KitchenAid 4-slice long slot Toaster with High-Lift Lever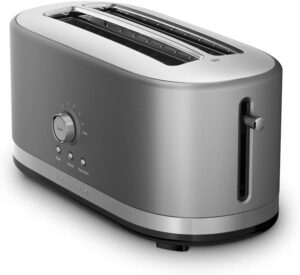 Long slot toasters are fabulous for artisans and homemade breads. They are also ideal for holding 4 slices of normal bread for those everyday breakfasts. This model has extra wide slots that can accommodate bagels and frozen treats. All round, it is a very versatile choice. It also offers a High Lift Lever, a Removable Crumb Tray and
Under Base Cord Storage. It has 7 Shade Settings with additional Bagel, Defrost, Reheat and Keep Warm functions. What more can you want? Look at my Toaster Buyers Guide for more info on How to choose the perfect toaster. 
KitchenAid 2.0-Quart Whistling Kettle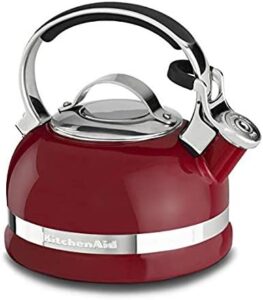 This bold and vibrant color makes a statement in any kitchen! The 2.0 qt kettle has a removable lid for easy filling and cleaning. It is made of stainless steel and features a porcelain exterior with a cool shiny finish. Adding to the look is a silver trim band. When your water is boiled the kettle emits a clear audible whistle – time for tea! For those who don't like red, this model also comes in a range of other exotic colors with names like Cameo Blue, Citrus Sunshine, Mandarin Orange, and Sunkissed Lime.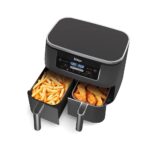 Since I got hooked on air fryers, I simply cannot get enough of them. I was actually considering getting two so that I can cook…
Read More »