Discover the Must-Have Pantry Essentials for Elevating Your Cooking with Spices, Sauces, and Oils
Spices, sauces, and oils are essential ingredients in any well-stocked pantry. They have the power to transform simple dishes into a culinary masterpiece and add a touch of cultural diversity to your cooking. Whether you're a seasoned chef or a beginner in the kitchen, understanding the right pantry essentials is crucial for making delicious meals.
In this post, I'll share my top picks for best spices for pantry, essential oils for cooking, and must-have sauces for flavoring, that can help elevate the taste and flavor of your dishes. From basics to exotic condiments, read on to discover the must-have pantry essentials for your culinary creations.
Spices are the backbone of any well-rounded pantry. They add depth and flavor to dishes and enhance the natural taste of the ingredients. A selection of dried herbs, such as basil, oregano, and thyme, as well as common spices like cumin, paprika, and coriander should be a staple in your pantry.
Basil: This popular herb is widely used in Italian and Mediterranean cooking. Its sweet and peppery flavor complements tomato-based dishes, pesto, and salad dressings.
Oregano: Oregano is a staple in Mediterranean and Mexican cuisine. Its pungent, slightly bitter flavor works well with grilled meats, pizzas, and stews.
Thyme: Thyme is a versatile herb that adds a subtle earthy flavor to dishes. It is commonly used in soups, stews, marinades, and herb butter.
Cumin: This warming spice is commonly used in Mexican, Indian, and Middle Eastern cuisine. It imparts a slightly bitter and earthy flavor to dishes like chili, tacos, and curries.
Paprika: Paprika is a sweet and mild spice that is used to add color and flavor to dishes. It is commonly used in Hungarian and Spanish cuisine and can be found in dishes like goulash, paella, and spice rubs.
Coriander: Coriander is a fragrant and citrusy herb that is widely used in Indian, Middle Eastern, and Latin American cooking. It is commonly used in curries, salsa, and marinades.
Revolving 20-Jar Countertop Spice Tower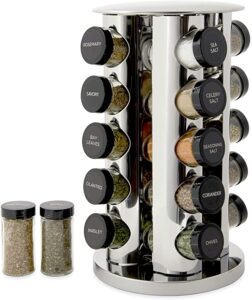 This Spice Tower is the perfect way to get set up with all the spices you need quickly and neatly. The revolving spice rack provides ultimate kitchen organization with clearly labeled caps to make spices easy to find and within reach when needed. The jars come filled with spices that include basil, garlic salt, rosemary, oregano, and more. AND – the spice rack comes with 5 years of free spice refills to keep you stocked up 24/7. This is the perfect gift for any budding MasterChef.
Sauces are another essential ingredient in your pantry. From soy sauce to balsamic vinegar, sauces add both flavor and moisture to your dishes. Some other sauces to consider including in your pantry are hoisin, teriyaki, and hot sauce.
Soy Sauce: A staple in Asian cuisine, soy sauce is a savory and salty sauce made from soybeans, wheat, and salt. It is commonly used as a dipping sauce and as an ingredient in marinades and stir-fries.
Balsamic Vinegar: A sweet and tangy vinegar made from cooked and reduced grape must, balsamic vinegar is a versatile ingredient commonly used in salad dressings, marinades, and as a glaze for meats and vegetables.
Hoisin: A sweet and savory sauce, hoisin is a staple in Chinese cuisine. Made from soybeans, garlic, and spices, it is commonly used as a dipping sauce, in stir-fries, and as a glaze for meats.
Teriyaki: A sweet and savory sauce, teriyaki is a Japanese-style sauce made from soy sauce, sake, mirin, and sugar. It is commonly used as a marinade for meats and as a glaze during cooking.
Hot Sauce: A sauce made from chili peppers and vinegar, hot sauce adds heat and flavor to dishes. It is commonly used as a condiment and to add heat to soups, sauces, and marinades.
Popcorn Seasoning Mini Jars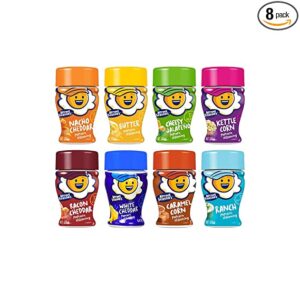 Popcorn is a staple in our households over weekends and holidays. These fun mini jars offer flavors to spice up your popcorn and keep it interesting. My Grandkids love these! Flavors include: White Cheddar, Nacho Cheddar, Ranch, Butter, Kettle Corn, Caramel Corn, Bacon Cheddar, and Cheesy Jalapeno. They are low in calories, gluten-free, and Kosher. Each jar offers 31 servings, so this will last for a long time.
Oils are an essential ingredient in cooking and baking. A high-quality extra-virgin olive oil is a must-have for any pantry, but it's also important to have a neutral-tasting oil like vegetable oil for high-heat cooking. Other oils that are good to have on hand include coconut oil for its high smoke point, sesame oil for its distinct flavor, and avocado oil for its healthy monounsaturated fat content.

Olive Oil: My favorite oil! Olive oil is a staple in Mediterranean cuisine and is made from the fruit of the olive tree. It has a distinct flavor and is high in healthy monounsaturated fats.
Vegetable Oil: Vegetable oil is a general term for oil that is derived from plants. It is commonly used for frying and baking, and is often made from a blend of different oils.
Avocado Oil: Avocado oil is made from the flesh of avocados and is high in monounsaturated fats, vitamins and minerals. It has a mild, nutty flavor and is commonly used for dressings and dips.
Sesame Oil: Sesame oil is made from sesame seeds and is commonly used in Asian cuisine. It has a distinct, nutty flavor and is often used as a finishing oil to add flavor to dishes. It is also rich in healthy fats and antioxidants.
Pompeian Smooth Extra Virgin Olive Oil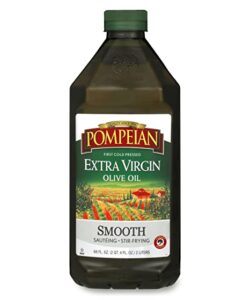 A must-have for any pantry! Extra Smooth virgin olive oil is made from cold pressed olives. Ideal for sauté, drizzling, salads, frying, roasting and more. Pompeian Smooth Extra Virgin Olive Oil is Naturally Gluten Free and Non-Allergenic, Kosher, and Non-GMO Verified by the Non-GMO Project. I love this oil for its mild and delicate flavor.
Oil and Vinegar Dispenser Set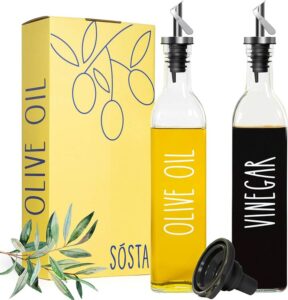 The perfect set to place on your table when lunch or dinner is served. The weighted gravity pourers of the olive oil dispenser bottles are drip-free and open automatically when pouring. They come with a convenient silicone funnel for easy, mess-free refilling. Made of food-grade glass and BPA-free silicone. Add this to your go-green life-style and support the planet.
Having a well-stocked pantry with these essential ingredients on hand will help you to create a variety of dishes with ease and confidence. With a little planning and preparation, you'll be able to make healthy and delicious meals in no time.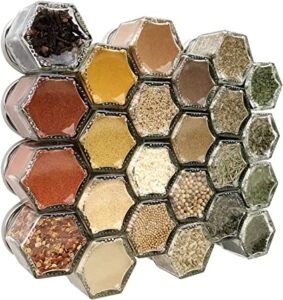 This stunning Pantry Kit will give you hours of fun and uplift your cooking skills. The hexagon-shaped jars fit together to make a honeycomb pattern that you can arrange in a myriad of ways to suit your kitchen and your space. The smooth-bottom jars showcase spices clearly. They also have strong magnets so you can build it on your fridge too! The air-tight lids keep spices fresh and the glass jars are dishwasher safe.
McCormick Gourmet Organic Basics Variety Pack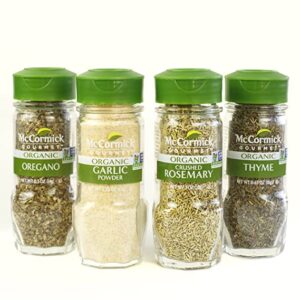 If you want to start with just the basics, this set gives you a choice of Garlic, Thyme, Oregano and Rosemary. Perfect for roast chicken, potatoes, fish, pasta, veggies, salads, and more. The green tones will add a pop of color to your kitchen shelf and blend in perfectly with a woodland or cottage themed kitchen décor theme. This set makes a great housewarming gift for new homeowners.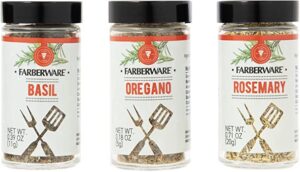 A must-have for pizza lovers. This set offers the 2 main spices to make your pizza stand out.
Basil – adds a touch of freshness
Oregano- infuses tomato dishes, eggs, meat, and vegetables with a bold, earthy taste
Rosemary – brings a woody flavor and lively aroma to bread, potatoes, soup, and meat
The set comes in a gift box, making this a great present for a barbecue host.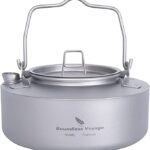 My family loves camping and we often head out into the outdoors for a weekend of sleeping on hard stony ground and getting drenched in…
Read More »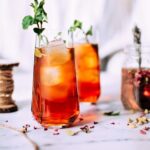 As much as I love tea, I do sometimes get tired of … yet another cup of tea. I also sometimes drink far too much…
Read More »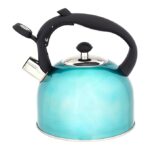 I find that nothing is more satisfying than the whistling sound of a stove top kettle. It is time for tea, relaxing, family bonding, or…
Read More »