Fry, bake, broil, dehydrate, and roast are just a few things this amazing Ninja FD302 Foodi Air Fryer can do. If you are serious about cooking and don't yet have an air fryer to show off on your kitchen island, this is the one to buy.
With air fryers being all the rage at the moment (remember when it was microwaves that everyone wanted?), knowing what you are about to buy is a must. These appliances are not cheap and don't suit everyone. I will explain it all to you so you can make an informed buying decision. This Air Fryer also makes a fabulous gift for a family member or friend who loves cooking.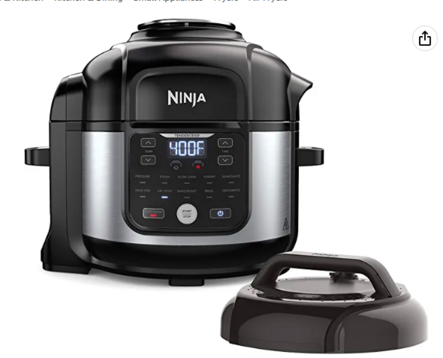 Ninja is a brand of small home appliances that are becoming more and more popular with home cooks. The range covers blenders, mini-ovens, vacuums, and even ice cream makers. The founder is Mark Rosenzweig who has become a well-known face on TV networks where he can be seen showcasing their various products.
Let's start with the 11 different programs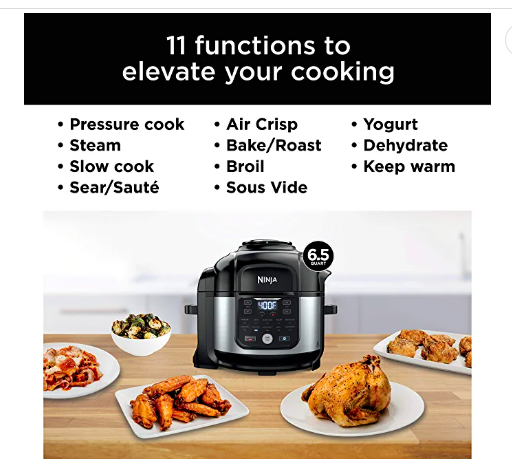 Imagine any cooking process and you can be sure that the Ninja FD302 can do it. You may not use them all, but you will be able to make any dish that the family wants. And, you can try out some of the more fancy functions before giving the meal to the family, just in case it doesn't turn out as expected.
These are some of the functions you can choose by selecting the program you want on the touchscreen –
Pressure Cook – Just like grandma used to do in that massive pot with a valve on the top. But, with modern-day technology, you won't need to worry about an explosion and a kitchen-wrecking scenario if you open it too soon. Pressure cooking uses high-pressure steam and water to slow-cook food. It is ideal for stews that use tougher cuts of meat, making the meat soft and delicious to eat. You can also pressure-cook lentils, squash, beans, mashed potatoes, and soups.
Air Fry – This is what air fryers are all about – air frying! This process uses hot air that is circulated in the basket to cook your food quickly and evenly, using up to 70% less oil than conventional cooking. Air frying is a healthier option and your food is still crisp and delicious.
Steam – Ideal for people on a diet who want to avoid fats altogether. Steamed veggies somehow taste better when done in an air fryer than in a stove pot. This is because they still retain all the flavor and nutrients that would otherwise be thrown away when you drain the water from a conventional pot.
Broil – Broiling uses heat from the top combined with very high temperatures to crisp or brown the top of your dish. If you want to melt cheese or brown a casserole, the broiler feature will do it for you. It uses direct, top-down heat to get a crisp, bubbly top to your dish. The Ninja FD302 has a stainless steel nesting Broil Rack that provides the ability to steam and broil. And, it stores away inside your cooking pot when not in use.
Roast – Just like a great roast from an oven, but much faster and with less oil. But, it tastes as good if not better!
Bake – Baking a cake in an air fryer can be a wild experience to start. But there is no limit to what you can make. Try a chocolate cake, here is a great recipe. You can also make delicious jelly donuts for the kids. Or, how about cinnamon buns, scones, and bread?
Dehydrate – Ideal to make healthy snacks and treats. You can dehydrate apples, bananas, and apricots to make a tasty Safari mix for a school or office lunch.
Keep Warm – When someone calls just as you are about to serve dinner and the call can't wait, this function will keep your meal warm without drying it out and rendering it inedible.
Sous Vide – A must-have technique for any aspiring cook. This process involves vacuum sealing the food in a plastic bag and cooking it slowly by immersing it in warm water. I love to sous vide salmon and serve it with coconut rice or baby potatoes. Both of these can easily be made in your air fryer too.
The Ninja FD301 is perfect for large families
The Ninja FD302 air fryer has a large 6.5 qt pot, ideal for large families. It can easily hold a 5 lb chicken or a 6 lb roast. The 4.6 qt Cook & Crisp Plate that comes with the air fryer can hold up to 3 lbs of hand-cut French fries. While most air fryers look large on your kitchen counter, I find that once they are opened up, the pot inside is far smaller than you expect. Cooking a meal can become a problem if you are cooking for more than a single person or a couple.
Once you find your way around the touchscreen, the Ninja FD302 air fryer is easy to use. Touchscreens can be daunting for people who are not tech-savvy. But just like your mobile phone, you soon get the idea. Take a look at this photo of the functions. It is easy to select any function you want by pressing on the word. You will see that the bar underneath the word lights up so you know which one is selected. For temperature, you can press the up or down function and the temperature will display in digits on the center panel. The same applies to the time you want. When the cooking is complete, the unit will beep and the display will read 'END'.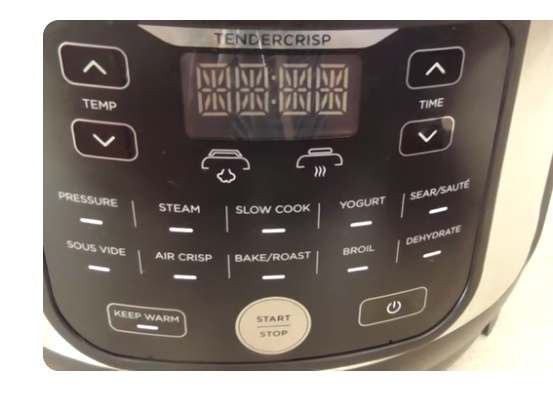 There is a very comprehensive User Manual that comes with the machine or can be downloaded off the website https://www.ninjakitchen.com/include/pdf/manual-fd302.pdf). It gives step-by-step instructions for each type of cooking mode, which is great and leaves no room for error if you follow along carefully.
Non-stick pots are easy to clean and maintain. The pot of the Ninja FD302 Foodi is non-stick. Just remember not to use bleach, abrasive cleaning pads, or steel wool. Wash the pot with warm water and a mild detergent and wipe it dry with a soft cloth.
45 recipes for inspiration
As a beginner cook, you may be unsure of what to make in your air fryer. This appliance comes with an inspirational recipe book containing 45 recipes written by experienced chefs that allow you to experiment with all the functions. It also comes with cooking charts that help you plan your food preparation.
What does the Ninja FD302 air fryer come with?
Included with the Ninja Foodi FD302 Pressure Cooker you will get
Crisping Lid
Pressure Lid
6.5 qt. Nonstick Cooking Pot
4.6 qt. Nonstick Cook & Crisp Plate
Stainless Steel Nesting
45 recipe book for inspiration
The verdict is very positive!
With the large number of air fryers vying for your attention, Ninja is a well-known and very reliable brand. They offer support online via a chat service and also have a very comprehensive FAQ section to help you find and solve your problem.
This device is easy to use and even those who are nervous about touch screens will soon be able to operate it. It is ideal for a larger family and for someone who has the desire to try out new and exciting cooking techniques. The price is high, but this will be an investment for many years to come. The Ninja FD302 11-in-1 air fryer has over 2400 ratings on Amazon, giving it an average rating of 4.8 stars, which is very high when it comes to kitchen appliances.
Yes, there are –
For a single person or a newlywed couple starting a home, this model may be too large. A better choice would be the Ninja AF101 Air Fryer. It has a capacity of 4 qt and a simpler control panel.
Air fryers in general take up space. They are heavy and cannot easily be packed away after use. You do need to ensure that your kitchen counter is adequate for this, or any other air fryer, before you find that you have nowhere to put it!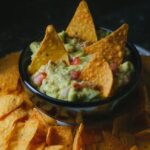 Nachos are such a feel-good treat. I love making them for a weekend picnic or a late afternoon get-together with the family. This is my…
Read More »