Air fryers are no longer optional appliances in my kitchen! And, it seems that the world agrees. If you don't have an Air Fryer, you are missing out on the most modern, healthy, fast, and easy method of cooking.
The Cosori Dual Blaze 6.8 Quart is getting amazing 4.8-star reviews and is one of the top-selling appliances online. If you are still not sure – let's look a bit closer at what this Air Fryer offers and what it can do.
A word for potential buyers – This is a large device with an interface to an app. You can talk to it! If this is not for you, take a look at some smaller and less complex models that may better suit a first-time air fryer buyer.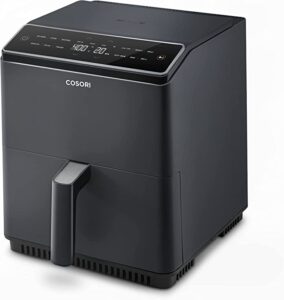 I couldn't wrap my head around this name until I found some meaningful information on their marketing material for the Air Fryer – here it is –
Cosori – is an acronym for 'Cooking', 'Smarter', with 'Originality & Inspiration'. So there you have it! They further claim that the name reflects the brand's core values since its inception.
Cosori is a company that specializes in the design and manufacture of kitchen appliances, particularly air fryers and pressure cookers.
The company was founded in California in 2013 and has since grown to become a leading brand in the industry. It is part of the VeSync group who also market the Levoit brand.
Cosori's mission is to make cooking easier and more convenient for people of all skill levels. They focus on designing and engineering products that are user-friendly, efficient, and durable. Their air fryers, in particular, have received high praise for their ability to cook food with little to no oil, resulting in healthier meals. The company also offers a wide range of accessories, such as baking pans and racks, to help users get the most out of their appliances. Overall, Cosori is a company that is dedicated to providing its customers with high-quality products that make cooking more enjoyable and accessible.
A closer look at the Cosori Air Fryer Dual Blaze 6.8 Quart
Let's start with the 6 + 6 One-Touch Cooking Functions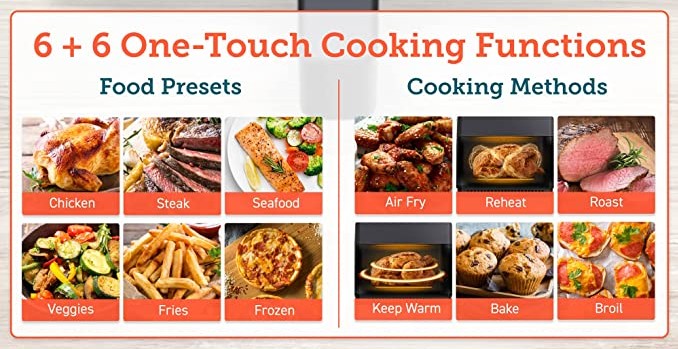 Because this Air Fryer has advanced technology, it wants to know what you are cooking. It is not like a conventional oven that simply has a temperature setting. By selecting your Food Presets, it will adjust heat, time, speed, and functionality accordingly to produce the tastiest, crispiest, juiciest foods.
The 6 Food Presets are
Chicken
Steak
Seafood
Veggies
Fries
Frozen
You can then select 1 of 6 cooking methods by simply pressing the button on the touchscreen.
Air Fry – This is the new healthy cooking method that everyone is going crazy about. This process uses hot air that is circulated in the basket to cook your food quickly and evenly. It uses up to 70% less oil than oven or stovetop cooking. Your food is still crisp and delicious and much healthier.
Reheat – This function is ideal for using up those leftovers. And, unlike sad-looking leftovers, in an Air Fryer, they will taste just as good as they did the day before. This function is ideal for reheating soup, veggies, chicken, pizza, and more. And, it takes only minutes as you don't have to wait for the oven to reach temperature. It is also much better than a microwave that tends to produce soggy, unappetizing reheated leftovers.
Roast – Make a Sunday Roast just like Grandma did – using half the amount of time and far less energy – yours and your utilities! You can roast a chicken, a leg of lamb, pork, potatoes, or any other food that tastes great after being roasted in a conventional oven. And, it is far healthier, using up to 70% less fat or oil.
Keep Warm – Perfect for when the kids refuse to come inside from the garden, or Mum and Dad are running late from work. Take that call and relax, your food stays warm without drying out and becoming inedible. No one will know that dinner was ready an hour ago.
Bake – Baking in an air fryer may sound impossible, but I can assure you that with some trial, error, and patience, you can make fabulous cakes, fluffy scones, donuts and anything bakable! You can even get creative and make artisan breads and cinnamon buns for tea. Take a look at this recipe for cinnamon buns. It has loads of good reviews and only takes 17 minutes from start to finish.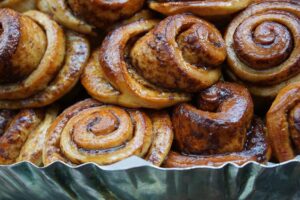 Broil – Broiling uses heat from the top combined with very high temperatures to crisp up or brown the top of your dish. It is great for cheese sandwiches, baked pasta, casseroles, and potato pots. This cooking method uses direct, top-down heat to give your dish a crisp, bubbly topping.
Perfect for large families
The Cosori Air Fryer Dual Blaze has a large 6.8 Quart basket that can hold up to 17 chicken wings spread out and not stacked atop one another. It can hold up to a 5 lb chicken and 4 lbs of fries. Many air fryers can be misleading when you look at how large they are. They take up a lot of room on a kitchen counter, but the problem comes when you open the basket, only to find that it is far smaller than you imagined. If you are cooking for a family, you need a basket that is at least 6 qts or more in size.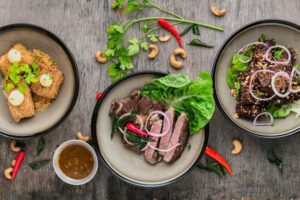 Awesome for tech-savvy users
As I mentioned at the top of this review, the Cosori Air Fryer Dual Blaze 6.8 Quart is a smart device that connects to an app. So what does that mean? For tech-lovers, it means that you can control your machine remotely, and you don't need to be in the kitchen. You simply enter your preferences on the touchscreen of your mobile phone and you can select Food Presets and Cooking methods. You can monitor the progress of the meal and get alerts when it is ready.
And, for those who want it all, you can even talk to your Air Fryer. So, this may not yet suit everyone, but saying things like 'Adjust the Air Fryer temperature to 400 degrees F' can become very normal in your household. All this works via the VeSync app.
Using the app gives you even more options. You can scan-to-cook, a function that allows you to scan multiple types of frozen foods for easy-to-follow cooking instructions and to view your food's nutrition facts. Ideal for people watching calories or those on special diets.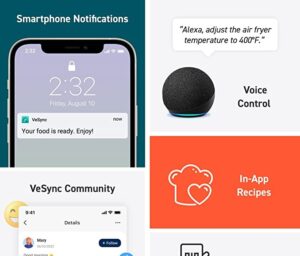 It is BPA-free and dishwasher safe
I always look for products that are BPA-free and PFOA-free. I prefer to know that my family is not eating unwanted chemicals if it can be avoided. The basket and crisper plate of the Cosori Air Fryer Dual Blaze 6.8 Quart are both BPA-free and PFOA-free. The basket has a non-stick coating for easy cleaning. Both are also dishwasher safe, making cleaning up easy.
100's of recipes for inspiration
Use the app to find 100's hundreds of tried and tested recipes devised by certified Cosori Chefs. Cook appetizers, entrées, desserts, main meals, snacks, or whatever takes your fancy. There is nothing you can't make in this Air Fryer.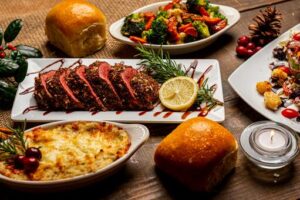 The verdict is very positive!
If you are tech-savvy and want a top-of-the-range large Air Fryer, the Cosori Air Fryer Dual Blaze 6.8 Quart is one of the best choices. The company is known for excellent product support and help. You can get accessories if wanted that fit the device. The app is cutting-edge and allows you to make customized meal plans and even save your favorite custom recipes.
Yes, there are …
It is expensive. But, that being said, this device will last for years.
It is large and takes up space on a kitchen counter. But again, most Air Fryers are.
It is better suited for tech lovers and those who want to use technology to cook, plan meals, and have a chat with their devices when there is no one else around to talk to.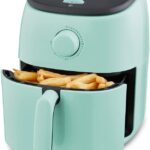 If you are new to air fryers take a look at my overview here. It will give you a rundown of the main features of…
Read More »