As much as I love tea, I do sometimes get tired of … yet another cup of tea. I also sometimes drink far too much coffee and that is not a good thing either. So I spent some time finding alternatives to my everyday cup of tea. Surprisingly enough, there are many options that are easy to make and will add variety to your day or evening.
I have tried exotic Japanese and Chinese teas. I have also experimented with herbal teas, many of which claim to have health benefits that can lower blood pressure, relieve stress, help headaches, reduce digestive pain, and build healthier bones and teeth. While I won't promote these teas as medical remedies, there is no harm in trying them out – and they taste really good too.
Here are 10 alternatives to normal tea that I am enjoying serving up to my family!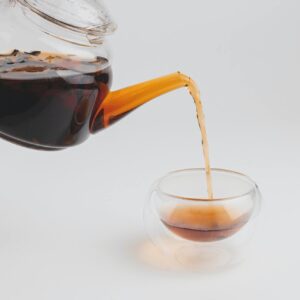 If you need a boost of caffeine and don't want to drink coffee or energy drinks, black tea is a great alternative. It contains about half the amount of caffeine that you get in a cup of coffee. It has a strong, robust taste that gives you a boost to start your day.
Black teas range from the well-known English Breakfast Tea to far more exotic blends like Assam Black Tea, Keemun Black Tea, and the rare Champagne Rose Black Tea.
Most Black Teas are grown and harvested in China and exported to the Western World. They get their name from the color of the tea leaves, which turn black during the oxidizing process. This process takes place after the leaves have been picked, crushed, and dried. The longer the oxidation process, the darker and more flavorful the leaves become. Tea aficionados drink black tea without milk. If you find that it is too strong, adding some raw honey will give a hint of sweetness.
When buying Black tea, look for loose leaves, not teabags. Teabags are usually a lower grade of tea and are filled with what is known as tea dust or tea fannings. You will miss out on the true taste of this exotic tea.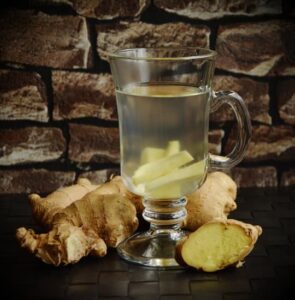 My Grandkids love Gingerbread men – or Gingerbread ladies! We spend many cold winter afternoons baking up a batch in the kitchen and decorating them in fun colors. If you long for that warm, cozy feeling and find that baking is just too much trouble, brewing up a cup of Ginger Tea, gives you the same feel-good vibe.
All you need is some fresh ginger and raw honey. Grate up your ginger and set it aside. Boil a kettle of water and pour the boiling water into a teapot. Add the ginger and allow it to steep for about 5 minutes. Strain the ginger water into your tea cups and you have a tempting, warming brew. For sweetness, add in a spoon of raw honey.
Ginger tea is great to sip when you have a cold or the flu. It helps to reduce congestion and open the nasal passages. It is also great to drink if you have digestive pain or are feeling nauseous.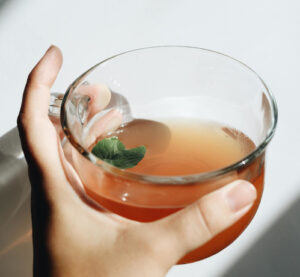 Peppermint Tea is another great mood-booster that will send shivers down your spine. If you are feeling low on energy and need a boost, a hot cup of peppermint tea will get you going in a jiffy. For that, reason, I only drink it on weekdays, and certainly not on a lazy Sunday morning!
To make Peppermint Tea you need to use the leaves of the peppermint plant, a plant that is a combination of watermint and spearmint. If you have a garden or a small herb box, you can easily grow your own mint plants and use the leaves. If not, you can buy prepacked leaves online or in your local grocery store. Twinings make a great Peppermint Tea. 
Peppermint tea has no caffeine or calories – a plus in my books! It is the perfect choice for people wanting to cut down on caffeine and for those following a low-calorie diet. Peppermint tea is known to reduce headache pain, help with digestion, and eliminate bad breath.
Follow these steps
Wash about 5 to 6 peppermint leaves
Tear them up into small pieces
Put 2 cups of water into a pot
Bring to the boil
Remove the pot from the heat
Add the leaves to the water
Cover the pot and allow it to steep for 5 to 10 minutes
Pour the liquid through a strainer into your tea cups
For sweetness, you can add honey, or a diet sweetener if you are counting calories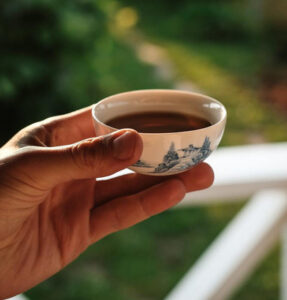 Oolong tea is another specialty tea that I have recently discovered. It is strong and rich, and may take a while to acquire a taste for it. Oolong tea originates from Japan and China. This exotic tea has its roots in ancient cultures and is served at traditional tea ceremonies in royal palaces. It is an exotic alternative to normal tea. 
Oolong tea leaves are partially oxidized. This process gives them a dark tone that can vary from brown to black. Because they are oxidized for a shorter time than Black Tea leaves, they have a less intense flavor. If you enjoy pairing food and wine, why not try your skills are pairing food and exotic tea? Light Oolong varieties pair with citrus fruits, soft cheese and crackers, scallops, and lobster. Dark Oolong varieties go well with stir-fries, curries, duck, and my faves – chocolate, caramels, and spiced pastries.
Some great Oolong teas to try out are
Charcoal Roasted Pure Oolong Tea
Twinings Pure Oolong Tea Bags
Anxi Tieguanyin Black Dragon Oolong
To make Oolong tea –
Place 1 to 2 teaspoons into 8 ounces of just-boiled water
Steep for 3 to 5 minutes, or longer for a stronger brew
Oolong tea has an earthy aroma and a rich, roasted taste. I find it to be really soothing and calming after a busy day. Oolong Tea is also delicious as an iced tea on a hot afternoon in the garden. Tempt your guests – they will find it hard to identify what this exotic brew is!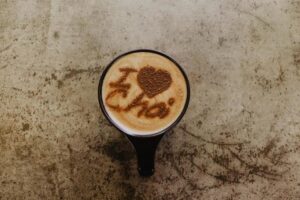 Chai tea is another great treat that is worth trying. The base of Chai tea is rich black tea. An exotic blend of spices is then added. You can choose from a combination of ginger, black pepper, fennel, cardamom, cinnamon, nutmeg, star anise, coriander seeds, and cloves to suit your taste. You don't have to use all these spices, but choosing a good selection makes your Chai tea taste great. I love Chai tea because I can add milk and loads of brown sugar or maple syrup to sweeten it.
Follow these steps
Put 1 cup milk and 2 cups water into a pot
Add in your spices as desired
Heat the mixture and simmer for 2 to 3 minutes
Add in 2 teaspoons black tea leaves
Remove from the heat
Allow the mixture to steep for 8 to 10 minutes
Pour the mixture through a strainer to remove the tea leaves and pieces of whole spice
Pour into cups
Sweeten with brown sugar or maple syrup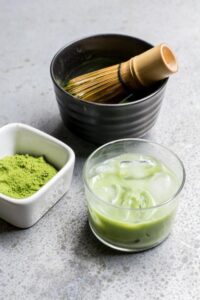 Matcha Tea is THE tea that trendy people are drinking at the moment. It originates from Japan and has become extremely popular in the western world. Matcha tea is known for its amazing emerald green color. This color is produced when the tea plants are covered with black film a few weeks before harvesting. The lack of light makes the plant produce excess chlorophyll, a component that gives leaves their green color. After the leaves are harvested, they are dried and then crushed by hand, using age-old stone-grinding techniques.
You can purchase Matcha tea online, or, if you are lucky enough to have a specialty tea shop nearby, they are sure to keep some of these exotic blends. Some blends that are easy to find online are
Ito En Traditional Matcha Green Tea 50 Count Zero Calories
Golde Pure Matcha | 100% Pure Japanese Ceremonial Grade Matcha
To make Matcha tea need
Fine sieve
Bamboo whisk
Clay pot for whisking
Authentic Japanese teacups for sipping
1 to 2 teaspoons Matcha tea
2 ounces just-boiled water
12 ounces steamed milk or additional just-boiled water
Organic honey for sweetening if required
Follow these steps
Sift the Matcha tea powder into the clay pot
Pour in 2 oz of just-boiling water
Whisk as fast as you can in a zig-zag motion from side-to-side
Keep whisking until the tea is frothy
Add the remaining water or steamed milk and whisk again
Add the honey to sweeten if required
Pour carefully into your cups, allowing the foam to settle on top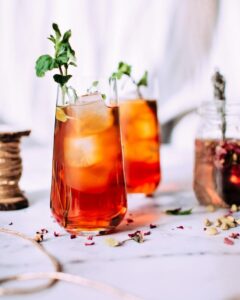 Peach tea is the perfect drink to serve on a picnic, by the pool, at the beach, or when you show your style and invite friends over for a garden luncheon.
To make peach tea, I use this delicious recipe for peach syrup that I found while browsing the web. I then add the syrup to my brewed black tea.
You need
4 medium peaches
3 cups sugar
1 cup boiling water
1/4 cup fresh lemon juice
Follow these steps
Wash and pit the peaches
Cut them into wedges
Place the peaches, lemon juice, and boiling water into a saucepan
Add in the sugar, but do not stir
Bring to a simmer over a medium heat
Reduce the heat
Simmer on a low heat for 30 minutes
Strain the syrup into a glass jar
Brew your black tea
A good ratio is 2 or 3 teaspoons of black tea leaves to 8 cups of water
Pour the peach syrup into the tea and stir well
Allow it to cool
Pour into tall chilled glasses filled with ice
Garnish with fun small decorative umbrellas and edible flowers to show your island spirit!
Peach tea is a great alternative to normal tea, especially on a hot summer day. 
Are you looking for a new kettle to try out some of these recipes? Take a look at my suggested Stove Top Kettles, ideal for small and large families.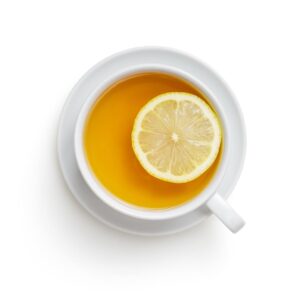 A quick and fast alternative to normal tea just involves adding a slice of lemon! Yes, believe it or not, you can really jazz up a cup of tea with lemon. It is refreshing and gives you a boost of energy and a tingle down your spine.
Brew up a pot of your everyday tea. Pour it into your cups. Squeeze in about 1/2 teaspoon of lemon juice. Add in a slice of lemon to garnish. Done! Lemon tea is a great drink for a cold winter's night. I love to add dollops of honey to make it super sweet. Lemon tea can also be served ice cold on a summer day. Prepare a big pot of lemon tea, cool it in the fridge, and serve in a glass jar.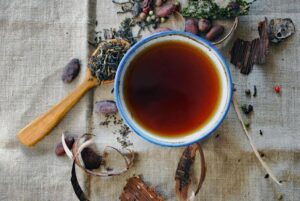 Rooibos Tea, pronounced Roy Bus, is grown exclusively in South Africa. It has a fabulous deep burgundy color and an earthy nutty taste. Rooibos claims to offer a huge range of health benefits from aiding heart health to strengthening bones, controlling diabetes, and improving digestion. It is caffeine-free, making this a relaxing drink to sip before bedtime.
If you want to wow your guests, add a few drops of vanilla and serve your Rooibos tea with sponge cakes or custard tarts. To make Rooibos tea, steep the tea leaves in boiling water for up to 10 minutes or more, depending on how strong you want it. The stronger it is, the more health benefits it offers. Rooibos is usually served with no milk or sugar, but nothing stops you from adding either.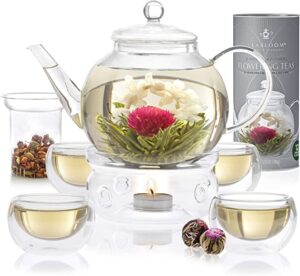 Sipping a cup of tea that contains floating flowers, blossoms, or leaves may not be to everyone's taste, but it certainly gets the conversation started. I am really enjoying experimenting with these herbal teas! They make a refreshing alternative to normal tea. 
This fabulous Teabloom Complete Tea set gives you all you need for an exotic garden tea party.
It contains
40 oz. high-quality glass teapot with lid
Loose tea glass infuser
Warmer and candle
Four 3.4 oz. double-wall glass cups
12 blooming tea flowers in a gift canister
The teapot and cups are made of borosilicate glass, which is durable, heat-resistant, and shatter-proof. They are stovetop, microwave, and dishwasher safe. The glass teapot features an ergonomic handle and a dripless spout so you will never mess on your tablecloth or your guest's designer outfits.
Each tea bloom gives 15 cups of delicious green tea. The instructions are easy to follow. Simply unwrap the flavor of your choice, place the tea ball into the teapot, add boiling water and wait for the magic show! A beautiful, aromatic flower will unfold its petals while steeping in the water, creating delicious tasting tea before your eyes.
I must admit, I did practice doing this a few times before inviting guests over, just to make sure that I wouldn't look totally inept. And, it really does work. Once the tea is poured and you start sipping, you can waft on about the flavors that have exotic names like Heart Bouquet, Shooting Star, Sunset Love, Fairy Lily, Jasmine Lover, Eternal Love, and more. Boiling your water in a stylish glass kettle is a must to add to the ambiance of the occasion.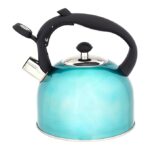 I find that nothing is more satisfying than the whistling sound of a stove top kettle. It is time for tea, relaxing, family bonding, or…
Read More »