A novelty toaster is a fun and unique addition to any kitchen. Not only does it serve its practical purpose of toasting bread, but it can also add a playful and conversation-starting element to your breakfast routine. You may not be sold on a Hello Kitty, Batman, or a Darth Vader toaster! So, I have found a stylish, sophisticated model that wows with a slide-though design – the West Bend 2-slice QuikServe slide through toaster.
Novelty toasters come in a variety of designs, from pop culture references to whimsical shapes, that can match your personal style and bring a touch of personality to your kitchen. They also make great gifts for anyone who loves cooking or is in need of a kitchen upgrade. They are sure to be a conversation starter, great for entertaining guests and friends.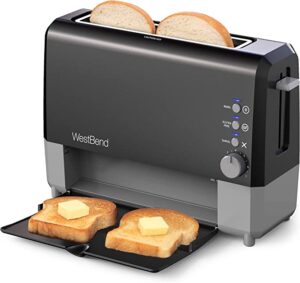 If you want to know more about the company – here it is. If not, skip to the next section!
West Bend is a company that has been in business for over 100 years, known for manufacturing quality kitchen appliances and small electrics. They offer a wide range of products, including toasters, slow cookers, coffee makers, and more. The company is based in West Bend, Wisconsin and it is known for its commitment to quality and durability. Their products are built to last, and they are backed by a strong warranty program.
West Bend prides itself on its American-made heritage and it's still manufacturing in the US, ensuring that their products are of the highest quality. The company also has a reputation for its innovative designs and features, such as its "even toast" technology in their toasters and its "auto-shift" feature in their coffee makers. With a wide range of products, excellent warranty and dedication to quality West Bend is a trusted and reliable brand for your kitchen appliances.

A closer look at the West Bend 2-slice QuikServe slide through toaster
Don't wait for the toast to pop up! With this trendy toaster, the toast slides out at the bottom. This is certainly something you have to get used to, but is totally awesome and never fails to wow the family. Watch it in action and you will smile. Two pieces of hot toast slide out, ready and waiting for a knob of butter.
The design
The first thing to notice is the tall, slim design. It is narrow but once the tray is open, you will need some space on your counter to allow it to lir flat. The toaster comes in black with shiny chrome accents and silver buttons. The exterior is cool-touch which I love. It offers safe operation and peace of mind that I won't burn my fingers accidentally if I touch it.
The next trendy design feature is obviously the slide-through tray. Put your bread into the slots, push down the lever, and wait for the toast to slide out the bottom onto the tray, ready to serve. Anyone looking for a toaster with a difference will love this design.
The serving tray won't get in your way when you are not using the toaster. It folds up when not in use.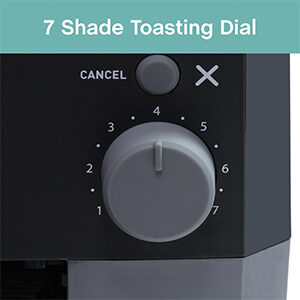 7 shade toasting dial
For people who don't enjoy technical touch buttons, the West Bend 2-slice QuikServe Slide through toaster offers a classic dial that you can turn. There are 7 settings of browning from ultra-light to dark and almost burnt. Simply turn the dial to select the level you desire. Once you have chosen your setting, your toast is done in 90 seconds or less.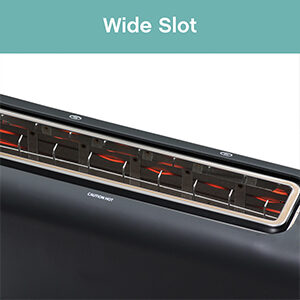 Wide slots
Wide slots are ideal for toasting artisan breads, frozen treats, waffles, toaster strudels, frozen pancakes, croissants, and bagels. You won't have to fight to push in your thicker slices and hope that they don't burn to a frazzle because they are too close to the heating elements.
Bagel setting
The innovative bagel setting allows you to toast the cut side of a bagel while warming the round side. This ensures that the cut side is crispy and golden brown, while the round side is warm and soft. It prevents the bagel from getting over-toasted and allows you to enjoy the perfect bagel every time. This is a must-have for bagel lovers like my hubby and kids. Simply touch the Bagel Button to activate this function.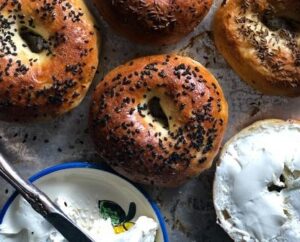 Gluten free setting
If there are members of your family who have to eat gluten-free breads, they can also enjoy toast now with the West Bend 2-slice QuikServe slide through toaster. The unique Gluten-free setting toasts the bread longer and at a lower power. Gluten-free bread has a different structure to normal bread and usually burns in an everyday toaster.
Gluten-free bread is made without wheat, barley, and rye, which are common ingredients that contain gluten. Gluten-free bread is made using alternative flours such as rice flour, almond flour, and coconut flour. These flours often result in a bread that is denser and has a different texture than traditional bread, but it is safe for people with gluten sensitivities or celiac disease to consume. The West Bend gives perfect results for gluten-free breads.
Dishwasher safe
The serving tray folds up when not in use. It can be removed and washed in a dishwasher.
At under $50, it definitely is!
This toaster is fun and practical and looks stylish in any kitchen. It also makes a great gift for a new homeowner or someone who loves trendy kitchen appliances.
Unique slide-through design
2 slice toaster
7 browning settings
Cancel function
Wide slots for bagels, waffles, muffins
Unique Gluten-free toaster setting
Some other fun Novelty Toasters for you to look at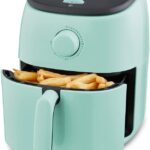 If you are new to air fryers take a look at my overview here. It will give you a rundown of the main features of…
Read More »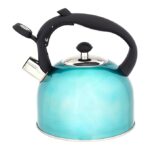 I find that nothing is more satisfying than the whistling sound of a stove top kettle. It is time for tea, relaxing, family bonding, or…
Read More »