Are you a toast fanatic and have a big family? Or do you love inviting friends over for meals? Your 2 slice toaster or 4 slice toaster is not going to help you much if you plan on serving up hot buttered toast to a large group of people. A toaster oven is great if you have loads of counter space in your kitchen and you can splash out on another device.
I would love to have one, but my counter space just won't cope. And, this is not an appliance that is easily packed up and put away.
So what is a counter top toaster oven? Although it contains the word 'oven' this device is not there to replace your existing oven. Most counter top toaster ovens are designed to toast bread, make pizza, toast bagels, defrost frozen snacks, and perhaps bake muffins. You probably won't use it for your delicious Sunday roast and side veggies. But, for appliance-lovers, this is a fun addition to any kitchen. Think of your toaster oven as a mini full-size oven.
Ideally, for toasting, you want your counter top toaster oven to hold 6 or more bread slices to make it a worthwhile purchase. That being said, many only do 4 slices, but they offer other handy features too. Having other functions will make it more versatile. Depending on the model, you may be able to use your toaster oven to reheat a quick meal when you don't want to wait for your main oven to warm up. Some fancier models have features like broil, slow-cook and air-fry. Many are great for pizza!
My reviews below will help you make a decision on which counter top toaster oven is best for you. If you are in a hurry and don't like reading, skip down to 'My Top Counter Top Oven Suggestions' or 'Which Counter Top Toaster Oven is Best For Me'.
Hamilton Beach 4-Slice Countertop Toaster Oven with Bake Pan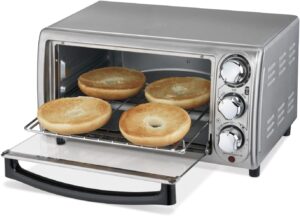 This is a small compact Toaster Oven for under $100. It will hold 4 slices of bread or 4 bagels. It also perfectly fits a 9 inch pizza. For first time buyers of Toaster ovens, this is a great choice to see if a device like this works for you.
The Hamilton Beach offers 5 functions – bake, broil, keep warm, toast, and bagel. The bagel function does what you expect – it toasts the cut side and heats up the round side. Not all toasters do this, and you don't want your round side toasty.
Controls are via knobs and not touchscreen settings, which suits many people better. The knobs have an easy-turn design.
For better control of the cooking functions, there is a 30 minute cooking timer with an automatic shut-off and optional stay-on setting. The toaster comes with an oven rack, bake pan, and slide out crumb tray. There are also 2 rack positions. So as a value for money device, this makes sense.
4 slice counter top toaster oven
5 functions to broil, keep warm, bake, bagel, and toast
Bagel function toasts the cut side and warms the round side
Fits a 9 inch pizza
3 knob controls with easy-turn design
30 minute cooking timer with auto shut-off and stay-on setting
Includes oven rack, bake pan, and slide-out crumb tray
Black+Decker TO3290XSBD Toaster Oven, 8-Slice, Stainless Steel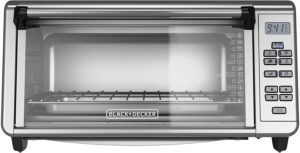 Now we are talking size! This model will toast 8 slices with a precision toast shade timer. It has digital controls, but they are not complex. Each one has a clear picture of what function it offers, so you don't need to be a tech-whizz to understand what you are doing.
Apart from toasting bread, you have functions for bagels, pizza, and frozen snacks. You can also use the oven for baking as it has a powerful convection heating system for fast and even baking.
Are you really busy? Set the timer for anything up to 120 minutes and leave the oven. It will shut off automatically when the time is up. If you have standard 9 x 13 inch oven pans, they will fit into this toaster oven, so you won't need to buy special pens. For toasting, it comes with a special toasting rack.
The Black+Decker TO3290XSBD Toaster Oven is made of stainless steel which is easy to keep clean and always looks new and shiny. Are you looking for a fun and tasty toasted treat for breakfast? Take a look at some ideas for toast toppings here! 
8-slice counter top toaster oven
Easy digital controls for non-technical people
Has settings for pizza, bagel, reheat, frozen snacks
Toast shade timer
Has a convection fan for fast baking
120 minute timer
Fits most 9 x 13 inch pans
Breville BOV450XL Mini Smart Oven, Countertop Toaster Oven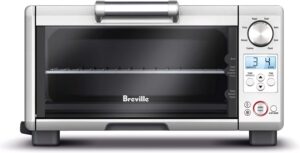 Breville always offers a stylish device that anyone would be proud to display on their kitchen island. And, the Breville BOV450XL Mini Smart Oven, Countertop Toaster Oven is definitely one of these.
This counter top toaster makes a great pizza, browns toast, and can bake. It even goes a step further and offers functions for Bagel, Broil, Roast, Cookies, and Reheat. 8 cooking functions in all. The different functions are easily selected using a dial knob, so you don't have to worry about fancy LED touch screens. The device offers 3 rack positions and and will hold a 6 cup muffin tray and fits 4 slices of toast.
For easy cleaning it has pull out crumb tray. A another great feature, not always found on counter top toaster ovens, is the Non Stick Cavity Coating. This coating is put onto the inside walls of the oven and is non-stick, allowing for easy cleaning. It comes with a 10 x 10 inch enamel baking tray.
4 slice counter top toaster oven
8 cooking functions
Dial knob to select functions
Functions for toast, bagels, pizza, cookies, bake, broil, reheat, roast
Fast 1800 watt preheat function
Non-Stick Cavity Coating
Comes with 10 x 10 inch enamel baking pan
Panasonic Toaster Oven FlashXpress with Double Infrared Heating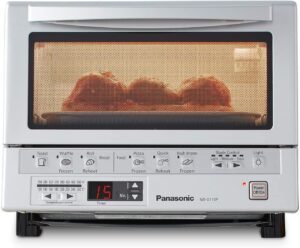 When you are in a hurry (like most of us) the last thing you want to do is wait for your toaster oven to preheat. That's what I really like about the Panasonic Toaster Oven FlashXpress with Double Infrared Heating. It has no preheat time. The design features two infra-red heating elements that warm up instantly for maximum heating efficiency.
This is a stylish and compact device, ideal to show off on a kitchen counter or island. It offers 6 preset cooking functions, selected by a one-touch control. Choose your setting for toast, frozen pizza, frozen waffles, frozen hash browns, reheat rolls, and quick reheat. All at the touch of a button and no thinking needed.
This is one of the few oven toasters that has a fabulous safety feature – the baking rack is connected to the door. As you open the door, the rack is pulled smoothly towards you. No need to put your hands into a burning hot oven. Timing is set manually and there is an auto shut-off feature that prevents over cooking or burning. For those who like to watch the progress of their creations, there is a convenient interior light.
4 slice counter top toaster oven
Compact stylish design
No preheat required
6 preset cooking functions for toast, frozen pizza, frozen waffles, frozen hash browns, reheat rolls, and quick reheat
Rack connects to over door for smooth pulling out
Auto shut-off feature prevents burning or over cooking
Convenient interior light
Toshiba TL2-AC25CZA(GR) Air Fryer Toaster Oven, 6-in-1 Digital Convection Oven for 9 Cooking Presets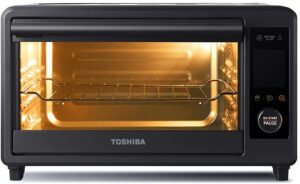 If you have not yet tried air frying, this Toaster Oven will toast and will also give you chance to experiment with air frying too. If you get hooked on air frying you can see my recommendations for air fryers here. (LINK)
Air frying is a healthy way to cook, using less fat and oils. You can air fry almost any type of food. This device has settings for chicken nuggets, breaded squid rings, spring rolls, chicken legs, frozen French fries, and potato cheese strips. No need to spend a fortune at unhealthy greasy take-outs. Get creative and impress the family!
For toasting, the Toshiba Air Fryer Toaster Oven will hold 6 slices of bread for fast and even browning. It can accommodate a 12 inch pizza for those cozy weekend family dinners.
I love the interior light, it is always so helpful to be able to see what is happening inside the oven. The controls are easy to use, with a combination of a manual dial and a large LED display. The Toshiba Air Fryer Toaster Oven has 3 rack settings, 6 heating elements, and a convection fan.
6 slice counter top toaster oven
Stylish design for any modern kitchen
5 heating elements
3 rack positions
9 cooking functions including toast, air fry, roast, broil, pizza, and dehydrate
Convenient interior light
Cuisinart TOB-260N1 Chef's Convection Toaster Oven, Stainless Steel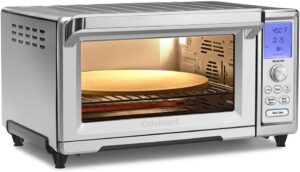 This toaster oven holds 9 slices of bread – now we are talking! Just what you need for a large family or for your catering passion. The price is slightly higher than others I have recommended but it does come with the very renowned Cuisinart brand name.
The Cuisinart TOB-260N1 is a high-end convection oven and toaster. It can be used for toast, pizza, waffles, bagels, heating leftovers, baking, broiling, and keeping your food warm while you chat to your guests. it also has a 2 hour timer for longer cooking cycles.
The interior is large enough to hold a full roasted chicken in a 9 x 13 inch roasting tray. Don't worry about splashing oil, the interior is coated with a non-stick material for easy cleaning.
Included with the toaster oven is a 13 inch pizza stone – very cool for showing off your pizza-making skills. You also get 2 cooking racks, an enamel baking tray and a broiling pan.
I always want an interior light and the Cuisinart TOB-260N1 has one. Plus, it comes with a recipe book designed specifically for use with the toaster oven.
9 slice counter top toaster oven from Cuisinart
Pizza, bake, broil, waffle, bagel, heat leftovers, keep warm, and toast functions
Powerful 1800 watt device
Interior light
Non-stick interior for east cleaning
Auto-slide rack
Comes with pizza stone, enamel baking tray, broiling pan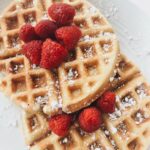 Why not get creative and use your toaster for something far more exciting than bread? My grandkids love these treats and they are so easy…
Read More »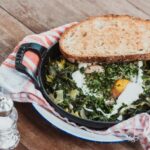 Are you in a hurry to make breakfast but are tired of eating cheese on toast? It is very easy to dish up far more…
Read More »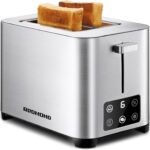 Whether you are rushing to make toast before work, or enjoying a lazy Sunday perfecting your smoked salmon and cream cheese toast, you need a…
Read More »