Why not get creative and use your toaster for something far more exciting than bread? My grandkids love these treats and they are so easy to make in any 2-slice toaster or 4-slice toaster.
I have found some delicious frozen toast treats that you can either buy or make yourself. The bought treats are usually frozen and you can store them in your freezer. When you are ready to serve them, simply pop the frozen treats into your toaster and toast as normal. You will need a toaster with wide slots that can hold bagels, English muffins, and frozen toaster treats.
When toasting frozen items, you may want to adjust your browning settings to be higher than normal. This will allow the product to thaw and then toast. Always follow the instructions on the packaging to get the best results.
Let's take a look at some ideas that will make your breakfasts and brunches far more exciting for the family.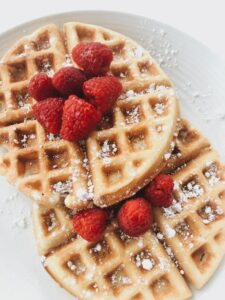 Kids love waffles! Best of all, you can get them to eat some healthy foods with the waffles – even though they may not realize it. Top the waffles with yogurt and honey. Yogurt is a great source of natural probiotics that aid digestion. It is also packed full of calcium that helps keep bones and teeth healthy. Honey provides a natural source of sugar and also has antibacterial properties.
You can also top the waffles with fresh fruits like strawberries, slices of peaches, or apples. Any type of fruit is great for kids and gives them a boost of essential vitamins and minerals.
You need
1 cup all-purpose flour
2 tablespoons sugar
1 teaspoon baking powder
1/4 teaspoon salt
2 large eggs
1 cup milk
4 tablespoons unsalted melted butter
Follow these steps
Heat your waffle iron
Melt the butter and set aside in a warm place
In a large bowl whisk together the flour, sugar, baking powder, and salt
Set it aside
In a small bowl whisk the milk and eggs
Pour this mixture into the flour mixture and whisk gently
Don't over-whisk as this makes the waffles heavy and rubbery
Lastly, gently whisk in the melted butter
Make your waffles
Cook your waffles on the waffle iron
As a guide for a standard waffle iron – I use 1/2 cup of batter and spread it to within 1/2 inch of the edges
Cook for about 2 to 3 minutes until they are golden brown
Serve the waffles with a decadent topping of your choice
Freeze the remaining waffles. Allow the remaining waffles to cool down. Stack them into batches with non-stick grease-resistant paper between each one. I like to stack them into smaller batches for freezing so I don't have to unpack them all at the same time. Pack the stacks into food-safe ziplock bags and store them in the freezer
When you need a quick treat, grab a pack out of the freezer and separate the waffles. Pop them into the toaster and choose the defrost setting. This gives the waffles extra cooking time to thaw and then toast. Toast them again on a low setting if the waffle is not as crispy or golden brown as you want. A great toaster for waffles is the Hamilton Beach 2 Slice Extra Wide Slot Toaster. It has wide slots and easy dials that don't require you to be an electronics expert.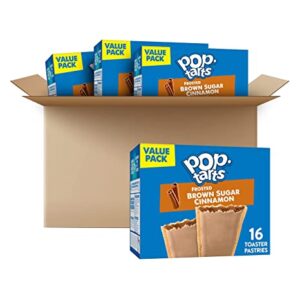 Pop-Tarts are ideal for those days when you just don't feel like making pancakes, bacon, and eggs for breakfast. And, the kids certainly won't complain.
Pop-tarts can be eaten straight out of the foil package, making them ideal to pack into your kid's lunch boxes. If you have never tried pop tarts, they are biscuit-like treats with a pastry crust, frosting and sprinkles on the outside, and a gooey filling on the inside. My family loves this brown sugar and cinnamon  flavor. And, there are other flavors to try out too! This handy pack offers a choice of frosted strawberry, blueberry, brown sugar cinnamon, or cookies and crème. So you can try one of each and decide which is your fave!
These versatile treats can be frozen and used on ice creams and cold desserts. You can microwave them or heat them in a toaster oven. I find that popping them into my toaster is the fastest and easiest way to prepare them, They come out warm and crispy, with the filling even more gooey and delicious! A great way to start the day.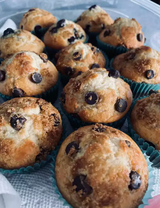 Hot buttered muffins are a firm fave in my house. They are easy to make and can be frozen for later use. I have a great recipe that I use from allrecipes. It has a lot of good reviews and is tried and tested.
You can also vary your muffins by adding a variety of flavors. You can use chopped bacon for a savory treat. For the grandkids, I like to add blueberries or sweet raisins. You can also make traditional cheese muffins that are delicious with tea or coffee. If I want to serve up something more decadent, I go for walnuts and chopped dates. After baking the muffins, I always freeze a batch to have them handy as a quick brunch or afternoon treat.
I have been talking a lot about 2-slice toasters with extra wide slots. These are the toasters you need to heat your frozen muffins. Because muffins are thicker than bread, you need wide slots to accommodate them. A toaster with standard size slots will not be able to hold muffins, bagels, or homemade bread.
Place your frozen muffins into the toaster and choose the defrost setting. This setting will thaw the muffins and then heat them. If you want them to be more golden brown, toast again on a low setting. Using a wide-slot toaster like the 2 Slice, CUSIMAX Stainless Steel Toaster with Large LED Display is so much faster and easier than heating your oven and wasting loads of time and power. Muffins are easy frozen toaster treats to always have ready for those days when you run out of brunch ideas!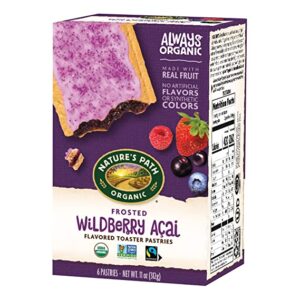 These delicious frozen toaster treats are ideal for people who are following a vegetarian diet. They are also organic and contain no preservatives, coloring, or artificial flavors. I always feel good choosing natural products that don't make use of chemicals. It is a small way to help preserve the planet. And, eating natural products is far healthier.
I came across these delicious Nature's Path pastries when I was looking for a warm treat for a cold winter's evening and I wasn't in the mood for cooking. These treats are quite delicious and have a buttery golden pastry with a fruit-filled center that contains strawberries, raspberries, blueberries, and apples. For sweetness, there is a touch of organic honey.
To make the frozen toaster treats, remove them from the plastic wrapper, pop them into your toaster, and toast on a light shade or low setting. The syrup inside does get HOT, so be careful to allow them to cool a little before serving. You don't want kids burning their tongues and lips. These treats also come in a choice of Berry Strawberry or Maple Brown Sugar, which they call Mmmaple Brown Sugar – sounds delicious! I love serving toaster pastries in winter with hot cups of tea, while everyone gets cozy in front of a roaring fire.
Frozen Artisan or Homemade Breads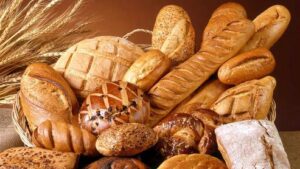 Artisan and homemade breads are delicious for any type of meal. They can be served with jam and cheese for breakfast, with a selection of sliced meats for lunch, and with hot soup for supper. For busy people, it is difficult to always have a supply of fresh and crispy bread on hand. Baking or shopping is not always an option!
I like to keep these tempting breads in the freezer where I can store them for weeks. Heating up frozen bread is so easy with a toaster that has a defrost setting. This setting gives a longer heating time that will thaw the bread slice and then toast it. You don't need to heat your oven and waste time and electricity.
You can toast garlic breads, banana breads, ciabatta, rye, cornbread, baguettes, flatbreads, or pumpernickle bread. They all taste delicious after heating them up in your toaster. And, the toaster will never make them soggy or dry. You can defrost a firm favorite – bagels! Bagels are so versatile and be filled with almost anything you can think of from decadent cream cheese and smoked salmon to a fruity jam.
Most of the toasters I have reviewed have a defrost setting. I have found that even the less expensive models have this setting too. I would definitely recommend buying a toaster with this feature. If you also get a bagel function, that makes the toaster even more versatile. A great toaster that has both functions is the Amazon Basics 4-Slot Toaster, White . It is well priced and with space for 4 slices, it is ideal for a family with kids and grandkids – like mine!
Toaster Strudels Frozen Toaster Treats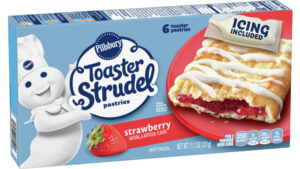 Toaster Strudels are another fave frozen toaster treat that I love to serve on a lazy Sunday morning. The pastries have a flaky crust, a sweet filling and a creamy icing over the top. These delicious treats also offer another bonus – the icing that goes on the top is packed separately and kids can decorate the treats as they wish. You can have hours of fun, toasting, icing and eating the treats. It is a great way to keep the family happy on a rainy day when going out is not the greatest option.
The treats are easy to make.
Set your toaster to the lowest setting
Remove the pastry from the package
Toast it twice to make it golden brown
Allow the Strudel to cool down
Separate the icing packs by tearing carefully on the perforated lines
Tear off the top of the icing pack using the pre-cut notches
Squeeze the pack and the icing will start to run out
Have fun decorating the top of the frozen toaster treat with any design you choose!
Pillsbury Toaster Strudels come in a tempting range of flavors. Choose from Strawberry, Cream Cheese, Apple, Blueberry, Cinnamon, Cherry, Raspberry, and more! There is a choice for everyone.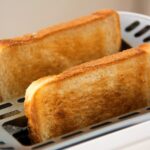 Are you doing breakfast in a mad rush before work, or are you relaxing over a lazy decadent Sunday brunch? Whether you are making a…
Read More »