Elevate Your Cooking with Versatile Egg Beaters
In this post, I have identified 10 Best Egg Beaters for 2023 that range from traditional to ultra-mod, handheld and electric. You decide what suits your style. So, let's get cracking and discover how egg beaters can elevate your cooking game!
Whether you are whipping up meringues for a decadent dessert, creating the perfect omelet for breakfast, or mixing together ingredients for a savory quiche, egg beaters are your go-to tool for achieving that perfect texture and consistency.
I am focusing on best hand-held egg beaters, top electric egg beaters, egg whisks, egg mixers, and egg frothers. Not only are they incredibly versatile, but they also save you time and effort. Plus, with the advancements in technology and design, egg beaters have become even more efficient, kid-safe, and user-friendly.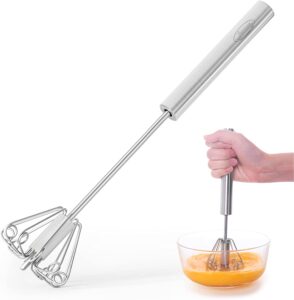 I love this whisk because it requires no strength in your hands. It is ideal for the elderly and those with weaker hands (like me!) Simply press down, and it whisks your eggs. It is made of stainless steel and always looks new and shiny. Just rinse in soapy water to wash it. The whisk can be used for blending, beating and stirring. It is also ideal for coffees and cocktails. The convenient size will fit into most containers, mugs, cups, microwave and oven dishes. If you give up on recipes that require arm-breaking whisking, this Egg Whisk will make you think again and allow you to make those delicious treats.
BELLA Immersion Hand Blender

The stunning red color of this BELLA Hand Blender is perfect for a retro or mod kitchen. It features a 2-speed setting powered by a 250 watt motor. The 6-inch blending shaft can blend, whip, chop and purée directly into tall pots and pans. The whisk attachment and blending shaft are dishwasher safe for easy clean up. Use it to make soups, smoothies, meringues, dips, sauces, mayonnaise, chutney, whipped cream, salsa, baby food, guacamole and batters for baking. The small size packs away easily into a drawer when not in use.
OXO Good Grips Egg Beater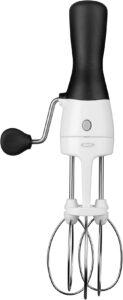 This is a modern take on your Mum's egg beater and it certainly looks ultra-stylish! I love the cool look and the soft, comfortable non-slip handle and turning knob. It is lightweight and so easy to use, you won't feel as if you have just done a workout session at the gym. Use it for eggs, light batters, and whipped cream. The gears are enclosed for protection so I am happy to let my grandkids use it when they want to get creative in the kitchen. The base and beaters are dishwasher-safe.
Hamilton Beach 6-Speed Electric Hand Mixer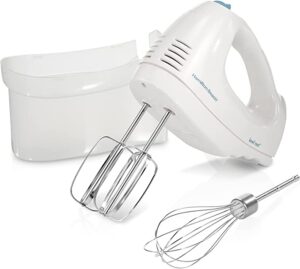 Hamilton Beach is a very well-established brand and you won't go wrong with this Electric Hand Mixer. If you want to know more about this company take a look at my in-depth review on Hamilton Beach.  The hand mixer comes with a handy snap-on storage case – no more lost or misplaced beaters! It also has an innovative built-in groove that lets you rest the mixer on the side of the bowl and prevent dripping all over your countertop or your designer shoes. You have a choice of 6 speeds and a QuickBurst button, so you can adjust the mixer to accommodate any recipe that requires whisking or beating. This is a great gift for a friend who loves baking.
Wynboop MINI Household Cordless Electric Hand Mixer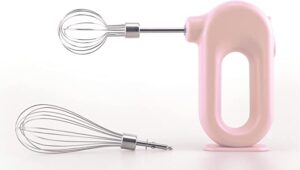 Trying to mix with cords twisting around your hand is a no-go for me. That's why I love this Wynboop Mini mixer – it has no cord and can be recharged via a USB port. Once charged, it can be used up to 15 times, making this perfect to take along on a camping trip. It comes with an egg beater and a whisk and offers a choice of 4 speed modes. The design is super cool and the pink colour is glorious! When you are done, simply stand it upright on the flat base. A must-have for modern cooks.
RSVP Vintage Inspired Egg Beater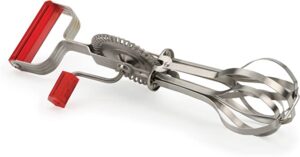 If you still long for a vintage-style beater, the RSVP is for you. It looks just like grandma's and will add a fun pop of red to your kitchen décor theme. This hand beater is made of durable 18/8 stainless steel and is dishwasher safe. Use it in the classic style, by turning the handle at high speed and giving your arm a good workout. It will easily whip and beat eggs, cream, butter and more.
Danesco 12-Inch Rotary Egg Beater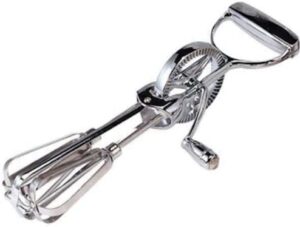 The Danesco is another classic hand rotary egg beater. I love a good old-fashioned classic design, but I do find that it is not always ideal for kids. The 12-inch egg beater is your ultimate kitchen companion for whipping up culinary masterpieces with ease and efficiency! Mix and beat eggs, sauces and dressings to perfection. The beater is made of stainless steel and is dishwasher safe, and brings with it nostalgic memories of childhood days in the kitchen.
HOTEC 4 Pieces Stainless Steel Whisks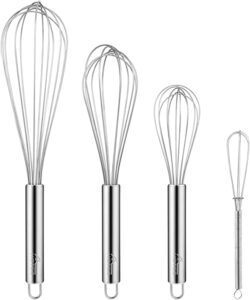 Nothing is more irritating than a whisk that is too big or too small for the container. This set of 4 whisks offers the perfect choice to fit any size container you may be using. They are made of high-quality food-grade Stainless steel and are sturdy, durable, anti-rust, anti-corrosion, and lightweight. The design offers an ergonomic handle design for perfect hold, so it won't slip out of your fingers and make an all-mighty mess. I love th seamless design, knowing that there are no hidden crevices for food and bacteria to hide. Ideal for beating eggs, butter, icing sugar, fresh cream, melting chocolate, stirring pancake batter and mixing sauces.
2 in 1 Food Clip & Egg Whisk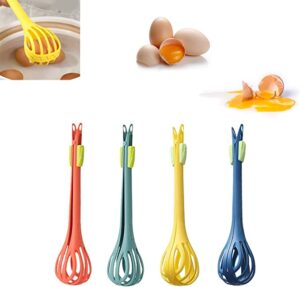 If you luv gadgets – this fun 2-in-1 food clip is for you! It works as a pair of food tongs and an egg whisk, and can also be used to separate eggs, a fabulous bonus (I can never get this right). The whisks are made of food-grade nylon and come in a fun choice of colors that look stylish hanging on a hook above your stovetop. Simply close the lock to beat and whisk. Open the lock and you have tongs to pick up bread rolls, spaghetti, boiled eggs, turn steaks, and more. Dishwasher safe for easy cleaning.
Wireless Electric Egg Beater Whisk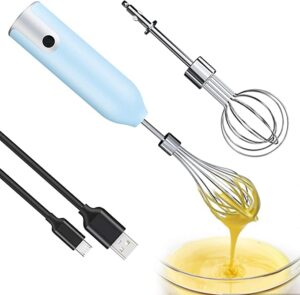 This is another great rechargeable Egg Beater, perfect for a modern kitchen. It features LED lights to show you how much charge it has left. The beater comes with two food-grade stainless steel mixing heads that can easily be disassembled. Use it to beat eggs, milkshakes, whipped cream, salad dressings, gravy, sauces, mayonnaise, and meringues. It has a very low noise level, perfect for whipping up a midnight feast when you don't want to wake anyone up.
These are my 10 best egg beaters for 2023 – I hope you find one that matches your needs and gets you whipping up a fab treat for friends and family!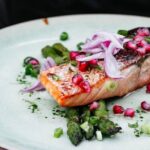 Healthy Cooking Tips For The Elderly As we journey through life, our nutritional needs change. The importance of a well-balanced diet becomes even more apparent…
Read More »